Types of Content Marketing: Benefits and Uses of Each Type
December 6, 2020 •DJ Team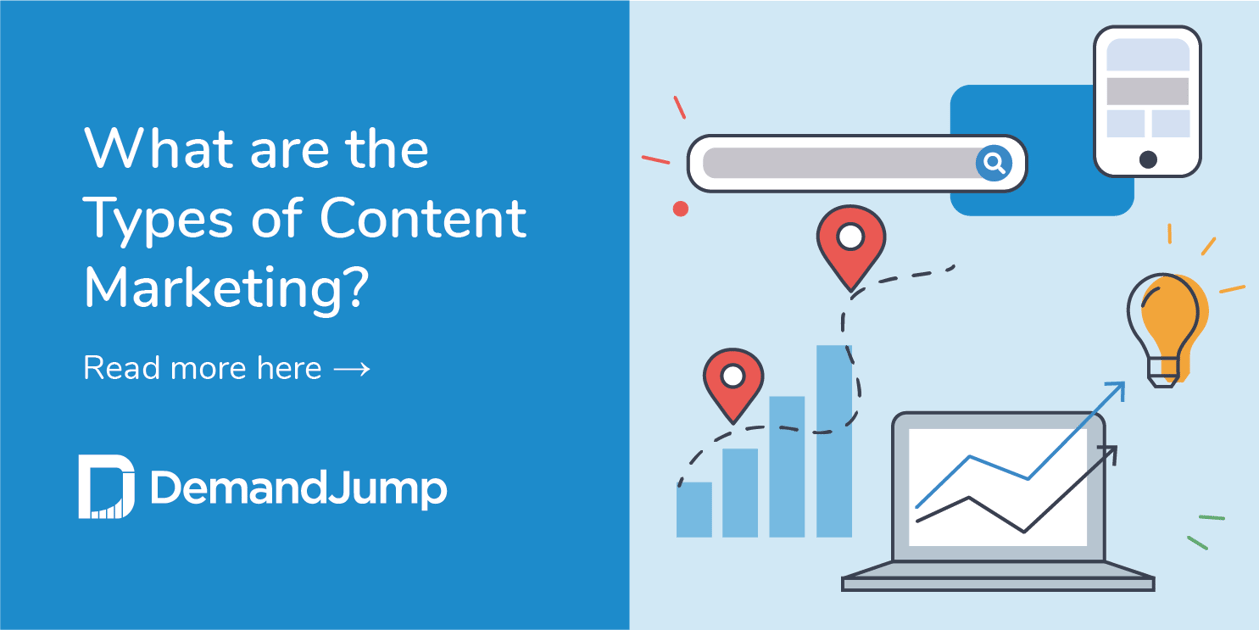 You may find yourself asking, "what is content marketing, and why is it important?"
Nailing down a content marketing definition can feel tricky, but it really just boils down to a simple idea: create different formats of information that provide your customers with value and brings them in to purchase your product or service. Think of it like fishing—we don't jump into the water and swim out to chase fish down! No, typically we use a bait technique to draw the fish to us.
Content marketing is an inbound marketing technique that does a lot of the work of bringing in customers for you. This is important because it is more effective than traditional outbound marketing techniques (like cold calling) and content marketing typically offers a much higher reward in terms of conversions and sales.
How many types of content are there?
In today's digital landscape, there are a lot of different types of content that you can pick and choose from. In some places, you'll see lists like "101 types of content" or "106 items to create" and this can feel overwhelming at times. When formulating your content strategy, it's important to ask yourself a few questions:
What type of content would be most valuable to your customers?
What type of content is most popular - both in general and with my target demographics?
Answering these questions will give you a few areas to focus on, rather than being overwhelmed by trying to create 100+ different types of content (where you may only need 10 or 5 different types in order to reach your content strategy goals).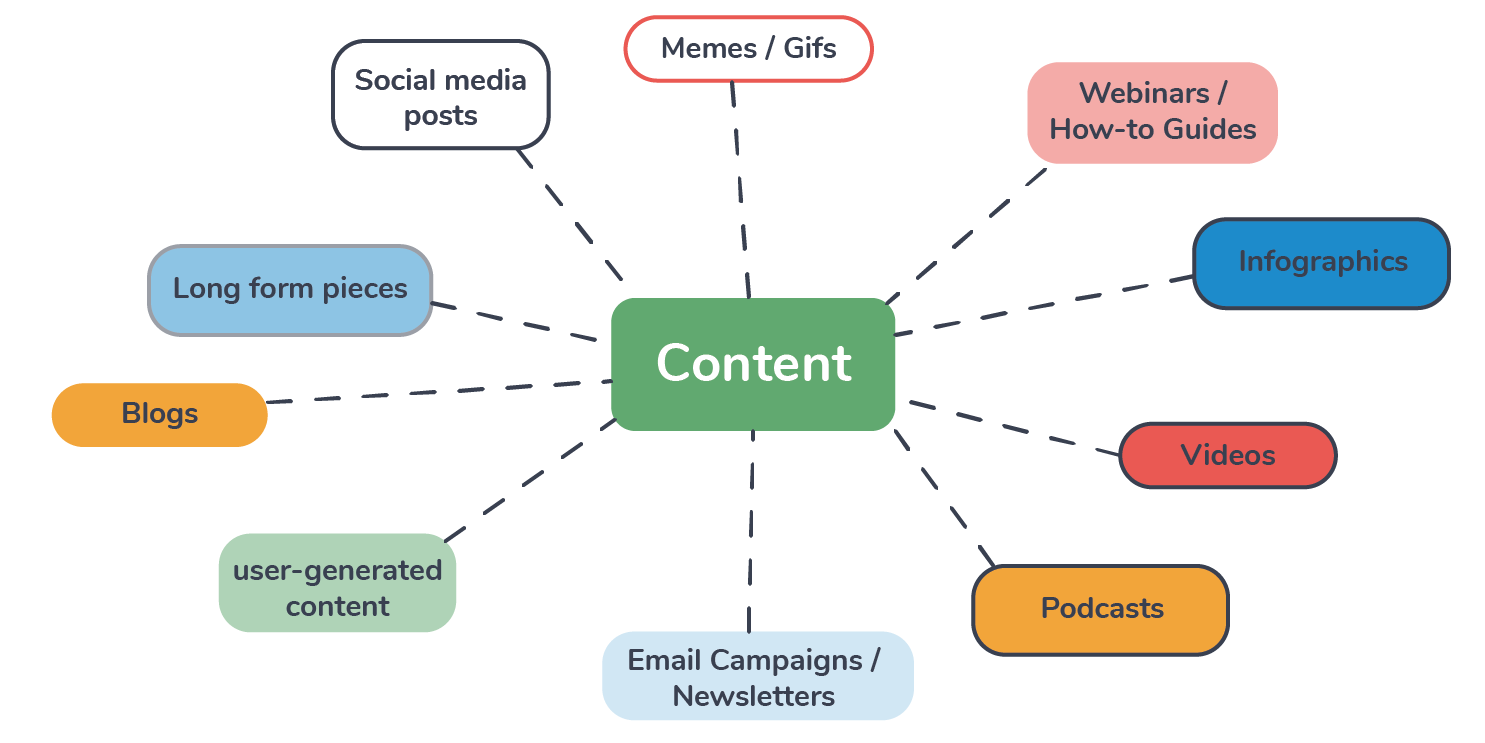 What types of content are widely used?
While there are a lot of different types, we're going to look at the types of content that are most frequently used to give you some examples of content marketing. You'll typically see businesses using these common types of content:
Blogs
Blogging is one of the top content marketing formats that pays off big time. From helping your website out with SEO rankings to providing education for your customers to creating conversion paths, blogs are an incredibly effective and important type of content marketing. The number one pitfall is when you forget to post regularly! Keeping up with your blog can be time consuming, but it will pay off over time.
Psst...Need help writing blogs? Try our automated SEO content outlines. They will ensure your content ranks. Try it free today!

Infographics
Looking for a way to grab attention? Infographics are a great type of content that you can post to many different channels—social media, website, emails, etc.
Videos
Content marketing allows you the freedom to show off your personality and bring some humor into the business space. Videos are a good format to do this, and you can find charismatic and personable members of your team to highlight through your video content. Video is also the most consumed and shared format for content on social platforms.
Memes/Gifs
Memes and gifs can help you show that your business "gets it" and is engaging in internet culture. Do your research though and generate these types of content carefully—it can be cringe-inducing and backfire if you create memes that miss the mark.
Long-form pieces
White papers and ebooks are often used by businesses that have more in-depth and technical subjects to cover. These can offer a lot of value to your prospective customers and convince them to utilize your solutions. These premium pieces of content will serve as the basis for your lead gen efforts, promising major value to your audiences in exchange for more information about them.
Podcasts
A rapidly growing type of content, podcast production and listenership has exploded over the past few years. If you're looking to diversify your content offerings, consider podcasting as a potential channel.
Social media posts
Facebook, Instagram, Twitter, and LinkedIn are the big players in the social media space, but TikTok is a rapidly emerging channel as well. You'll need to create pictures, text posts, and short videos to post to your social media channels and keep your customers engaged.
Email campaigns/Newsletters
Typically you'll be reaching out to your loyal fans and your current customer base with these types of content. You can show behind-the-scenes, team member highlights, and other more informal content to help your customers feel like they know you and your business inside and out.
Webinars/How-to guides
People love to learn and expand their knowledge base. Offering educational posts and formats can give a lot of value, and give you the opportunity to present your products and solutions. Make sure that you are giving value, however, because an easy way to lose potential customers is to make them feel like they've just been tricked into a sales pitch!
User-generated content
Keep an eye on your social media channels and see what your customers are posting and saying! Reposting and sharing their content is a great way to encourage engagement and to show other customers the authentic impact of your business.
How Can DemandJump Help With Your Content Marketing Strategy?
Now that we've looked at these different content marketing formats and explored this content marketing definition, what's next? If you're struggling with coming up with what to write about or confused about how to find your target audience, take a look at our solutions. DemandJump can help you create the content that your consumers actually want and take the guesswork out of content strategy with unique tools like analysis of internet behavior and marketing attribution tools that can show you exactly what people are clicking on and responding to. To see how DemandJump can help transform your content marketing strategy, start your free trial today.
Get Your Free Content Marketing Strategy Report