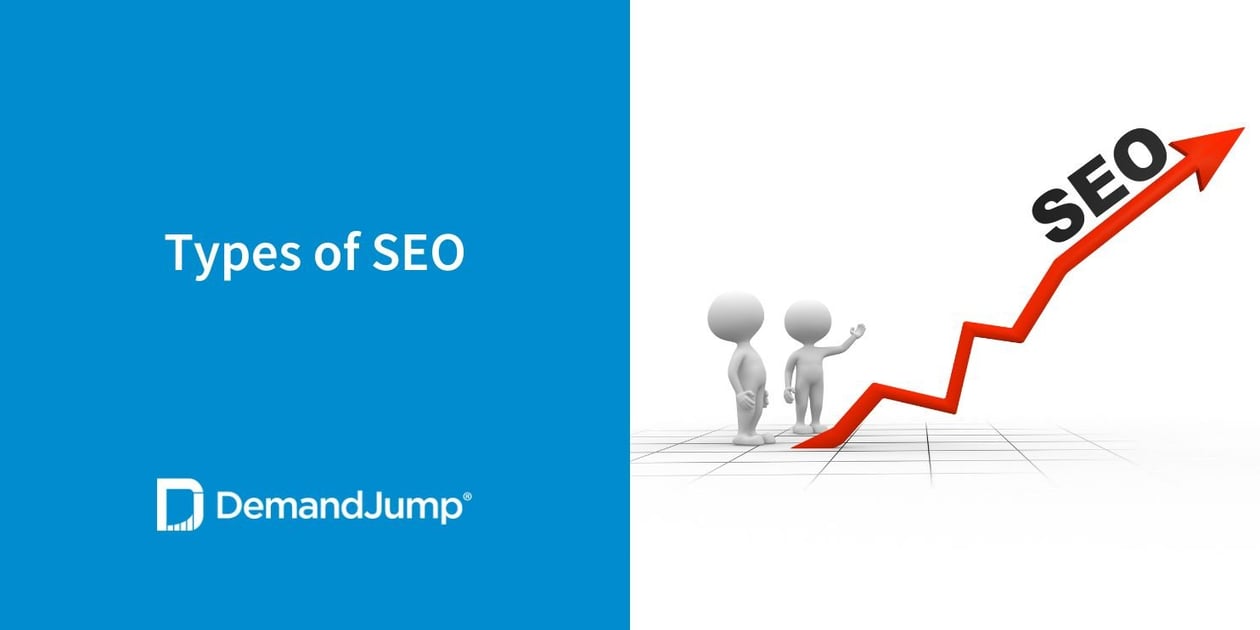 Search engine optimization (SEO) is the cornerstone of content marketing, which happens to be one of the most effective tools for increasing audience retention, ranking higher on search engine results pages (SERPs), generating leads, and more. When done right, optimizing your content for search engines makes it so that people actually see and engage with the content you create.
However, there are a lot of myths and outdated assumptions about SEO content that keep creators from seeing the results they are working so hard to achieve. And with Google's new helpful content update, using the wrong SEO components won't just keep you from rising in the rankings—your content will actually lose rankings.
These strict rules and murky "best practices" may have you wondering if the benefits of creating content are still worth the investment. They are. And DemandJump is here to get your business climbing the search engine ranks to where you'll be seen by new customers. This blog will help you cut through the noise of the internet by covering the types of SEO in digital marketing and answering questions like "What is on-page and off-page SEO?" and "How can I improve my technical SEO?" Let's jump in.
What Is SEO, and What Is the Objective of SEO?
SEO is a set of best practices with the intention of making your web content—specifically your website and associated blogs—more visible when people search for related topics on search engines. At DemandJump, our goal is to help you leverage SEO to reach the #1 ranking on Google for organic content. Why? Because 92% of searchers stay on the first page of Google. In other words, if your content isn't ranking, your business essentially doesn't exist online.

What Are the Types of SEO in Digital Marketing?
As you develop your search engine optimization strategy, you should include these 3 types of SEO: o-npage SEO, off-page SEO, and technical SEO. Each of these types appeals to a different audience and optimizes a different stage of content distribution, from getting your content acknowledged by search engines to drawing in actual people to read your pieces.
What Is Technical SEO?
Technical SEO is the first step in getting your content in front of readers because it encourages search engines to rank you higher. The key to getting noticed by search engines is to prove that your content is related to the topics that people are searching for. Here's how you can clearly mark what your content is about for algorithms to take notice:
Use high-value keywords. Search engines want users to be able to find content that is the most relevant for what they're searching for, whether they need tax advice or instructions on how to repair a broken window frame. The easiest way for search engines to source relevant content is to connect search terms to a network of keywords and questions.
What are 2 types of keywords? If you were to search "Used cars near me," Google may show you content that includes keywords such as "Reliable used car" or "Used car dealership" as well as questions like "What's the most you should spend on a used car?" Keyword phrases that include only a few words, also known as short-tail keywords, make for great titles and can be spread throughout the text. Phrases with more than 3 words or questions, also known as long-tail keywords, work well as headings. Not sure which keywords to use? Try DemandJump's discovery tools to see which phrases and questions people are searching.
Establish page definitions. Similar to how keywords make it easier for search engine bots to find your content, you can increase the visibility of your web pages by clearly labeling each of the pages on your website. For example, "About Us" is more clear than "How We Got Here" as a label.
Increase loading speed. People care about loading speed—so do bots. The faster your web pages load, the more likely they are to rank higher. One reason for this is that web pages that load slowly are often bogged down by excessive pop up and video ads that distract from the content and make for a poorer user experience.
Although technical SEO is the first step in getting noticed, it is not the only step, and you should not sacrifice the readability of your content to appeal to algorithms. This is where on-page SEO comes into play.
What Is On-Page SEO?
Technical SEO focuses on appealing to bots while on-page SEO works to provide human readers with the information they came for in a concise, appealing way. Search engines take into account user experience—such as how much time they stay on your page—which is why on-page SEO is important. Here's how you can improve your on-page experience and also your rankings: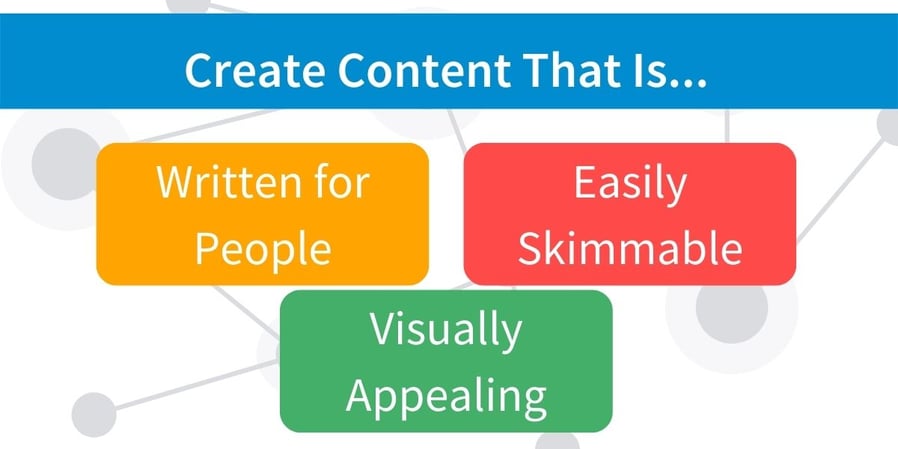 Write for people first. If no one actually reads what you write, no amount of writing for algorithms will increase your rankings. The most important part of your article is the answers that people are searching for. Think about it like this—if you had a question in your industry, would you be satisfied after reading your blog? Or would you feel like you wasted your time and need to read another article? It's also important to avoid outdated tactics, like keyword stuffing, which is including an unnatural amount and frequency of keywords to the point where the actual content makes no sense.
Create content that is skimmable. People don't usually read web content in its entirety. Instead,

readers scan

to find the information they want quickly. If they don't think your content has the answer they need, they'll move on before spending the time to read your entire piece. You can make it easier for readers to find answers in your text by using questions as headings. For example, in this blog, "What Is On-Page SEO" is a heading. When you open this blog, you can quickly scroll down and see that you'll find an answer to that question.
Make your content visually appealing. Include images and graphics that improve your content. Diagrams and quoted statistics help readers find crucial information quickly. Also, breaking up large paragraphs makes your content more approachable and optimizes it for mobile phone readers.
What Is Off-Page SEO?
Off-page SEO is everything you do to draw readers into your content before they click on it. For example:
Posting your article to your social media accounts lets readers know that you're an authority in your
industry, even before they begin searching for your topic.
Use ads to promote your blogs and get them in front of even more readers.
Linking strategies—like Pillar-Based Marketing, which connects smaller blogs to larger, central pieces through backlinking—give your readers a path to follow to more of your helpful content.
You worked hard on your content, make sure people know to read it!
How Can I Improve My SEO Quickly? DemandJump!
Optimizing your content can be a complex and tedious process, but if you're writing content without caring about SEO, you're wasting time, sanity, and keystrokes. As the first ever Pillar-Based Marketing (PBM) platform, DemandJump is uniquely positioned to offer tools that help writers create networks of content that reach the top ranks and get potential customers onto your website. Here's how we make SEO accessible in 3 steps:
Insight reports tell you which topics searchers care the most about in your industry.
Pillar strategy reports show you how to connect related topics so your blogs work together to boost rankings.
Content briefs give a list of which keywords to include in each blog, taking the guesswork out of content writing.
Content marketing that's optimized for search engines and readers brings in more leads and converts more customers. Let's get started.
Get Your Free Pillar Strategy Preview!