What Are the 4 Components of SEO?
November 11, 2021 •DJ Team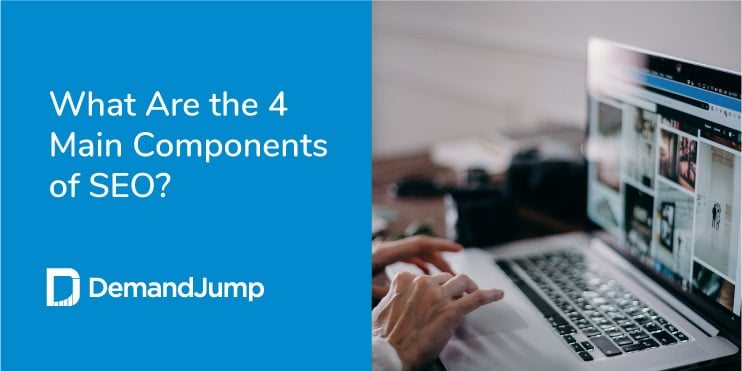 SEO stands for "search engine optimization." Simply put, SEO helps increase your online visibility through search engines like Google or Bing when potential clients search keywords related to your business.
The better your SEO, the more visible you become, which increases your potential for client visits.
But what is SEO? Like anything, SEO is made up of smaller components which, when developed efficiently, becomes something greater than the sum of their parts, kind of like a birthday cake that brings you clients and improves search rankings.
By understanding each of the 4 types of SEO, SEO keyword research, and how they communicate with each other and search engines, your business will be able to attract more clients and continue to grow.
The 4 Main Components of SEO
Knowing and understanding each of the 4 main components of SEO is crucial to improving a brand's search results. Each component builds on and complements the others. The stronger the connections between each of the 4 SEO components—technical SEO, on-page SEO, off-page SEO, and content-—the better the results.

Being aware of the connections will help us to better understand how to best utilize them effectively.
Technical SEO
The importance of technical SEO cannot be understated. Technical SEO allows search engines to engage with the site to identify keywords and phrases that clients have used in their searches. The majority of content management systems already automate technical SEO, but there are some other areas to consider to further optimize technical SEO.
How to improve SEO (Technical):
Clearly establish your page definitions. Remember, search engines employ bots to scan sites to catalog them for future reference. The cleaner the pages, the easier it is to catalog.
Ensure your website is adapted for mobile platforms. More and more web-based searching is done on the go, so don't forget about your mobile customers.
Speed, speed, speed. Make sure your site is running at optimal speed so potential clients don't get frustrated over long loading times.
Off-page SEO
Off-page SEO involves guiding traffic from other sites to your site. Some components of off-page SEO involve building relevant links from other sites, raising social media awareness, and guest-blogging to help cultivate the off-page visibility that brings in more traffic to your site.
How to Improve SEO (Off-page):
Identify and create relevant links between you and other sites. While the temptation to have as many links as possible seems smart, focusing on the truly connected will create a more focused and better-curated experience for the client. Less is more.
Know how you want to communicate with other sites first. Reviews? Targeted marketing? Blogs? This circles back to knowing your audience, but establishing how you want to be seen outside of your site will go a long way and save you time regarding marketing. Know thyself.
On-page SEO
With your technical SEO established and your off-page SEO bringing in clients, now it's time to consider on-page SEO components. A well-built and well-written website should be the pot of gold at the end of the search rainbow for potential clients.

Optimizing your keyword strategy for metatags and other site components like images will help keep clients onsite longer, and with a more positive experience. Ease of access and specificity are crucial when determining how best to build your on-page SEO.
How to Improve SEO (On-page):
Know your audience. Knowing who your audience is and how they communicate is crucial to effective on-page SEO. The more you know about your audience, the more effective your site will be.
Incorporate key search terms into page titles. Creating that bridge from search engine to site instills familiarity between the user's interest and you.
Create an enjoyable experience for the user. Be approachable. Don't forget just how important emotional and relatable language can be to building brand loyalty. Create a fun, memorable experience.
Content
At the end of the day, your website just houses your product. Creating clean, effective content which further strengthens your SEO will ensure that the client has arrived at the exact place they've been searching for.
How to Improve SEO (Content):
Quickly identify what it is you do and where you do it.
Identify why the client needs you versus other companies that offer the same product/service. Establish what makes you the expert. Be confident in your knowledge.
Automate Your SEO Strategy with DemandJump
Understanding the interconnectivity between the 4 main components of SEO can help your business grow and stand out. However, it takes time and careful planning to make sure your content, on-page, off-page, and technical SEO are in harmony. That's where DemandJump comes in.
At DemandJump we understand just how important website visibility is to any growing business. Thoughtfully aligning all 4 SEO components can save money and help create a more viable web presence.
Get started creating content that ranks today!
Get Your Free Content Marketing Strategy Report