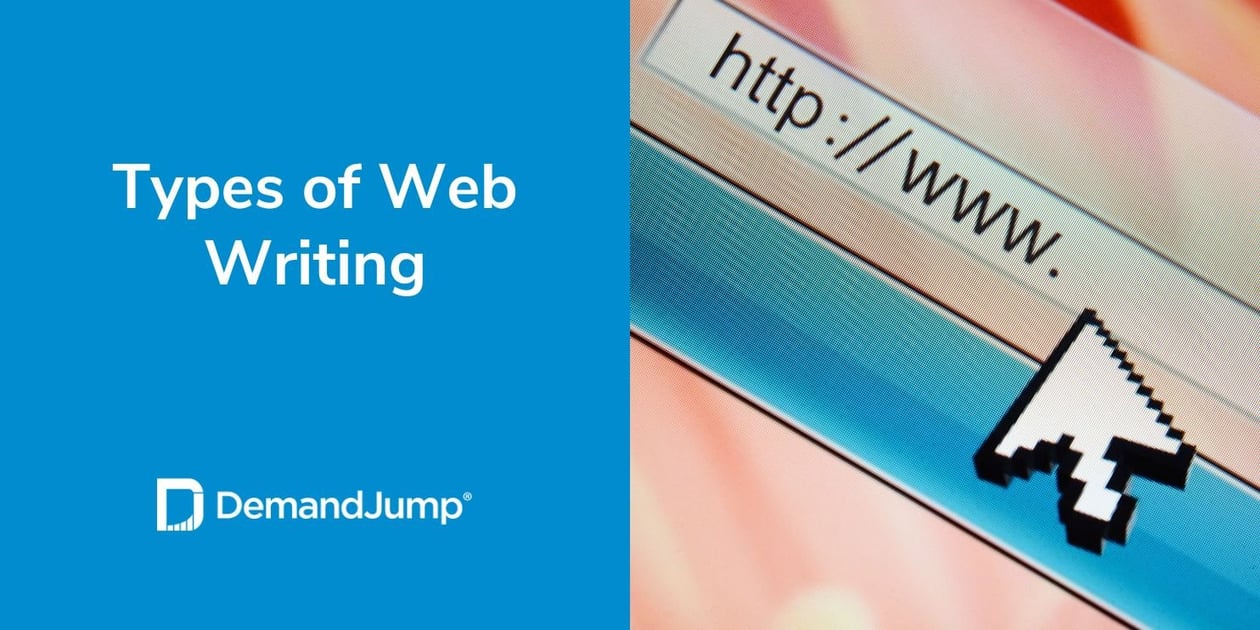 Website content is a fundamental piece of any digital marketing strategy. Think of it like having a brick-and-mortar store or location. Customers come to browse your offerings, get a feel for whether or not they trust you, and learn more about your products or services. You want to make sure that your location is clean, easy to navigate, and staffed with friendly and helpful employees.
Websites are no different; your visitors are looking for the same experience as though they were at your physical store. They want helpful information that is easy to access. And while it can be tempting to keep your website as an afterthought, your digital presence is often your customers' first experience with your brand. In fact, according to Think with Google, 51% of shoppers use Google to research products and services before making a purchasing decision.
Writing quality, helpful content is necessary to engage your digital audience. But how do you know what to write, how to write it, and how to make sure your audience sees it? That's what we'll be covering in this guide to the different types of content writing for the web. Let's get started!
What Is Web Content Writing?
Web content writers communicate information through digital media, such as website blogs, videos, and images. The desired characteristics of web writing are often that the content:
Clearly communicates important information
Quickly and directly answers questions
Positions your business as a source of authority in your industry
Provides a call-to-action and persuades your audience to take it
Your web content is often how your audience develops a first impression with your business, so you want to make a good one. As a rule of thumb, you can think about your own experience researching online.
Do you keep reading articles that don't answer the questions they promise to? How do you feel about repetitive jargon or keyword stuffing? Are you likely to trust a company that places more emphasis on their call to action than providing important information? Start with what you know works for you, see how your audience reacts, then be willing to adapt.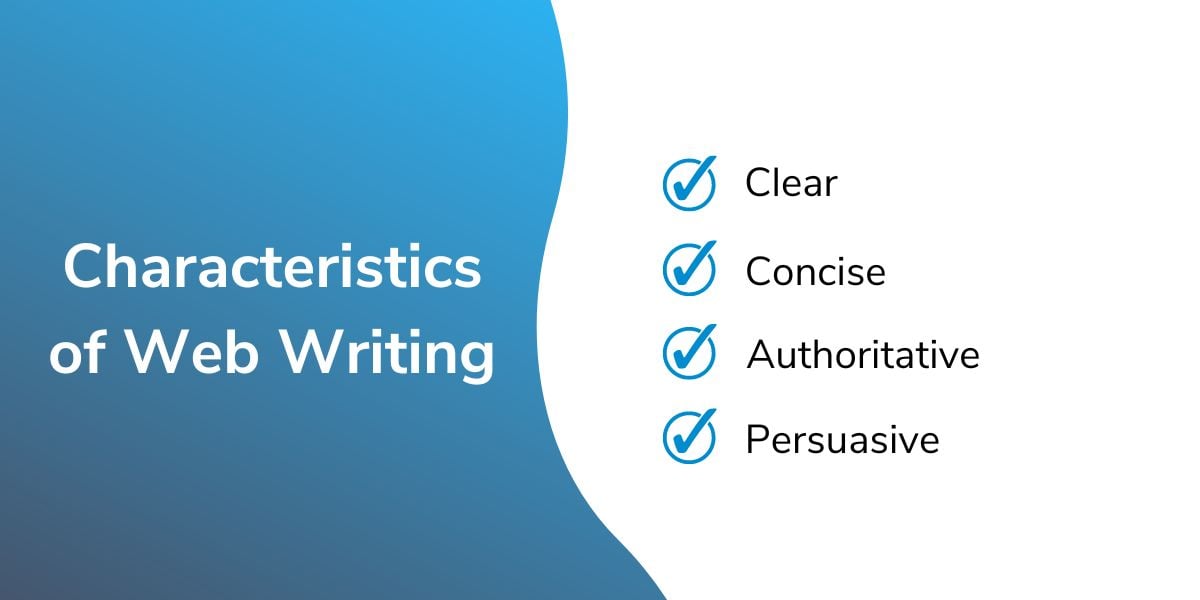 Main Types of Content Writing for the Web
There are many different types of content you can write to publish on the web, including (but not limited to) these web writing examples:
Blog posts
Product descriptions
Emails
Videos
Ebooks
Social media posts
Search engine and social media ads
Newsletters
Graphics
Sales collateral
In successful marketing strategies, these types of content rarely stand alone. Instead, different types of content can work together to reach your audience through the platforms they prefer. When deciding which types of content to write, you can also break down categories into owned, paid, and earned.
Owned media is content that is published on your website, such as blog posts and product descriptions. Owned media has the advantage of existing for free after you create it. In other words, you don't have to keep paying for visibility. However, your overall reach will be lower since your audience will have to visit your site to see your content.
Paid media is content that is hosted on a platform you don't own, so you have to continuously pay for visibility. Search engine and social media ads are common examples of this type of content. While paid media does require ongoing investment, you can also reach a larger audience more quickly.
Earned media combines some of the benefits of owned and paid media. Earned media is content that someone else creates about your business, so you don't have to pay to write or publish it. Think customer testimonials. Someone else took the time to write a glowing review of your business, which you can publish on your website or in your email newsletter.
What Are the 3 Types of Writing Styles?
When writing web content for business purposes, there are three common styles:

Informational: This writing style seeks to answer the questions that your audience is asking clearly and concisely. FAQ pages and ultimate guide blogs are a great way to establish your business as the source of information your audience is interested in. Effective informational writing avoids unnecessary jargon and wordy sentences, prioritizing education over sales.
Instructional: Instructional writing focuses on providing easy-to-follow steps for a process. Common examples of this style include how-to videos on YouTube and ebooks. Instructional content can be a great way to position your products or services as part of a solution.
Persuasive: This writing style is designed to convince your reader to either agree with your position or to take a desired action. In many cases, you will want your content to persuade your audience to either engage with more of your content or to make a purchase. Writing persuasively requires a careful approach. If you come across as pushy, then you'll drive your audience away. However, if you don't include a call-to-action, then your audience won't know what steps they can take. A good approach to persuasive content is to start with an informational focus, then transition to a call-to-action at the end.
Within each piece of web content, you can combine multiple styles. For example, an informational blog could include a step-by-step process that links to your product page.
Types of Content Writing Services
You can rely on an in-house writing team to create web content, or you can partner with marketing agencies or freelancers to bring your brand to life in the digital space. The right solution for your business will strike the right balance of time and financial resources. For example, hiring out writing projects can be more cost effective than having full-time writers, but you will still need time for your subject matter experts to meet with the people responsible for communicating your message.
Whichever type of service you choose, it's important to work with writers that understand the value of data. DemandJump gives content writers the data they need to connect with the right audience. Our platform breaks down keywords by search volume, priority, and how you and your competitors are currently ranking for them on search engine results pages (SERPs). This is especially valuable when choosing topics to write a series of blogs about, but you can also use this information to decide what topics to cover in other types of content, like video and graphics.
Take the guesswork out of content marketing today.
Get Your Free Pillar Strategy Preview!