Types of Content Writing
December 10, 2020 •DJ Team
Content writing is a staple of marketing. Without content, there would be less communication with your audience, which means fewer leads and less conversion. However, there are several types of creative and engaging content you can write to place yourself high in the Google rankings. How many types of content are there? The answer is, a lot. But don't worry, we will break a few down for you. From Facebook posts to ebooks and newsletters to websites, content marketing can take many shapes—and so should your content writing!
At DemandJump, we help you create a pillar-based content marketing plan, so you can boost your website content to the next level. We're going to take a look at the different types of content writing, features of content writing, and how you can improve your content writing skills.
What Are the Types of Content Writing?
Content writing is about more than focusing on packing blogs full of SEO keywords or bland email marketing. Writing should be engaging and informative while being unique to your brand's voice. So what does content writing include? While content writing can span many different genres, there are a few broad categories and types of writing that you will most likely encounter. When embarking on a content writing journey you could consider: blogging, copywriting, technical writing, social media posts, and emails.
Blogging
Creating blog posts is a staple of content writing. Blog posts help to boost your website's SEO rankings, since search engines reward websites that are constantly putting out new content. You'll want to identify different high-ranking keywords to include in your posts so that when people search for them, your blog pops up first. That requires some research to understand the language your ideal customers use when searching for answers to their questions. But it's important not to keyword stuff. Depending on the length of your content, you'll want approximately one keyword per 100-150 words (so a 750-word blog should have between 5-8 keywords). DemandJump can help you determine the highest ranking keywords based on what customers are searching online. This takes out painstaking research and gives you high-value keywords quickly.
Blogging can cover a wide range of topics and have a variety of writing styles, depending on the topic and brand goals. Typically your blog posts will be more conversational and approachable—the key is to educate, inform, and entertain!
Copywriting
Copywriting is the core to building website and advertisement copy. Without copywriting, your informative content could be bland and not persuasive. The goal of copywriting is to sell your product to current and prospective customers. This type of content writing includes things like writing your:
Website copy
Product descriptions
Sales collateral
Advertisements
Press releases
Print ads
Infographics.
This is the nuts-and-bolts type of content writing that people don't often think about or spend a lot of time on. However, this is an important piece of the content marketing puzzle! You should craft these messages strategically while understanding that these types of written pieces are the foundation of your brand…and often the first thing that your potential customers will read.
Technical Writing/Long Form
Technical writing can seem intimidating, but as someone who understands your own business and products, this can sometimes be the easiest type of content to produce. From creating white papers to ebooks to how-tos, this is your chance to explain how your product or service works, how your customer can apply it, and educate your audience on the specifics. Keep in mind that you still want this to be approachable—try not to use too much jargon or explain it if you need to use it.
Social Media Posts
Did you know that over 58.4% of the world's population is on social media? Not only that, but the daily average usage is nearly two and a half hours. There is a huge audience out there, and businesses are expected to have a social media presence on the major platforms (Facebook, Instagram, LinkedIn, Twitter).
Writing for social media means creating relevant, in touch, and platform-specific posts. To write well for social media, you need to understand the quirks of each online space—for example, a white paper about your products probably won't go over well on Facebook, but could be a big hit on LinkedIn. It's also important to understand the constraints of social media platforms—like Twitter only allowing 280 characters per tweet, with the opportunity to hashtag an important word or idea. Most often, social media posts are fun and engaging, while hooking the reader by prompting them to click on an ad or read a blog.
Emails
While email campaigns could fall under the category of copywriting, it is important to think of your emails a little bit differently. Copywriting pieces are geared toward an audience that is unfamiliar with your brand and the solutions you're offering. With emails, you typically target your loyal fans and your customers who keep coming back for more. After all, how else would you have their email address?
Your approach to email should be different than other forms of content. It's important to provide content to your email base that is full of added value to keep your customers engaged and interested in what you're offering.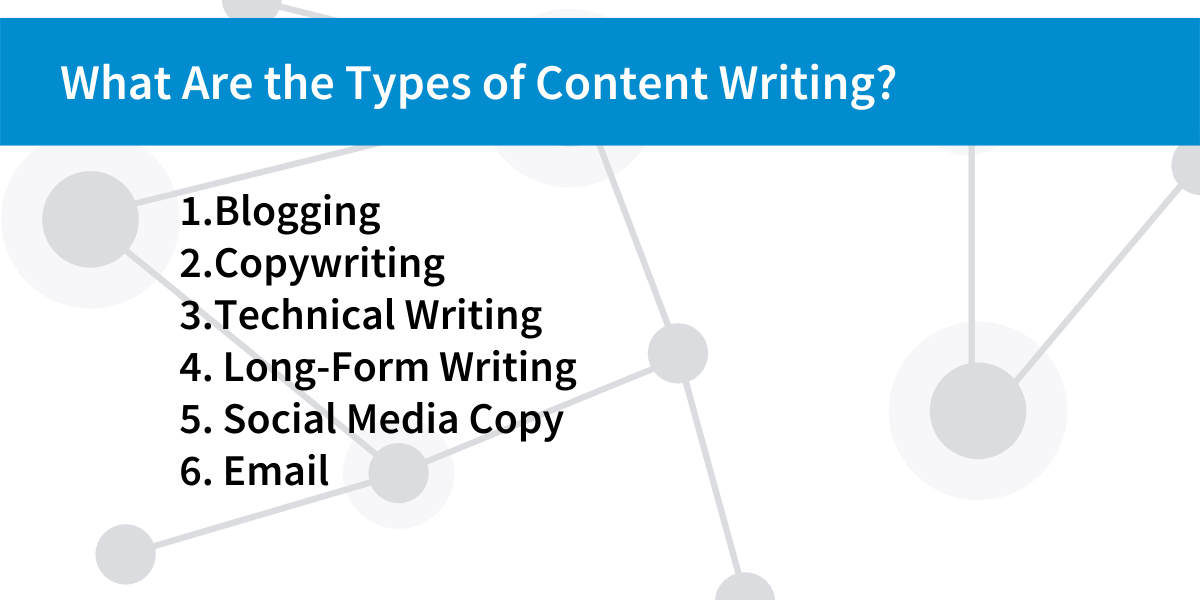 What Skills Does a Content Writer Need?
First and foremost, a content writer needs knowledge, diligence, adaptability, and a mastery of words. You should also know your company, services, and products inside and out to write good content. Understanding what you're selling is an important part of being a believable and convincing writer. Everything else can be improved upon, too. It doesn't matter where you start, you should always be asking "how can I improve my content writing skills?" The best way to get better is to practice!
A/B testing can also help you improve. You can try out two different versions of the same email, send it to different lists, and see which gets more clicks and conversions. Pay attention to what works, and adjust your content writing going forward. The more you practice, the better you will get.

Another key skill is the ability to work well with others. You won't always be an expert on everything you write about, and in those instances you'll need to be able to coordinate with subject matter experts to gather insights you can use to fuel your content. Not only is their input valuable, but their feedback is critical; learn to accept criticism on your writing and focus on producing the best end product you possibly can—even if it doesn't match your initial vision.
How Do I Figure Out What to Write About?
When considering questions like "what is the content in writing," you can do things the old fashioned way and spend your valuable time researching and combing through search results to manually find topics to write about. Another way to determine your content is to try DemandJump's quick and easy solutions. Try our free tier to get insights reports and see what your target audience cares about. These insights and content briefs give you ideas around any topic, with the click of a button. We can provide you with a prioritized list of questions and keywords to write content that will help you to gain market share. Not only that, but DemandJump can show you how your target audience behaves online, which helps you know what they are interested in. By comparing what keywords and questions your competitors are ranking high in, you'll be able to build your content to reach page one of Google.
How Do You Write Content Writing?
There are key elements in content writing you need to ensure your blogs, copywriting, and other content engage your audience. But you might still be asking, "What are the parts of content writing you need to succeed?" There are several key steps to keep in mind when writing content for your business:
Know your audience. Determine who you want to target with your content. From there, figure out what those people want, need, and search for, as well as how they talk. Write content that appeals to those things. Do not go into a spiel about how great your product or service is. Show your audience how it will help them.
Know your type of content. Before you start writing, you should also make sure that you understand the type of content you're writing since all the forms look so different. Figure out what makes each type successful and appealing to your audience, and try to use those same characteristics in your own content.
Do your research. You want to establish your business as an authority in whatever subject you decide to write about. Do so by providing specific examples of how your product or service has helped customers as well as finding relevant statistics from credible sources.
Stick to the point. You want to keep your reader engaged. To do so, you have to stay on topic. Ramble too much, and you risk your reader clicking off your content before they get to the call to action.
Stay organized. Similar to the previous step, organization is also important to keep the reader engaged. Make sure as you write you start with broad information on your topic and get more specific as you go on.
Call to action. By asking your audience to do something, like visit a website, you'll have a higher engagement. This means an increased click-through rate, as well as higher interest in your product or service. If you've written your content well, your audience will see you as the go-to on certain topics and trust you enough to try out your offerings.
Keep track of progress. Once you share your content, be sure to keep track of how successful it is. This means how many people click on it, how many people stay on it for a significant amount of time, and how many leads come from that post. If something doesn't work, take note of it and change it in your next piece of content.
How Do I Know if My Content Writing Is Working or Not?
Figuring out which pieces are effective has never been easier. With DemandJump you can easily see and understand which pieces of your content are ranking high on Google. You can figure out what content is working—and what is not—so you can continually refine and improve your content writing skills. DemandJump helps you easily prove the value of the content you are creating, and you can feel confident that your content writing is on the right path with DemandJump's tools. You can experience how DemandJump transforms your content writing and boosts you to page one.
Get Your Free Content Marketing Strategy Report