Website Content Planning: 8 Tips For Creating Great Content
July 16, 2021 •DJ Team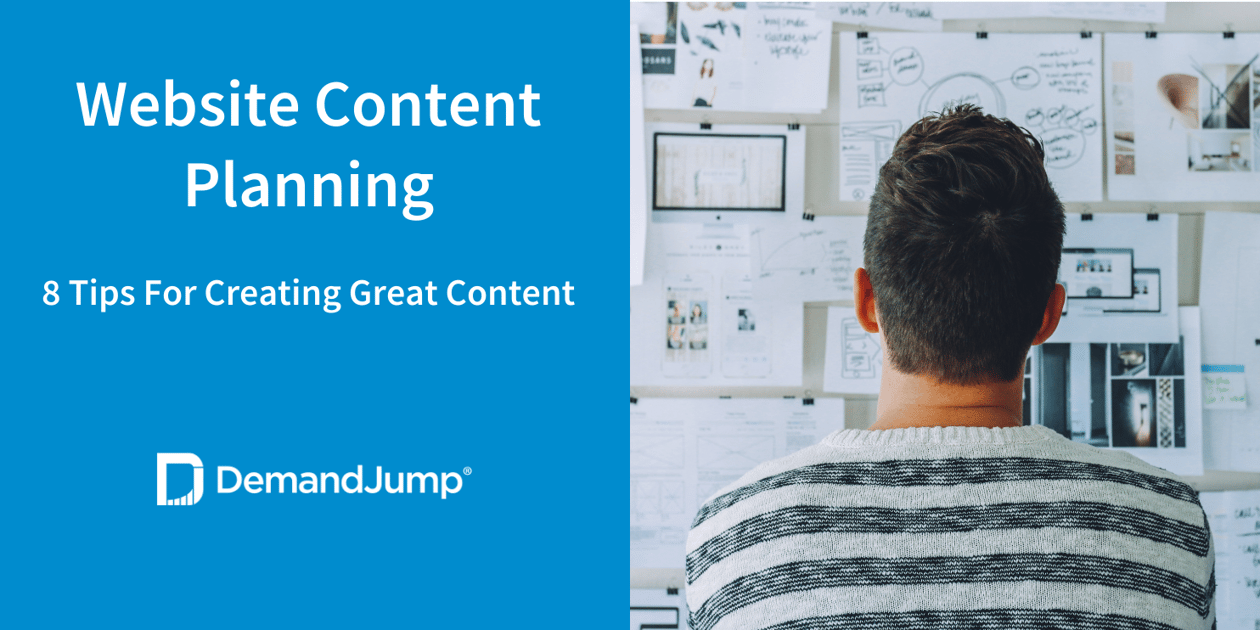 Many businesses struggle with knowing what to say on their website and how to make the most of their online presence. Since direct navigation to websites is one of the most utilized paths for customers to find a business, it is extremely important to have engaging and relevant content throughout your website.
Let's take a look at how you can refresh your website and get into the habit of consistent and impactful website content planning.
How Do You Plan Content On a Website?

The most important place to start planning content for your website is from the mindset of your audience and their needs. Instead of sitting down, typing out 50 blog posts, and slapping them up on your website, the first step is to think about WHY the content you are planning is important--and who it is for.
The first step in creating a website content strategy is to determine who your target audience is. This lays the foundation for what needs to be included in your content plan and helps keep you on track and focused throughout the entire content creation process.
It's also important to examine who you are currently reaching—are they your target audience? Or do you have work to do to reach the people you want to work with and for?
Understanding the why and the who will help you plan content that will keep all of your visitors engaged and meet their individual needs.
What Is the Website Planning Process?
There are a few steps to planning website content. Depending on where you are in the process, you may use some or all of these steps.
1. Look At What Content You Already Have
When evaluating your current website, keep in mind these important questions:
Is the content accurate and up to date?
Is there anything missing?
Will my target audience find this useful?
It's easy to fall behind with keeping websites up to date when growing a business, and you will probably find some content that needs to be removed or revised. You will also be able to identify gaps where you could add additional content. Remember your content strategy while going through this process, and make sure that the content aligns with what your audience needs. You can also use a website content planning tool like DemandJump to stay in touch with how the needs and questions of your audiences are changing with the market.
2. Create a Sitemap
A sitemap is similar to an architect's blueprint. When building a house, the blueprints are vital to make sure that all the elements are included in the proper place. Your sitemap serves the same purpose.
Think about the big buckets first—can one page cover everything or would subpages make more sense? In general, shorter page titles are easier for people to navigate. It may be more customer-friendly if you create a logical flow of shorter pages rather than having everything on one or two pages. At the same time, longer pages on your blog can serve as valuable hubs of information for users to self-educate and become more qualified leads.
There are many different tools available to help you create a sitemap, like Microsoft Word's Organization Chart functionality. Creating a sitemap will help you make sure your website is organized and ready for any and all content that you will create.
3. Bring Others On Board
No person is an island, and the process of planning and creating website content shouldn't be a solitary endeavor. For practical reasons, it's important to have extra sets of eyes on your content for proofreading and to make sure it makes sense to others.
It's also important to include major stakeholders in the process so that everyone knows what is being published and can contribute to revisions.
4. Create Compelling Stories (But Don't Over-sell!)
A common principle in creative writing is "show, don't tell," and this holds true for engaging marketing content as well. Instead of bragging about how amazing your business is, try telling the stories of the people who have benefited the most from your products or services. Giving specific statistics or results is also a good idea to help highlight all the amazing things about your business without sounding fake.
5. Write For People AND Computers
Search Engine Optimization (SEO) is extremely important in order to show up first in search results, but jamming your content full of high-ranking keywords won't help you reach your customers. Write for your customers and try to include relevant keywords naturally in your copy so that you don't sound robotic or nonsensical. In fact, if you write naturally, you may find that your copy includes related keywords without even trying.
To be sure you're speaking the language of your target audiences, be sure to use our free SEO insights tool to build your SEO keyword lists.
6. Use Call-To-Action Language
There's a big difference between ending a post with "thank you for reading" and "contact us today to get started!" Giving prospective customers action prompts is important so that they know what the next step is to work with you and how to take it. By giving them instructions like "call now" or "message for more information," you can guide your target audience into taking an action before they leave your site.
7. Create Visual Appeal
Make sure your text is broken up with images, charts, or illustrations so that people don't get overwhelmed by the words on the page. Blank space is also important to give the eye a rest, and it helps important headlines or titles to stand out as well.
Pay attention to the way your text is displayed, and make sure you use techniques like bulleted lists, larger quotes or testimonials, short paragraphs, and sub-headings to divide the sections.
8. Set Deadlines
While website content planning tools like DemandJump have made it easier than ever to create and manage your content, giving yourself deadlines is important so that you actually complete the work and stay on track. Creating a calendar with deadlines will help you to do this.
How Do I Plan a Content Calendar?
The overall strategy in planning a content calendar for your website is to divide and conquer— instead of trying to do everything all at once, look at where you can group sections together by relevance to work on them in logical chunks.
It may be helpful to start with your "about" section to set the feel for your website and give the other content a foundation to build off of. Saving the easier pages like "contact us" and "locations" for the end is also a good idea.
Work with your team to figure out a realistic schedule to write and publish your content on your site. With all the pre-planning and strategy that you've put in, the process should be much easier and relatively painless.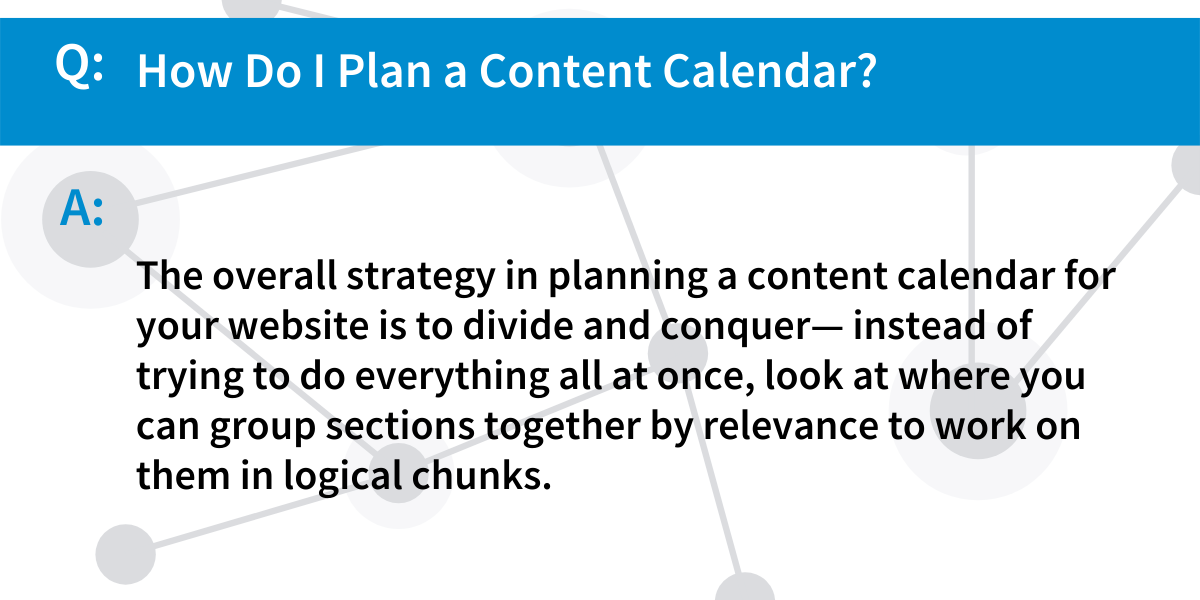 What Does a Content Planner Do? DemandJump Redefines Website Content Planning Tools
If creating your own content calendar is intimidating, then you may want to utilize a website content planner. Content creation tools have become more sophisticated, and DemandJump is the perfect solution for many businesses looking to refresh their content. With DemandJump, you'll be able to know exactly what content to create and save time planning your content calendar.
This content planning tool goes beyond the creation stage—you will also be able to measure the effect of your content by integrating DemandJump with your CRM in order to see which pieces of content are driving revenue.
Set up a free account today and start creating content effortlessly.
Get Your Free Pillar Strategy Report