Website Copywriting: 4 Tips for Creating Great Content
July 20, 2021 •DJ Team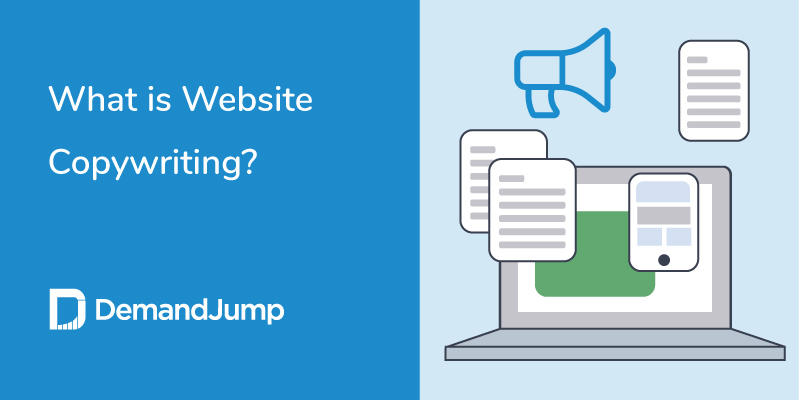 Copy. Is. Everywhere.
From the text on your landing page to the captions in your social media posts...If you produce something with the goal of driving sales, the words you use are copy. It's meant to draw in readers, and it's how most businesses today talk to their customers.
Digital marketing experts estimate that most Americans are exposed to around 4,000 to 10,000 ads each day. That's a crazy amount of content to encounter in a short period of time.
When considering copywriting for your business, you need to make sure your writing hooks your readers immediately. That is no simple undertaking, especially when you're trying to get your copy in front of readers in the first place.
With that in mind, let's discuss what copywriting is and a few tips that could help you write copy faster and better.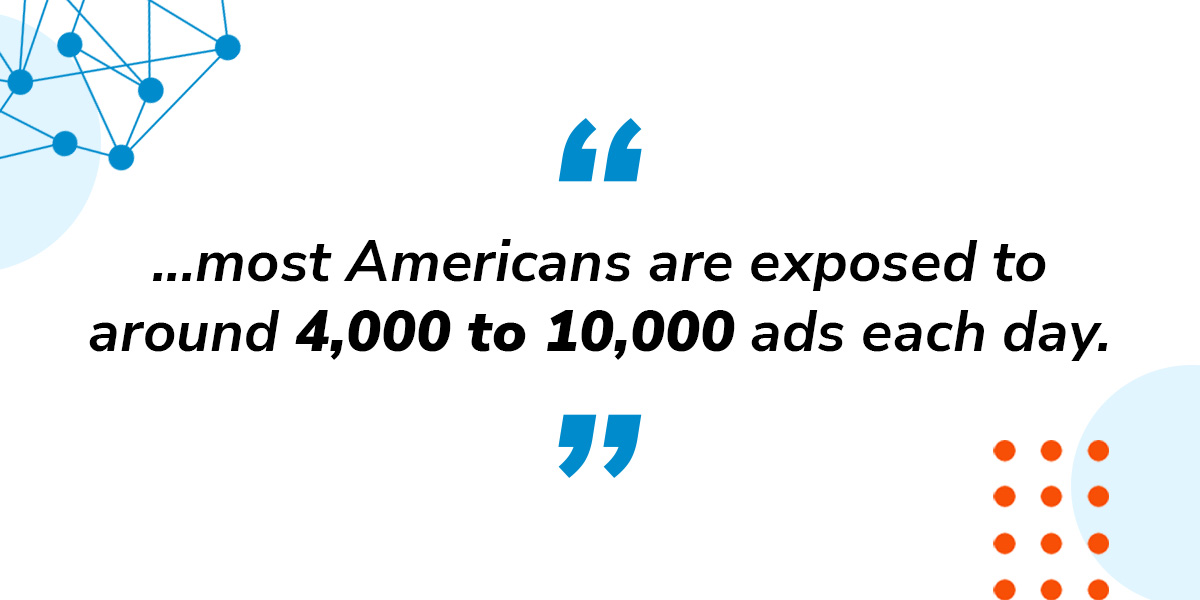 What is website copywriting?
Website copywriting is the process of writing digital content for landing pages, blogs, product pages, emails, social media, and everything in between. Compelling content that tells a story can engage website visitors and lead them to actions that are meaningful to them and important to you.
In 2020, 52% of U.S. adults say they preferred to review their news from a digital or online platform, according to a study by Pew Research Center. This percentage has seen a significant increase since 2016 when a similar study was conducted by Pew that showed only 38% of U.S. adults preferred to get their news online. This percentage is going to keep getting higher as we progress further into the digital age. If someone wants their news online, won't they want all their other content online as well?
With over 269.6 million users on the internet, no wonder it's important for companies to be on their A-game when it comes to website copywriting. When writing thoughtful, compelling stories that engage your target audience, there are more advantages than just getting leads, you're building a customer relationship that develops trust and loyalty to your brand.
What exactly does a copywriter do?
A basic copywriter job description would be this: write ad copy, brainstorm content strategy, proofread, and edit. But when you dive into it, copywriters do way more than that. They're communicators and storytellers for your brand.
They have to be able to conduct industry-related research to convey everything from the big picture to the specific details of your business. They do this while also knowing your target audience and understanding their needs, wants, and desires.
A copywriter is not only responsible for writing your content, they're responsible for giving your brand a voice - a voice that speaks your story and makes your audience feel connected to your business.
Website copywriting tips
So you want to be a copywriter, or at least write some copy for your website. Here are a few website copywriting tips that will get you started on writing your next article.
#1 Write like a human
Writing website copy isn't a competition to see who can write the most convoluted statement with the fanciest words. When your writing is too complicated or distanced you lose the ability to authentically speak to your audience in a way that they will understand and relate to. Instead, use the second-person point of view, writing "you" and "your," to be more conversational with your reader. Write like you're talking to a real person. Addressing your reader directly helps to close the distance between them, their computer screen, and you.
#2 Pay attention to how your competition talks
You need to understand the words and terminology that your customers are using—as well as what your competition is using. If a majority of your competitors refer to a product or service that you offer in one way, there's a good bet that's how your ideal buyers are searching for it. Also, be cautious of using industry jargon. Buyers may search using long keywords or questions to find solutions because they don't know the industry name for it.
You also want your website to drive more and better traffic than your competitors. Using an SEO Insights tool, you can identify exactly keywords that your competition is ranking for that you are not. These are great focal keywords to bring you additional traffic, and in an ideal world, take traffic away from your competitors.
#3 Be simple and concise
Although it's tempting to want to write a novel, it's best to be simple and concise with your copy. You have just seconds to convince a visitor on your website that you're worth sticking around for—but you won't accomplish that if your writing is overly long and complex. After all, most web users read only 20% of a page's content. Use simple, straightforward language to communicate your point to readers and delete excess words that don't enhance your message or add value for your readers.
Keep in mind that this doesn't mean your content can't be long or in-depth. In fact, there are certain types of website content that do best on search engines when they're as many as 3,000 words long! The key is to avoid fluff and filler; make every one of those words count, no matter how many you include in a piece.
#4 Understand SEO
Search engine algorithms shift and change their priorities as technology advances. The days are long gone where you could optimize a page just by using your target search term as much as possible. (Now it's called keyword stuffing, and it's a major no-no.)
Today, Google wants high-quality content that resonates with readers. Here are four tips on how to create content that's also optimized for search engines:
Determine exactly what your customers are searching for. Then write content that addresses those search terms. Solving users' search queries is Google's ultimate goal, meaning there's no point in trying to be sneaky and create misleading content.
Naturally integrate keywords into your content. As mentioned earlier, trying to maximize the number of instances of your keyword through keyword stuffing will do more harm than good.
Write an enticing metatag or social media description to draw your users in. This information is what users see when browsing search engine page results or on social media. It's ultimately what makes the difference between a reader clicking on your website versus your competitor's.
Link internally to other relevant pages on your site. This will make it easier for users to explore your site further and thereby increase time on site.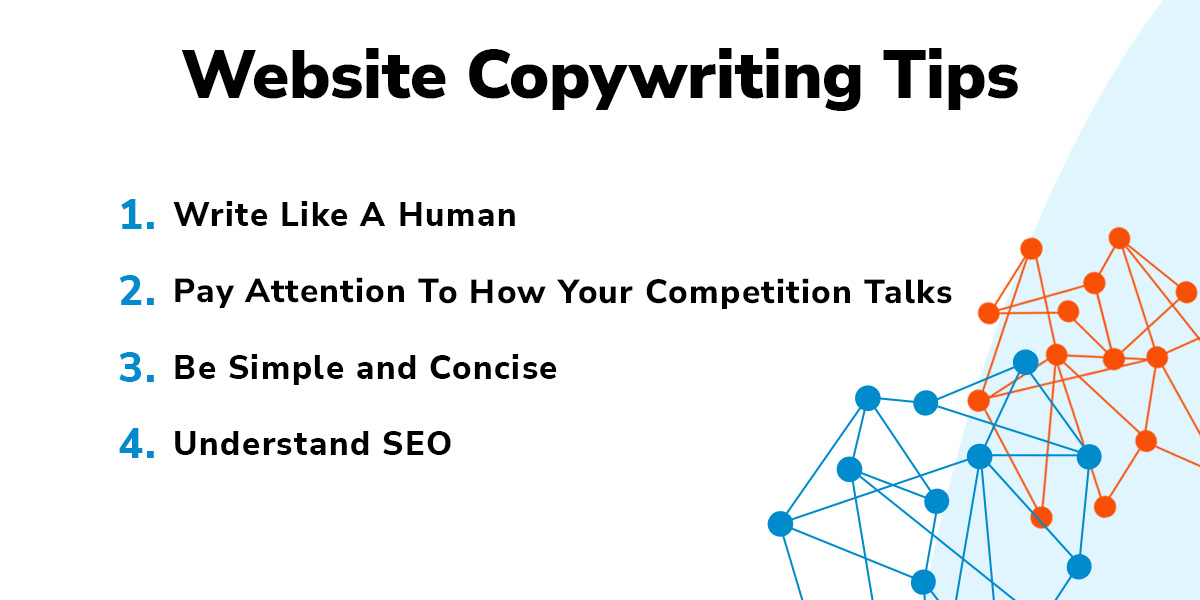 Ace your copywriting with DemandJump
Have you asked yourself "How can I write better copy?" We understand the struggle it can be to know what people are actually searching for, understand your competitors and how they're writing, and then using data to actually write creatively and towards your target audience.
You could very well create a great piece of content that could still end up in the doldrums of the internet, never to be read by your intended audience.
That's why we created DemandJump. We help content creators find purpose and action when writing copy for a website. Our intuitive content insight reports show you the precise words and phrases your audience is searching for, informs SEO content strategy, aids in content ideas with a blog topic generator, helps you create a website copywriting template to structure your ideas around, and more.
If you need to take it a step further, we can even assist you with website copywriting services so you can leave the writing to us and turn your focus to your business. Don't wait, get started creating content that ranks today!
Get Your Free Content Marketing Strategy Report