What are Content Pillars?
June 10, 2021 •DJ Team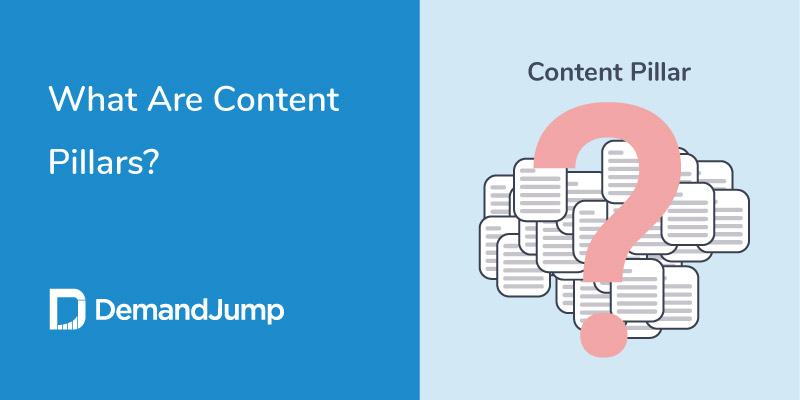 What are content pillars? Also known as Pillar-Based Marketing, content pillars are a novel type of content strategy framework that involve the creation and tactical interlinking of related pieces of content designed to increase a website's search engine rankings.
Long gone are the days of search engine optimization (SEO) when keyword spamming and aimless link building work to win those coveted page-one Google rankings today's brands are after.
Over the years, as search engines have matured, they've turned their attention to the user experience of digital content; is there enough useful, relevant content about a particular topic on a website for it to be worthy of true authority status?
The key to giving the search engines all the signals they need to answer that question in the affirmative for your brand or organization. Content pillars are a specific approach to creating layered, interconnected webs of content that always give users the chance to dive deeper into the topics they're interested in learning more about.
Maybe you've heard that content pillars in 2021 are the absolute best way to organize your content so your audiences can find it when they go searching for answers. If you're looking for content pillar ideas to help you structure your next big content campaign, you've come to the right place. Let's take a look at some content pillar examples, how they work, and what makes for pillar content with potential to climb the rankings quickly.
Content Pillar Template
To begin, it's important to gain a basic understanding of how content pillars are organized. This content pillar template is fantastic for marketers in any industry because it's the same no matter what topic you're hoping to rank for in search engines; as long as you've adopted these best practices, you're in good shape.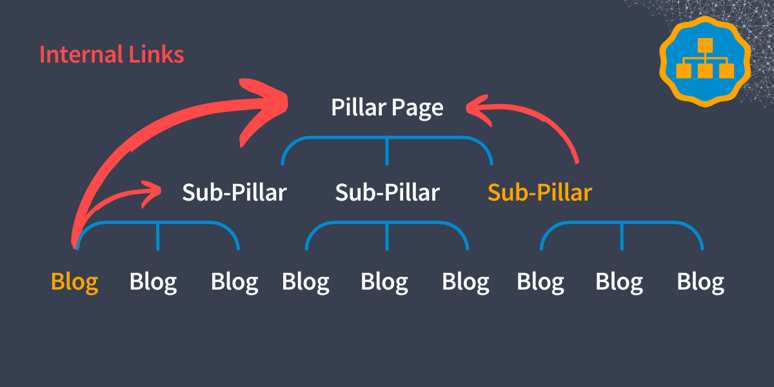 While we use the word "pillar" to describe this format, it might be helpful to think about it as a waterfall, in which more general pieces of content are at the top. Content pillars are made up of the following three types of content writing:
Pillar Pages
At the top, a pillar page serves as the biggest, most impactful piece of content in a content pillar. These pages should be at least 3,000 words long, and will be your best opportunity to provide an exhaustive overview of your topic. For example, if your content pillar is about the topic "content marketing," this page would be titled "Content Marketing" and would act as a primer that touches on every element of content marketing that users are searching for online. More on that later.
Sub-Pillars
Located beneath the pillar page in each content pillar is a series of sub-pillars that dive into unique subtopics related to the main subject. These pages do best when they are at least 2,000 words, though many end up at 2,500 or more—just make sure that your pillar page is the longest piece of content in a given content pillar. To keep with our "Content Marketing" example, sub-pillar topics might include "Types of Content Marketing," "Content Marketing Examples," "Content Marketing Strategy," and more. Each of these can focus more on a specific element of the broader subject.
Supporting Blogs
At the bottom of our organizational chart are supporting blogs of 750+ words a piece. These topics are nestled under each pillar page and sub-pillar in a content pillar and take an even more targeted approach at specific topics related to their respective higher-level topics. Often, the titles of these blogs are determined by the most frequently asked questions by users on search engines about each pillar or sub-pillar topic. For example, supporting blogs that nestle under the "Content Marketing Strategy" sub-pillar could include topics like:
How do you build a content marketing strategy?
What does a content marketing strategist do?
How do I know if my content marketing strategy is working?
Generally speaking, each pillar page and sub-pillar should have at least three supporting blogs that link up to it. Depending on the competitive landscape of content competitors are publishing on your specific topic, that number might need to increase.
To learn more about how DemandJump's writers create Pillar Pages, tune in to our podcast, Page One or Bust! Below is a helpful clip from a recent episode, but if you want to hear the entire episode, follow this link.
Content Pillar Linking Strategy
If the above types of content are the building blocks of a content pillar strategy, the way you interlink between those blocks represents the magic that makes this approach to SEO work. Alone, these individual pieces will have some SEO value, but when you follow some key rules for interlinking, it sends search engines the right signals that your content surrounding a topic is deep and rich.
To maximize your content pillar's SEO potential, follow these best practices:
Pages should only ever link up the organizational chart. Pillars should not link to supporting blogs.
Supporting blogs should only link up to their respective pillar pages and sub-pillars; the blog titled "How do you build a content marketing strategy?" should only link to the "Content Marketing Strategy" sub-pillar and the "Content Marketing" pillar page.
All sub-pillars should only link up to the main pillar page.
When we say "link up," we're referring to internal linking; the links described above should be the only internal links used on those pages. If you want to link out to a contact page or lead generation landing page, find a way to do so in the structure of your website with a sidebar. Sidebars can also be used to provide links to every pillar page and sub-pillar in a content pillar so users can freely move back and forth between the topics they're most interested in.
External linking is okay, but limit it only to authoritative sources (usually with .gov, .edu, and .com domains). Never link out to a competitor's website, or you're just making it more difficult to outrank their content. If you need to cite a competitor as the source for a data point, use footnotes or parenthetical citations that identify the source by name without a link.
Build Your Next Content Pillar with DemandJump
While content pillars seem complicated, they're really a powerful tool that can remove a lot of the guesswork from determining topics for content. As long as this format is followed and you know exactly what your target audiences are searching for surrounding the topic you've chosen, you can build effective content pillars that outrank the competition and drive significant traffic to your brand's website.
But knowing exactly what your audience is looking for is truly the key to success. With DemandJump's powerful content insights tool, you can run a report on the content pillar topic you're hoping to rank for and get a clear look at the top keywords and questions your audiences search for. Each term is matched with a DemandJump score, giving you a clear look at those questions and phrases that are the most important elements of a winning content pillar. And with our smart content outline tool, it's easy to build a ready-to-write outline for any pillar page, sub-pillar, or supporting blog and know you're including the right terms to maximize your reach.
We know it works because we did it ourselves—and we saw explosive growth with our own "Content Marketing" content pillar in a matter of weeks.
Ready to see it for yourself? Get Started Today!
Get Your Free Content Marketing Strategy Report