What are Examples of Content Marketing on Social Media?
December 18, 2020 •DJ Team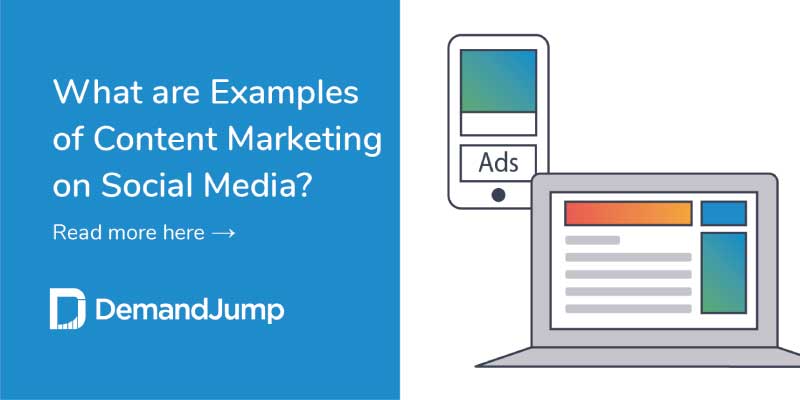 Social media is probably the top form of content marketing. Think about it: how many people do you know who have at least one social media account? Whether it's Facebook, Instagram, Twitter, or even the new kids like TikTok, social media is pervasive. That means it's easy to meet people on their own terms and feed them the kind of content they're looking for. But what kinds of content are people sharing on social media? Let's look at a few examples.
What Does Content Mean in Social Media?
Like with the rest of content marketing, thanks to the many, many outlets available in social media, content can mean almost anything. Whether it's a quick, short, bite-sized tidbit that someone finds funny or interesting, or a long-form video detailing the how-to behind a fairly complex idea or process, content is whatever you're creating.
Before we look at content marketing examples, let's see some common types of content:
Articles or Blogs - Whether quick hits or longer form pieces, most social media platforms allow you to share links to these articles, or sometimes even embed them.
Videos - After uploading a video to YouTube or Vimeo, it's easy to share them on platforms like Facebook or Twitter. Videos can be shared to Instagram as well, whether pre-recorded or made in the app. TikTok is also video-based, but it helps to make these videos in the actual app itself.
Infographics - One of the original ways of making data and numbers interesting to people who don't like data and numbers, infographics use visual appeal to pull people in.
Photos - It seems simple, but a good photography style is a major part of any brand, and maintaining that look across all social media platforms is key to a good social media strategy.
Social Media Content Marketing Examples
One of the best ways to see social media content marketing work is to see it in action. There are millions of content marketing examples that we could look at, but let's take the time to see a few that are particularly interesting.
Highly Curated Instagram Accounts - Instagram is all the rage, with everything from memes to lifestyles photography to influencers sharing their hot-new-things. If you're a consumer-driven brand that sells, Instagram has plenty of tools that make it easy for you to share content—and capitalize on it.
Take Crate and Barrel, for example. Any shoppable post on Instagram is denoted with a white bag icon in the corner. That means that when you tap the image once, you can see several items for sale. Their designers spend a lot of time putting together those beautiful, iconic settings. See something (or several things?) you like? Tap, see the item's name, it's price, and then tap that to go to the product page to buy.
Cross-Channel Tie Ins - One of the best methods for using social media is tying together two different outlets. Think of finding interesting ways to use channels like Spotify. Spotify makes it easy for brands to create playlists or channels that are constantly updated.
Casper, the mattress company, did this beautifully. Because they're all about helping people get a good night's sleep, they created a "Sleep Channel," full of white noise, meditative sounds, and other quiet, comforting noises to help you get some shut eye. They shared it via their other social media profiles.
Companies that Use Social Media Marketing Effectively
Finding a social media content marketing strategy that works well for your business requires thought, trial and error, and doing what you can to carve a niche in your industry. Several brands have found really unique avenues that work remarkably well for them. In fact, your brand's "voice" on social media doesn't always necessarily have to match that of the rest of your brand's marketing (but don't go crazy). Let's look at a few companies that use social media marketing effectively.

GoPro - This action camera manufacturer has a pretty easy in to social media: they make a product that takes amazing pictures and video, so outlets like Instagram are right up their alley. With the number of people who use their products and share their own amazing shots using the #gopro hashtag, they can both share some amazing shots from their products while building an even stronger user base.
Wendy's - Who would've thought that a place touted for its "old-fashioned burgers" would come out so hot on trendy social media? But they did. Wendy's adopted a voice that was unlike many others on social, particularly noted for its scathing wit and burning retorts. Retweets are a rich currency in the world of social, and people are simply throwing them at Wendy's social media team.
King Arthur Baking Company - When a certain quarantine suddenly got a lot of people toying with sourdough, King Arthur Baking Company (formerly King Arthur Flour) was there and ready. Constantly sharing new recipes that have been heavily vetted, plus getting professionals and semi-pros and sharing live baking demonstrations via Instagram Stories, their social media team rocketed to the top of many social feeds.
Supercharge Your Social Media Content with DemandJump
Of course we can't all have full social media teams putting together our strategies for us. Or maybe you are a team, but still could use a little assistance in the trial-and-error portion. No matter which, try out DemandJump to take your social media content marketing to the next level. You'll get all your data in one place, plus ideas for improvements and recommendations for other areas to create content. Try it for free and see what your audience is doing.
Get Your Free Content Marketing Strategy Report