What are Examples of Content Marketing on Social Media?
December 18, 2020 •Josh Daugherty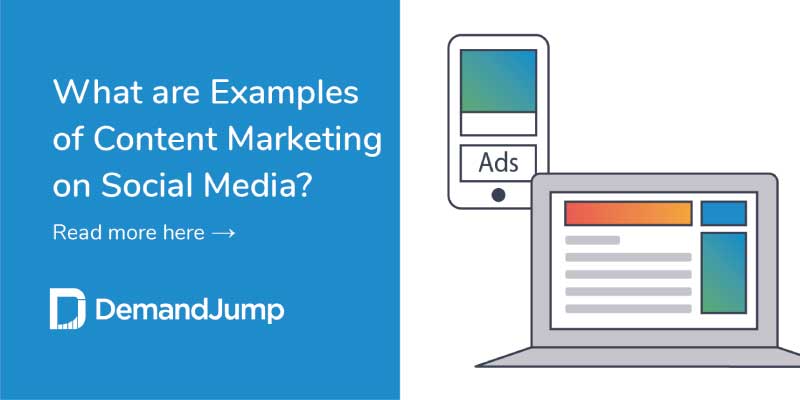 Social media is probably the top form of content marketing—yet it's all-too-often overlooked as the essential component of an effective content marketing strategy that it truly is.
Think about it: how many people do you know who have at least one social media account? Do you? Whether it's Facebook, Instagram, Twitter, or even the new kids like TikTok, the popularity of these—and other—social media platforms is steadily growing.
Here's what the numbers show:
4.55 billion: The number of active social media users (global)
9.9%: Increase in number of social media users (global)
84%: How many Americans use at least one social media platform
57.6%: How much of the world's population uses social media
2.89 billion: Facebook users (global)
1.39 billion: Instagram users (global)
463 million: Twitter users (global)
Pushing your content to these platforms is a proven method for meeting people on their own terms and feeding them the kind of content they're looking for. That is, of course, especially true if you're executing a Pillar-Based Marketing (PBM) strategy (our specialty here at DemandJump, home of the world's first PBM platform).
In this blog, we're going to explore the role of social media in content marketing. We'll start by defining some of the key terms and how they relate to each other. Then, we'll explore the different roles social media can play in your content strategy, and provide some tips for developing an effective strategy for using social media to amplify your content marketing efforts. Finally, we'll provide a few real-world examples of the types of social media posts that work for different platforms.
What Is the Connection Between Content Marketing and Social Media?
Like with the rest of content marketing, thanks to the many, many outlets available in social media, the word "content" can refer to almost anything. Before we look at content marketing examples, though, it's worth clarifying the difference between content marketing and social media marketing.
Content Marketing: Writing and publishing informative pieces of content to connect with and educate potential customers about your company's product and service offerings.
Social Media Marketing: A form of content marketing that involves creating and pushing content to social media platforms in order to connect with a wider, and in some cases targeted, audience.
With that distinction in mind, then, how does social media support content marketing? Is social media marketing under content marketing?
To answer the first question, here's how social media can support content marketing:
Social media can be used to develop a brand voice or personality, pushing compelling content to different platforms in order to increase brand awareness and differentiate your company from its competitors.
It can also be used in a supporting role. For example, if you've just published a highly-informative blog that you want as many potential customers to see as possible, you can share links to the article on whatever channels you choose—Twitter, Instagram, Facebook, LinkedIn, and so on.
To answer the second question, then, yes, it certainly makes sense to think of social media marketing as falling under the umbrella of content marketing since it's used to help amplify the content.
What Are the Different Kinds of Social Media Content?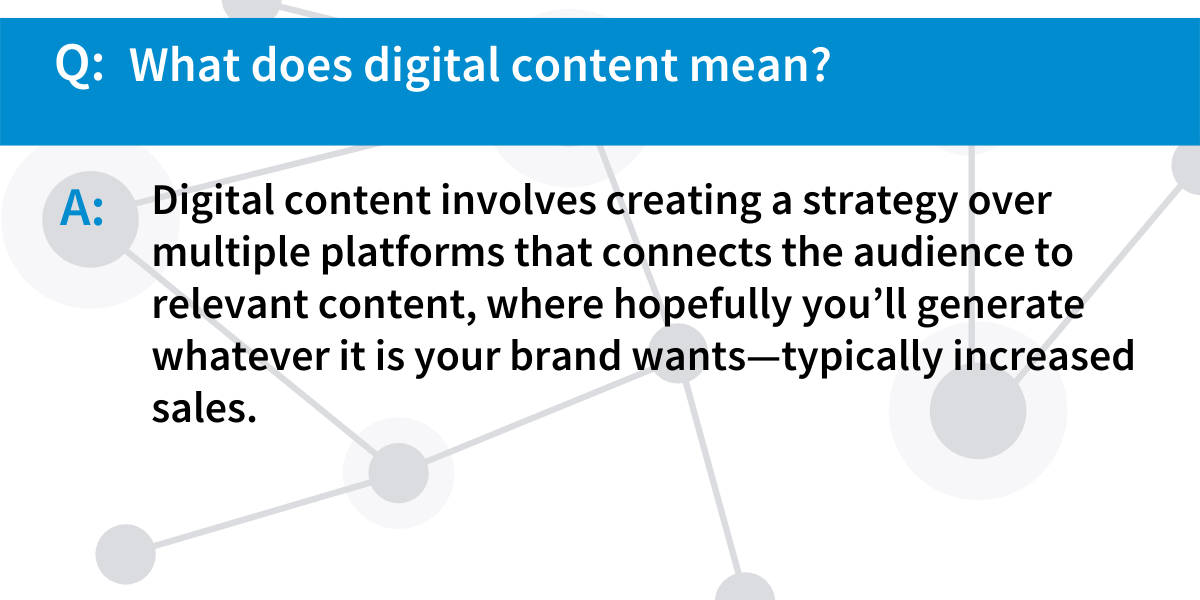 Depending on what you're trying to accomplish with your content strategy, you might benefit from a number of different social media content, meaning you have a lot of promising opportunities to connect with customers.
So, what is media content in marketing? What type of content is used in social media? And what are examples of social media marketing?
Here are some of the most effective media content examples that make sense for content marketers to consider:
Articles or Blogs: If you're using a pillar-based content marketing strategy, you'll be creating a lot of informative content. By using social media to preview (and link to) specific content pieces, you can generate interest across different social platforms and drive those users to not only read the content, but take a specific action (like scheduling a product demo) after reading. Posting content links on social media not only makes your content accessible and shareable, but it can also engage customers as they comment on or share what you've created.
Videos: After uploading a video to YouTube or Vimeo, it's easy to share them on platforms like Facebook or Twitter. Once you've created informative video content—like a product demo or overview of a key concept—you can share links to those videos similarly to how you'd share links to articles or blogs (described above).
Infographics: One of the original ways of making data and numbers interesting to people who don't like data and numbers, infographics use visual appeal to pull people in. Once you've created an interesting and well-researched infographic, it becomes a highly-shareable piece of content that might just go viral.
Photos: It seems simple, but a good photography style is a major part of any brand, and maintaining that look across all social media platforms is key to a good social media strategy. Especially when you consider social media users scrolling through their feeds, a dynamic, interesting image helps to make your content stand out.
Customer Stories or Testimonials: For many companies, some of the most powerful marketing content isn't necessarily created by the marketing team, but by actual customers. When customers say great things about you online, you're wise to amplify those messages so future customers can see the real value you're offering.
Webinars and Podcasts: While they take a little bit more planning and organization than the other types of social content in this list, delivering webinars and recording podcasts can provide excellent results. (For the uninitiated, a webinar is an online seminar, hence the name. By hosting a webinar, you can inform customers and develop countless potential business leads.) A podcast, like our own

Page One or Bust!

, explores topics related to content marketing and strategy.

What Are the Best Social Media Platforms for Content Marketing?
In terms of users, here the 10 most-used social media platforms for 2022:
Facebook
YouTube
WhatsApp
Instagram
TikTok
Snapchat
Pinterest
Reddit
LinkedIn
Twitter
Don't worry, we're not going to recommend that you promote each piece of content you create on each of these 10 platforms. Rather, we just wanted to provide this list so you can better prioritize the channels that make the most sense for your business objectives and customer preferences.
That being said, we typically recommend at least promoting blogs and other content via Facebook, Instagram, LinkedIn, and Twitter. These platforms tend to have the types of audiences that businesses look to connect with through their content marketing strategies.
Next, it makes sense to discuss the key components of an effective social media strategy for content marketers.
What Are the Key Components of a Social Media Content Strategy?
There are two essential components of any social media content strategy:
Publishing engaging, informative content (e.g., blog posts and whitepapers) on the company's website.
Creating social media posts to drive brand awareness and get your content in front of as many potential customers as possible.
How Do I Develop an Effective Social Media Strategy?
There are three main steps to developing an effective strategy for using social media to amplify your content marketing efforts:
Step 1: Do Your Research
This step provides the entire foundation for your strategy. What kind(s) of content are your customers searching for? What questions are they asking? Where (and how) are they looking for answers?
DemandJump's keyword research and content strategy development tools make it easy for content marketers to know exactly what kind of content to create. By creating a free account, you can see your potential customers' most popular searches, including the exact wording they're using in their searches. You can also see which keywords and questions your competitors are beating you for and develop focused strategies for improving your positioning.
Step 2: Define Your Objectives
What are you hoping to achieve with your content strategy? Ideally, you'll set SMART (specific, measurable, achievable, relevant, and timely) objectives, so it will be easy to know whether you're succeeding or not.
Since DemandJump's platform lets you see not only what customers are searching for but also which of your competitors are "winning" those searches, you can hyper-focus on setting SMART goals. As you publish and promote content, then, you can track your progress and adjust your strategy on the fly, if needed.
Step 3: Make a Plan
Once you know what content to create and what, specifically, you want to achieve with it, you can develop a plan for publishing and promoting the content effectively. If you're relatively new to social media and content marketing, you can start simply, by:
Identifying a few pieces of content worth creating
Performing keyword and competitive research
Writing and publishing the content
Creating social media posts to promote your content
Where Can I Find Social Media Content Examples?
Coming up with effective social media content ideas for small business promotion might feel daunting at first, but you can find examples online fairly easily. Even if you're not an avid social media user yourself, it's not difficult to find examples of great (and, if we're being honest, not so great) social media content all over the internet. Here are two ways to find high-quality content examples:
Think about the brands you personally do business with, especially those companies you find yourself recommending to friends or colleagues. Spend some time browsing their social media profiles, to see the types of content they are creating. How do they appeal to customers? Maybe it's their unique brand voice, or perhaps the level of information they provide. The more examples you read, the better you'll start to understand what works and what doesn't.
Putting your Business HatTM back on, then, see what your competitors are up to. Especially if you have specific competitors you can't ever quite seem to catch up with, try to determine what it is about their content that makes it so effective. Then, you can begin developing a strategy to beat them by creating strong content and getting it out there!
What Are Some Examples of Great Current Social Media Strategies?
Finding a social media content marketing strategy that works well for your business requires thought, trial and error, and doing what you can to carve a niche in your industry.
Several brands have found really unique avenues that work remarkably well for them. In fact, your brand's "voice" on social media doesn't always necessarily have to match that of the rest of your brand's marketing (but don't go crazy). You can look at a few companies that have used social media marketing effectively over the past few weeks and months.
So, what are some of the social media strategies for content marketing you can look to for inspiration? Read on for great examples from GoPro, Wendy's, and King Arthur Baking Company.
GoPro
This action camera manufacturer has a pretty easy "in" to social media: they make a product that takes amazing pictures and video. This means outlets like Instagram are right up their alley. With the number of people who use their products and share their own amazing shots using the #gopro hashtag, they can both share some amazing shots from their products while building an even stronger user base.
To see some examples of GoPro's current social media strategies, visit their profiles on Instagram, Twitter, Facebook, Pinterest, YouTube, and TikTok.
Wendy's
Who would've thought that a place touted for its "old-fashioned burgers" would come out so hot on trendy social media? But they did. Wendy's adopted a voice that was unlike many others on social channels, particularly noted for its scathing wit and burning retorts. Retweets are a rich currency in the world of social media, and Wendy's is able to consistently engage users and earn their retweets and replies.
To see some examples of Wendy's current social media strategies, visit their profiles on Twitter, Facebook, and Instagram.
King Arthur Baking Company
When the COVID-19 quarantine suddenly got a lot of people toying with making their own sourdough, King Arthur Baking Company (formerly King Arthur Flour) was there and ready. Constantly sharing new recipes that have been heavily vetted, plus getting professionals and semi-pros and sharing live baking demonstrations via Instagram Stories, their social media team rocketed to the top of many social feeds.
To see some examples of King Arthur Baking Company's current social media strategies, visit their profiles on Twitter, Facebook, and Instagram.
What do each of these companies have in common? What makes their social media presence so effective in developing brand awareness and engaging potential customers?
They each use a mix of different social media channels, in order to connect with different audiences.
They each have a central brand personality that unites their different social media personas.
They each base their strategies around a deep understanding of their customers and their preferences.
These social media strategy examples only represent the tip of the iceberg. You can see even more of the best examples of social media marketing from companies including IKEA, Airbnb, Coca-Cola, and many more here.
Putting It All Together: Content Creation and Social Media Examples
Phew, we've covered a lot in this post. Before we wrap up, though, it's worth seeing what this might all look like in practice.
To do that, we're going to pull the curtain back a little bit, and use this blog (and its promotion) as an example use case. This blog, obviously, has been about the role of social media in content marketing. We chose this topic because (1) it's of great importance to content marketers, and (2) it offers us a chance to explain (and promote) how the DemandJump platform makes content creation easy.
Sample Facebook Post
Since Facebook tops the list of social media platforms by user count, you can also expect your Facebook audience to be rather diverse. This means your Facebook posts should be written clearly so they're easy for a wide range of readers to understand and relate to. Here's what a Facebook post promoting this article might look like:
When used well, social media can amplify and enhance your content marketing strategies by getting your content in front of the right audience at the right time. How do you go about integrating social media into your content marketing efforts, though? Our new article offers a comprehensive guide to making the most of social media as a content marketer. Read it now: [Link]
Why we think this example works:
It connects with a specific audience by relating to a common pain point. We're hoping content marketers who may have questions about how to effectively engage their audience with social media will click the link at the end of the post to read the full piece.
It uses clear, easily-understandable language.
It offers enough of a preview to tell readers what to expect, without going into so much detail that there's no need to click the link for any more insight.
You can find more insights, best practices, and examples of effective Facebook posts here.
Sample Instagram Post
Instagram is a visually-driven platform, well-suited for topics you can create an imagistic narrative around. The text of an Instagram post doesn't need to be wildly different from the Facebook post, so the main objective for an effective Instagram post is the inclusion of a compelling, central image. It's similar to thinking through what a book's cover should feature to catch potential readers' attention.
With that in mind, then, we could use the same text as the Facebook example above, and differentiate the Instagram post by finding a great image for our post. Depending on the tone we want to convey, we could promote this article a few different ways.
For example, we could appeal to frustrated content marketers, who are struggling to develop a strategy:
Or, we could choose to focus on the strategy aspect of using social media in content marketing. In that case, an image like this would work well:
Why we think this example—in this case, using the same text as the Facebook post—works:
Similar to the Facebook example, our Instagram copy connects with a specific audience, uses clear and easy-to-understand language, and hooks readers' attention with a compelling image.
You can learn more about creating effective Instagram posts, and see more examples, here.
Sample LinkedIn Post
LinkedIn is a unique social networking platform in that it primarily appeals to the "business professional" crowd. So, while it's still important to use clear language in your social posts, LinkedIn posts should be slightly more buttoned-up. It often makes sense to include at least one compelling statistic in your LinkedIn posts. With that in mind, promoting this article on LinkedIn might look something like this:
Would it surprise you to learn that

84% of Americans use social media

? This represents a huge opportunity for content marketers looking to get in front of the right audience(s) at the right time(s). Unsure where to start? Our new article outlines everything you need to know about effectively using social media to amplify your content marketing efforts. Read it now: [Link]
Why we think this example works:
Like the Facebook example post, the text of our LinkedIn post is written in a way that is both professional and accessible. When you can strike this balance, you position yourself as a credible authority who is also able (and willing) to describe complex topics in relatable, easy-to-understand language.
The statistic generates a sort of urgency, establishing why the topic at hand is important to consider.
It effectively previews the content of the post without giving so much away that readers aren't compelled to click the link and read the article.
See more examples and best practices for LinkedIn here.
Sample Twitter Post
The main difference between Twitter and the other social media platforms we've discussed so far is that Twitter has a character limit of 140 characters. (For reference, the previous sentence contains exactly 152 characters.) This distinction makes Twitter both easier and, potentially, more difficult to do well. There's really no room for fluff in a Twitter post. Here's what we might post to promote this article on Twitter:
If you're not amplifying your #contentmarketing strategy with #socialmedia, you should be! Learn how to do it right: [Link]
This works because it is straightforward, easy to understand, and actually tells readers quite a bit about the article we're linking to. Any content marketer who has any anxiety around effectively using social media as a component of their strategy will consider clicking the link to see what they can learn.
See more examples and best practices for LinkedIn here.
Supercharge Your Social Media Content with DemandJump
Companies of all different sizes and across countless industries rely on DemandJump to power their content marketing strategies. It begins with our innovative keyword research tools and deep analytics, which help content marketers know exactly what types of content to produce. From there, content marketers can generate Content Briefs to identify the specific keywords to include and how to organize them within the content they create.
Once you've written your content, the same keyword research insights can inform your social media content, again using the same keywords and questions your potential audience is looking for.
Take a listen to DemandJump's "Page One Or Bust" podcast for more information on why having a high-quality content marketing strategy is so important. Check out a clip below:
Give DemandJump a try today! Create a free account to start building your comprehensive content marketing strategy.
Get Your Free Pillar Strategy Report