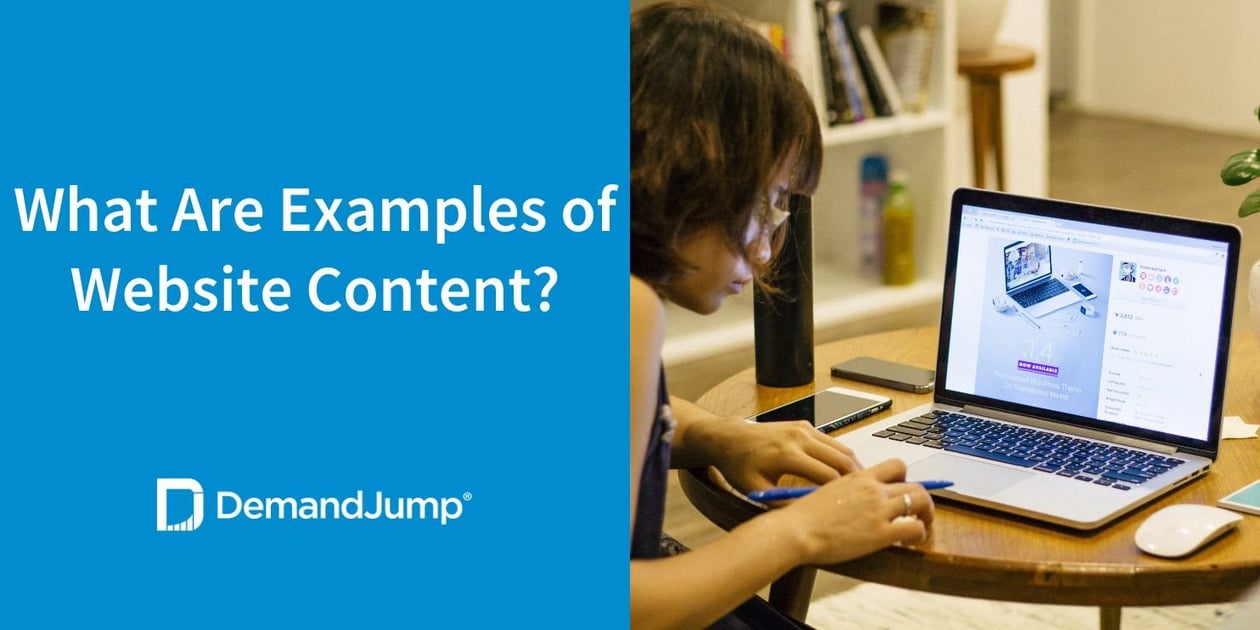 Website content creation is the basis of content marketing. This content is what drives interest in your products and services. What is website content? It is anything that you make available online for your audience to consume, whether that be audio, visual, or written content. It should inform your reader and draw attention to what you have to offer.
In this blog, we'll focus specifically on written content. We'll answer the following questions:
What does good content writing look like?
What are the types of website content?
What are examples of website content?
Let's start with how to write website content.
What Does Good Content Writing Look Like?
Before you explore the different types of website content you can create, you should first understand how to write it. While what you write will vary a little depending on the type of content you create, we have some writing for the web best practices:
Keep it concise. Your reader doesn't want to get bogged down by long and repetitive sentences. It's distracting and will cause many of your readers to switch to a different article.
Make it scannable. Most readers are looking for an answer for a specific question and want it quickly. If you make your content scannable by using bullet points and headings, you'll help them find their answer easier.
Don't be too salesy. That's not to say that you can't include spots in your content where you sell to your audience. It just means that most of your content should focus on educating or entertaining your audience rather than selling to them.
Include keywords. These allow your audience to find you easier in search engines. And it ensures that you write about what the audience is interested in.
Avoid jargon. Sometimes there is a place for it, like in more complicated pieces of content. However, if you do include it, explain what it means so that your audience can follow along.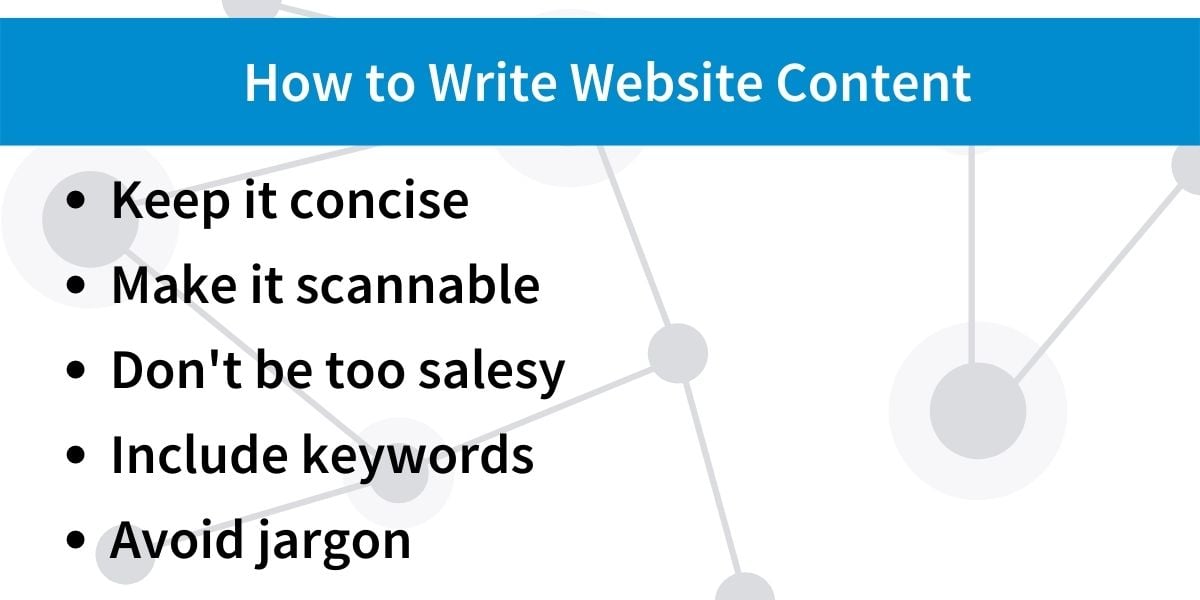 Now that you have some of the basics of writing content, let's jump into the different types of content themselves.
What Are Some Different Types of Web Content?
There are several different types of web content you can include on your website, but the ones we'll cover here are blogs, infographics, whitepapers, and podcasts. We'll also provide some good website content examples to get those gears in your head turning.
Blogs
Blogs are great additions to any website because they allow you to attract your audience by providing them with useful information. Write quality content that answers your readers' questions. Most of your audience will arrive at your blog looking for answers. Once they're there, you can educate them and introduce them to your business.
Blogs show your readers what the feel of your business is, too. For example, some businesses may prefer to keep their language more formal whereas others may prefer to write more witty or relatable blogs. Before you start writing blogs, make sure that you establish a tone from the start so that it stays consistent throughout all of your pieces.
For training on writing high-quality, successful blogs, take advantage of DemandJump University. The courses are free with any DemandJump account. And if you want an example of a blog, you're reading one now!
Infographics
Infographics are another useful way to provide your audience with valuable information. They differ from other website content types in that they only provide a nugget or two of information instead of paragraphs worth. On top of that, they use images to capture the readers' attention. They should provide a good balance between text and images so that you inform your reader while also grabbing their attention visually.
You can include infographics within your blogs, on landing pages, and even in social media posts. And, if there is a statistic you find important for your reader to know, you can easily display it on your infographic in the form of a table, graph, or chart. Doing so will keep those statistics organized and easy to read.
Below is an example of an infographic created by the World Health Organization about recovering from monkeypox.
Whitepapers
Whitepapers are similar to blogs in that they provide the reader with lots of useful information. They differ, however, in that whitepapers tend to be more formally written than blogs are. That's because this type of content generally explains something technical. Think of a whitepaper as the scholarly article of your website content.
An example of a whitepaper is one that Cisco wrote on "Networking and Your Competitive Edge." It details the importance of the network edge. And, with the use of infographics throughout, some of the heavy text is broken up to make it easier to read.
Podcasts
A podcast is a series of episodes where people discuss certain topics or themes for all of them. They're like TV shows that you don't have to watch. And, according to the Influencer Marketing Hub, 41% of people in the U.S. listen to podcasts on a monthly basis. If you want to draw your audience in, podcasts are a good way to go.
Podcasts are mostly meant to entertain your audience, although if you create one for your business, you can use it for educating them, too. Is your business part of the marketing industry? Create a podcast about best marketing practices. Does your business sell clothing? Create a podcast on fashion trends throughout the ages.
As far as examples go, General Electric has a podcast called "The Message" that combines brand messaging and science fiction to create a podcast about aliens using the technology they create. By using both elements, they entertain their audience while teaching them.
DemandJump also has a podcast called "Page One or Bust" that explores all there is to know about marketing. One of our episodes that you might find particularly helpful is about "Mastering SEO with Customer-Driven Content."
Find Website Content Ideas Using DemandJump
Now you know what types of content you can write, but how do you figure out what to write about? DemandJump can help with that! With our platform, you simply type in a general topic of your choosing, and it can generate a pillar strategy, an insight report, and a content brief to not only give you the titles of content to write, but keywords to include within your content. Once you've written your content, our platform will even tell you how well its ranking. If you are ready to write stellar content that draws in your audience, give us a try.
Get Your Free Content Marketing Strategy Report