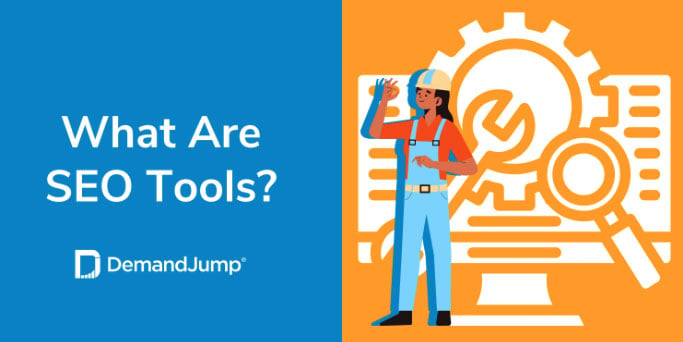 On a basic level, an SEO tool is a platform or application designed to help digital content rank on search engine results pages (SERPS). Now, there are various types of SEO tools available and all of them serve a slightly different purpose. Some SEO tools are designed to measure and improve the overall technical "rankability" of your website. While others are meant to help you create SEO content designed to boost awareness for your brand.
At DemandJump, we focus on the latter. Using our SEO content tool and Pillar-Based Marketing (PBM) methodology, we've developed fool-proof blueprints for creating quality SEO content that's both rankable and helpful!
To give you some extra gadgets for your content toolbox, we created this blog to answer two key questions about creating effective SEO content.
What tools should I use for SEO content creation?
Where do I go to learn how to do SEO content?
Let's rock and roll!
What Is the Best SEO Tool To Use For Content Marketing?
Instead of a basic SEO tools list, we decided to make a checklist of all the things you should look for in a tool before you commit to a purchase. We've also provided examples of how DemandJump ticks all of these important boxes.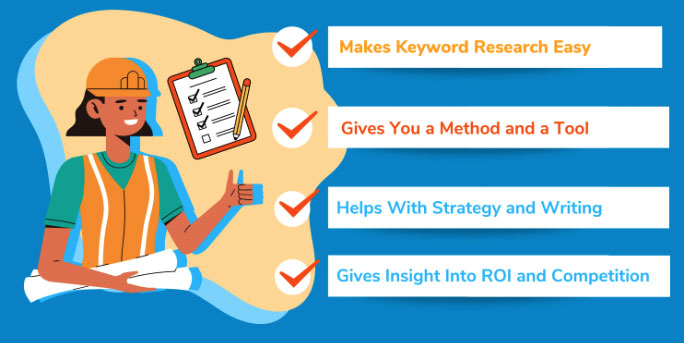 Makes Keyword Research Easy
Finding the right words is hard, especially when it comes to keyword research. The DemandJump platform automates the keyword research process, by providing a prioritized list of the exact titles and keyword phrases to use for any topic. Automating the SEO keyword research process saves you a significant amount of time when selecting the pieces of content for your strategy, and when choosing keywords to include in individual content pieces. Here's a glimpse of our keyword capabilities:
See what people are searching for and view the search volume for any topic.
Easily prioritize which keywords to include in your content and see which terms will help you outrank the competition.

Gives You a Method and a Tool
DemandJump is more than just an SEO content tool, it comes with a content marketing method as well. Using Pillar-Based Marketing (PBM) best practices, you can create a network of content that allows you to connect with your target audience by providing the answers they are looking for. PBM mimics how consumers naturally use search engines and empowers you to boost your brand's credibility and authority. From strategizing to publishing, the PBM method outlines what needs to be done every step of the way in your SEO content journey.
If you want to learn more about how PBM works, we literally wrote a book about it. Check it out.
Helps With Strategy and Writing
From a strategy perspective, DemandJump provides a list of topic clusters for you to choose from, this allows you to create a network of related content that's catered to search intent surrounding your chosen topic. From a writing perspective, DemandJump's Content Briefs suggest keywords and headings to use for each specific piece of content so all relevant queries and main ideas are covered. Here's a brief breakdown of what DemandJump provides strategists and writers:
Prioritized lists of content to create for any topic you choose.
SEO Content Briefs with a comprehensive list of all relevant long- and short-tail keywords.
Content strategy recommendations that keep site architecture and Pillar Strategy best practices in mind, showing you exactly how to structure your content.

Gives Insight Into ROI and Competition
Tracking the progress of your content campaigns can be a huge time suck. DemandJump's automated attribution dashboard makes it easy to see which content efforts are driving ROI and which ones are not performing optimally. DemandJump also makes it easy to identify competitive gaps, by providing a side-by-side comparison of where you rank compared to competitors for any search term.
With DemandJump you can easily measure your success by:
Viewing which campaigns are driving revenue, and which content needs to be updated.
Identifying the pieces of content drive the pipeline.
Reviewing competitive trends and unique audience behavior insights to plan your next move.
In The End, The Best SEO Content Tool Makes Things Simple
Ultimately generating content topics, writing content, publishing, and promoting it to your target audience is a ton of work. But with DemandJump it's a whole lot easier.
For more great SEO content nuggets subscribe to Page One or Bust! wherever you listen to podcasts.
Is There an SEO Course for Content Strategy and Writing?
We hate to say it, but having the right tools won't teach you how to do SEO. There are plenty of bad SEO examples out there, and it's easy to become part of the noise in content marketing. Dominating search engines and building a winning content strategy takes practice, creativity, and a solid methodology. DemandJump can offer you all of that and so much more!
Our DemandJump University program has courses for content strategists and writers that explain how to use our platform and the PBM methodology to publish content that ranks higher than ever before.
And the best part is, it's totally free! Sign up today and start your journey to page one!
Get Your Free Pillar Strategy Preview!