What Are Some Important Marketing Tactics That a B2B SaaS Company Should Consider Using to Grow Its Customer Base?
November 2, 2022 •Jeremy Flick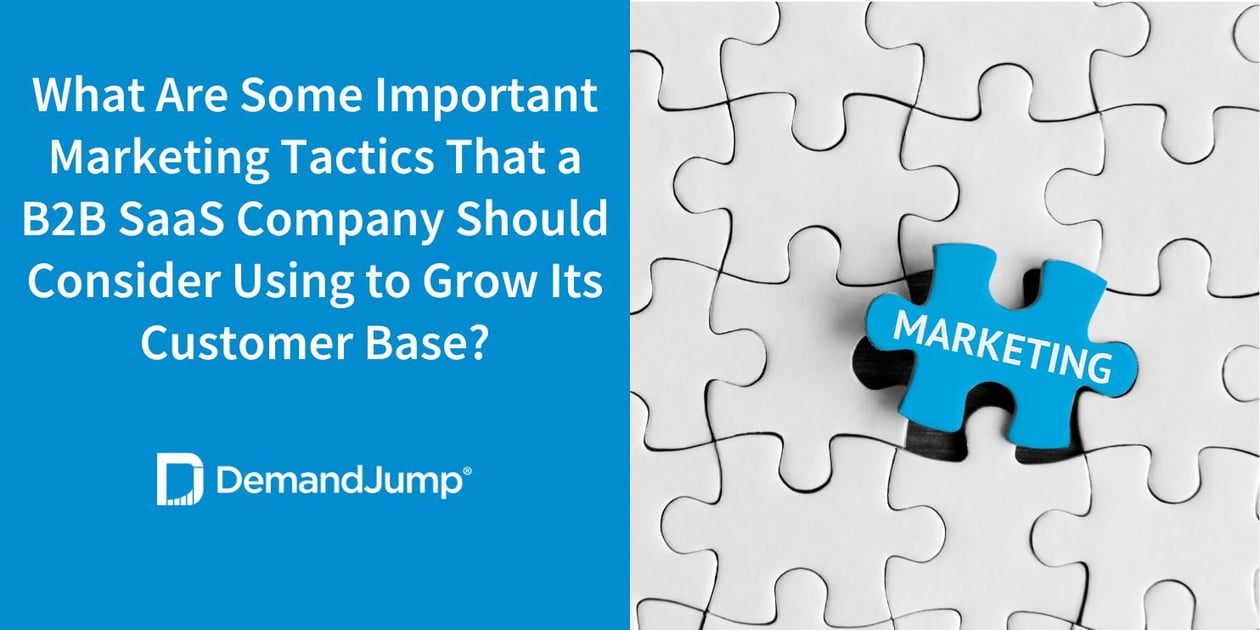 Developing a SaaS marketing strategy is a perfect opportunity for companies to reach their target audience online. Content is the key to making that strategy work. A strong B2B SaaS marketing strategy uses valuable content and search engine optimization (SEO) to drive organic traffic to your website. So what are the essential tactics you should use to create the best B2B marketing? We'll answer that question soon, but before we dive into B2B SaaS marketing strategies, we think it's important to define B2B marketing and how companies can get the edge.
What Is SaaS B2B Marketing?
In simple terms, business-to-business marketing is simply one business promoting and selling their products or services to other businesses. For software-as-a-service (SaaS) companies, effective B2B marketings is about developing customer relationships and providing a service that solves the problems they're having. B2B SaaS companies should focus on how their product will help a business reach their own goals, like:
improved service for their customers
organic visibility in online searches
web hosting or website management
For example, at DemandJump we offer our service that supports businesses ability to create insight reports, which helps them build a marketing strategy with a detailed content pillar. The ultimate goal of our platform is to help businesses reach page one of Google by using high-value keywords and phrases to get organic results.

An important thing to remember is that the customers in B2B marketing are often C-suite or director-level executives from other businesses. This means you should tailor your marketing approach to higher-level leadership, rather than team members.
So how can you successfully market your product or service to other businesses? Let's explore a few best practices.
What Are 5 Marketing Tactics in B2B SaaS?
A SaaS B2B marketing strategy should focus on content marketing tactics that reach target audiences, things like:
Valuable written content
Search engine optimization (SEO)
Social media marketing
Email marketing
Video marketing
Understanding how each tactic affects the way a SaaS company interacts with potential customers online, whether through organic searches or social media posts, is important to creating a solid marketing strategy. Content marketing is about experience and engagement. Below we've described five tactics that you should be using for your B2B marketing.
1. Valuable Written Content
You've come across blogs and other online marketing content that didn't actually answer your questions. Creating valuable content is a way to avoid producing and distributing low-value blogs and online posts, and instead meet the needs of your customers. One of the best ways to make valuable content is by researching high-value keywords and questions that your audience is searching for online. Then you answer those questions thoroughly with relevant and helpful information. Search engines will notice your use of keywords and relevant answers and will boost you up the page rankings to reach more people.
2. Search Engine Optimization (SEO)
We mentioned keywords before, but really, keywords and other website structures marketers use to take advantage of optimizing content for search engines which increase page rankings. Using a Pillar-Based Marketing (PBM) approach, you can develop a Pillar Page Strategy that connects all of your content together into a group, which makes Google see you as an authority on your chosen topic. The keywords are there to help get the pages noticed and search engines connect the dots. Developing a plan to take advantage of SEO is essential to getting organic traffic.
3. Social Media Marketing
Social media has become essential in the world of marketing. One major reason is because it enables interaction between companies and both customers and other businesses. It also gives people the ability to share your content with other people, which means more eyes on your site and social pages. Social media is all about direct communication with your customers and target audience.
4. Email Marketing
Believe it or not, emails are still one of the most successful marketing tactics a business can use to reach customers. Personalized emails are incredibly effective at converting customers. In fact, 80% of customers are more likely to make a purchase with personalized communications. Reaching out directly to customers can drive great results outside of organic web searches.
5. Video Marketing
Because of accessibility to video through different platforms like YouTube, TikTok, Instagram Reels, and others., video has greatly increased how businesses interact with their audience. Due to the flexibility of formats, video marketing can take shape in many different ways. TikTok could be more informal, while YouTube could host more professional demonstration videos. As with other social media posts, videos are highly interactive and engaging.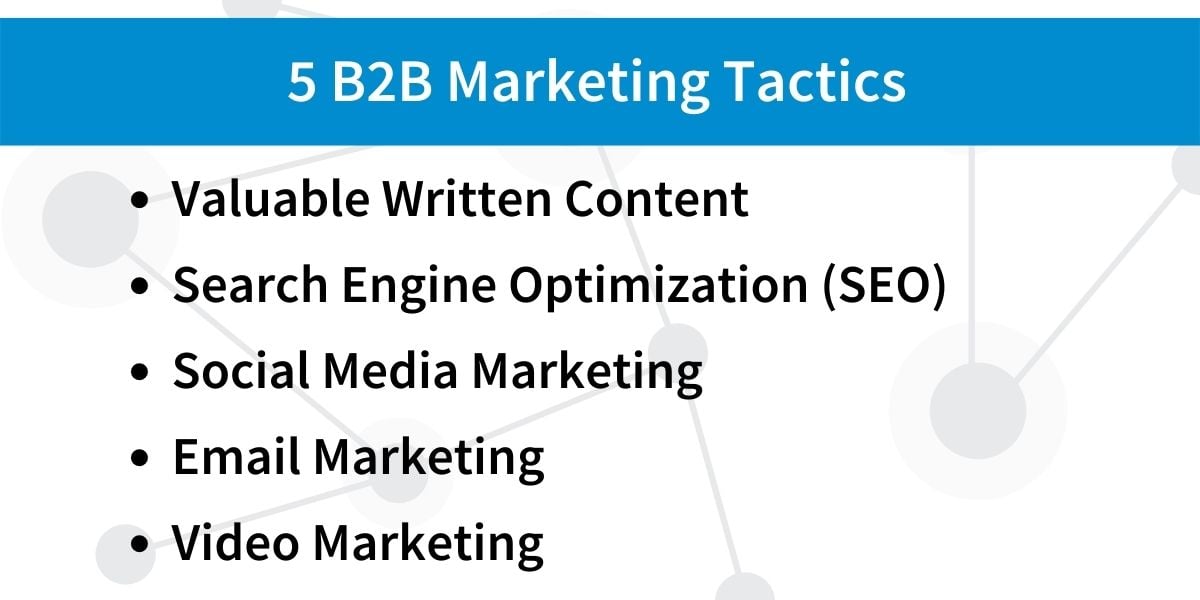 Why Is a B2B Marketing Strategy Important for SaaS Companies?
If your SaaS company wants to reach potential business customers, then a marketing strategy is an essential piece of the puzzle. B2B content marketing drives significant results. When compared to non-adopters, conversion rates for content marketing are approximately six times greater. And businesses who do it well see higher click-through-rates, better engagement, and more conversion. It's all about bringing more potential customers to your site and letting them know how your product is a solution to their needs. Content marketing works, plain and simple, and developing a marketing strategy will help your company grow its customer base.
What Are the Best Strategies to Grow a B2B SaaS Company with Marketing?
At DemandJump, we have seen first hand that a Pillar-Based Marketing strategy works better at getting your content to page one than other methods of marketing. By using our platform, you'll have access to insight reports that help you create a Pillar Page content strategy. This strategy takes the guesswork out of what keywords and questions to use and structure your content for effective organic search rankings.
The Pillar-Based Marketing approach breaks down your content into Pillars, Sub-Pillars, and Supporting Blogs that build your content from the top down. To read more about Pillar-Based Marketing, read our ultimate guide to the PBM strategy. You can also try our platform for free, so you can see how DemandJump works for your business needs.