What Are the 5 Types of Digital Marketing?
August 2, 2022 •Jeremy Flick
Are you trying to reach a new audience or increase brand awareness? What about tapping into a new market? It might be time to boost your digital marketing approach from where it currently is. At this point, digital marketing can be an important resource that outweighs traditional media. Building up your presence online will ensure you reach more targeted customers and can increase sales. The data is clear: content marketing and other digital approaches build your brand's awareness and engagement.
How do we know this? Digital marketing is a $460 billion industry built around developing customer engagement and retention. The advantages of digital marketing should not be underestimated and you can see significant results in a relatively short period of time by increasing your current investment.
In this blog, we're going to talk about types of digital marketing and why they're important.
What Are the Different Types of Digital Marketing?
Whether you're trying to reach page one of Google or better qualify leads, creating a strategy is essential. A successful digital marketing strategy starts with choosing the right outlet.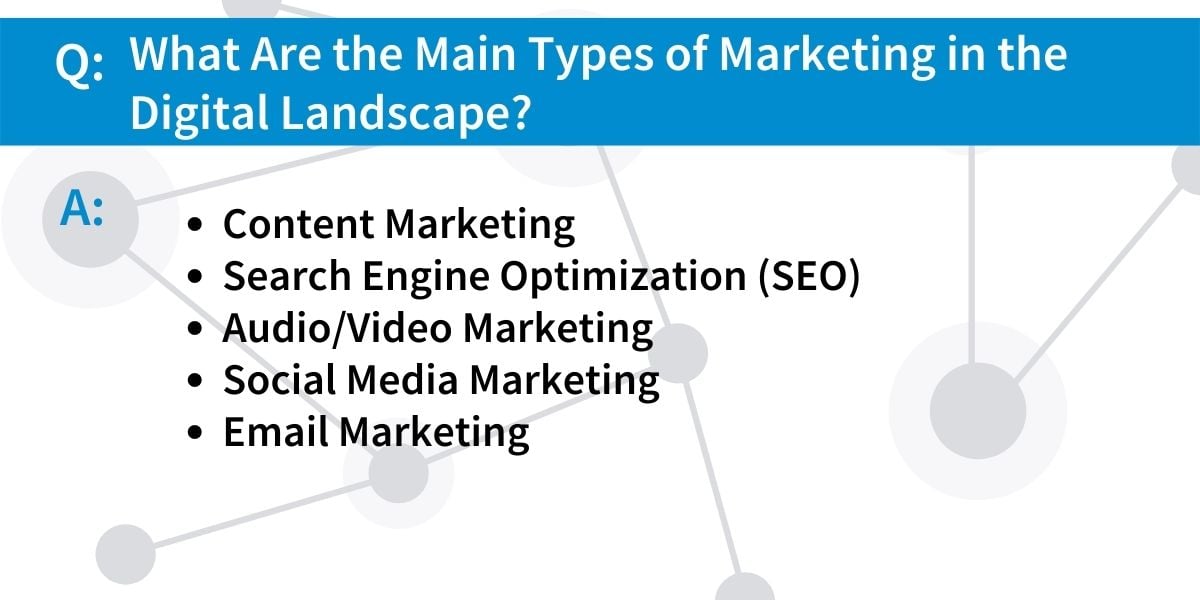 What are the main types of marketing in the digital landscape? According to the Content Marketing Institute, the top three content categories used by B2C marketing are social media (94%), blog posts/short articles (80%), and email newsletters (74%). How do our five types expand on these three to include B2B customers as well? Here are our top five types of digital marketing:
Content Marketing
Before speaking with a salesperson, at least 47% of consumers view three to five pieces of content. The majority of customers even anticipate content creation from brands. Through content like blogs, customers can find answers to their questions. Blogs and longer content also build interest in your products or services.
A Pillar-Based Marketing strategy has proven effective for companies looking to boost their rankings on Google. By publishing Pillars, Sub-Pillars, and Supporting Blogs, you create a web of content that Google sees as an authority on any given topic. Topic choice is essential to speaking to the right audience. Keeping your content topics in mind will also ensure higher visibility, which means more clicks. Speaking to your audience is also an important way to build brand awareness and engagement.
At DemandJump, we can help you build a content strategy with our Pillar-Based Marketing platform. With insight reports and strategy-building tools, you can bolster your content marketing and drive significant results.
Search Engine Optimization (SEO)
Did you know organic search findings account for 51% of content consumption? That means getting ranked on Google is essential to finding an audience. But SEO is about more than content. Using things like headlines, alt-text for images, and paid searches also boost your SEO results. Keeping these things in mind should help Google see you as an important source of valuable information.
SEO used to mean stuffing keywords into content with the goal of outranking competitors, but that's no longer the case. Instead, you should focus on high-value keywords that you know will bring your content to page one. With DemandJump, you can get a list of high-ranking keywords without the need for excessive and time-consuming research.
Audio/Video Marketing
Among all content formats, research indicates that video is one of the most popular types of digital marketing, being used by 59% of marketers. Along with that, according to HubSpot, "53% of professionals whose companies leverage content marketing find 'podcasts or other types of audio content' effective when it comes to engagement and brand awareness." Podcasts and YouTube videos drive a lot of traffic. Finding a niche market online allows you to reach your audience in creative and very accessible ways. Of course, the content needs to be engaging and answer questions your audience is asking.
Social Media Marketing
58.4% of people use social media. That's 4.62 billion people around the world that are on sites like Twitter, Facebook, and Instagram. Having a strong social media presence will greatly increase your traffic by using targeted content and win customer engagement. Not only that, but a huge part of digital marketing is increasing brand awareness, and a social media presence gives you an audience of nearly 60% of the world. That's massive!
Email Marketing
Over 4.1 billion people use email and there are 319 billion emails sent per day. That's a lot of emails, but not all of them are opened. But with personalized email marketing, you're more likely to see a higher ROI—as much as $42 per $1 spent! Whether you're sending discount coupons or reaching out for updates, email remains one of the most effective ways to reach your target audience. This channel increases customer engagement and retention so they keep coming back to do business with you.

Each type of digital marketing gives you different advantages, but ultimately you can grow your business by taking advantage of reaching your target audience online.
Content Marketing with DemandJump
One major digital marketing tool is content marketing. With content marketing, you can bolster your online presence and see a dramatic increase in organic traffic to your website. According to 49% of marketers, organic search produces the greatest return on investment (ROI) of any marketing strategy. Using DemandJump, you can create the best content for your digital marketing campaigns using our content pillar strategy. DemandJump also provides you with a keyword research platform and insight reports to ensure your content is seen by the right audience.
When it comes to digital marketing tools, DemandJump's Pillar-Based Marketing platform is second to none. We will assist you in developing a digital marketing plan to help you boost your content and reach page one. That means better visibility and more clicks! Our content marketing strategy will help you reach your target audience and ensure you're providing them with the best answers to their questions. Create a unique content strategy today with DemandJump!
Get Your Free Content Marketing Strategy Report