What Are the Best Content Marketing Blog Post Ideas?
November 25, 2020 •DJ Team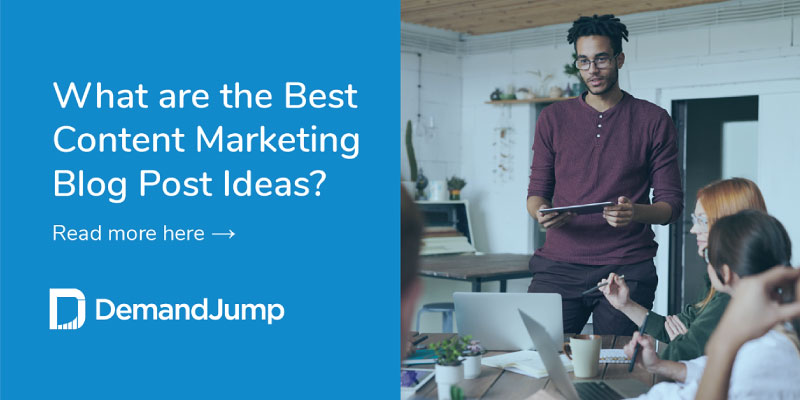 Effective content marketing blog strategies are built with intention. They are fueled by two essential drivers: your need to attract business, and your audience's need for useful content. The best blog topics list should reflect what is trending within your industry and how your business' unique take plays a role in it. Above all else, the topics you choose should provide real value to your customers and speak the language they use when searching for answers to their questions.

How Do I Choose a Blog Topic
Truth be told, many of your online prospects never intended to find your website or content. But that doesn't mean that when your content can provide useful knowledge or guidance, you have an increased opportunity to gain new, loyal customers.
This is why blog posts primarily reside in the Awareness stage of an online consumer's lifecycle; they're designed to catch your readers as they're using search engines. They work best when they are answering questions that potential customers tend to ask, provide helpful guidance to a common industry problem, or even leverage your business' unique perspective on industry trends.
Here are some questions whose answers will guide you to the best content marketing blog post ideas for your brand:
What questions do your customers have?
Consider the types of questions you often get from your customers. Are there any commonalities? These problems present immediate opportunity to reel in new users and capture more quality leads. When you can answer these questions, you're building trust in your expertise. When the solutions to those problems align with your company's products and/or services, then you've found a gold mine.
In order to make sure you're answering not just the right questions, but using the right language in your blogs to do so, it's critical to make use of an SEO tool, like a keyword planner, to get information about the keywords and questions your best customers are searching for online.
Any industry news trends popping up?
Keeping up-to-date on industry news is a fantastic way to source content marketing blog topics. If there's news hitting Twitter's trending list for your industry, then you better believe you have an opportunity to pull in some readers who are interested in learning more. If you can provide thought-provoking and unique reflections on recent news, then you're likely to gain favor from those listening.
This is about building trust, brand recognition, and ensuring that your brand stays relevant and up-to-date with the industry.
How can you help your customers right now?
This may seem more far-out than the last two sections, but when you consider how your customers engage with you and find value in your business, then you'll find blog post inspiration to take to the digital masses.
How-to guides, step-by-step walkthroughs, and educational content can all serve an immediate purpose for your audiences and give you a leg-up once they've seen your content. Make it count! Offer unique perspectives and tips that can help consumers differentiate you from your competition.
Topics like this are a real double dip, because they offer immediate added value you can share with existing customers while you continue to broaden your Awareness net on search engines.
Ready to create content but not sure where to start? We can help. DemandJump tells you exactly what content to create to get in front of your target audience. With automated data-driven content outlines you'll be certain you are creating content that ranks. Get 4 FREE outlines on any topic or question important to you.

Bolstering Your Unique Blog Ideas
Understanding search traffic is critical to defining successful blog topics, but many marketers believe packing in as many keywords as they can into a blog post will yield effective results.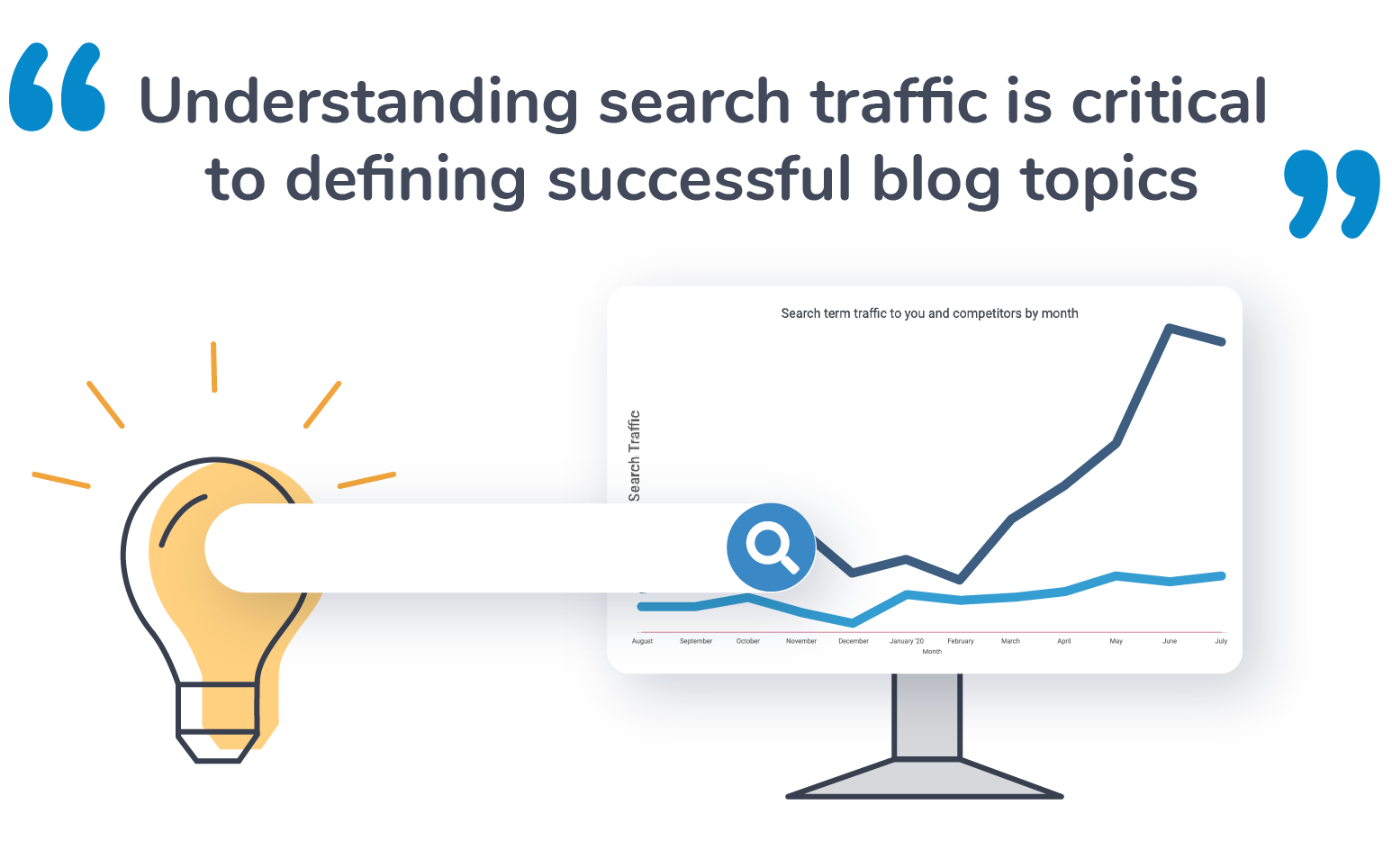 While data and how we form our content marketing blog strategies around it plays an enormous role in determining which content is best for a blog, gone are the days when shoving tons of keywords into impractical content can get your content to page one of search results. Instead, allow the data to bolster your unique blog ideas and perspectives.
Analyze which keywords your competition are finding success with and which ones might not have as much competition. It's important to play in both arenas to assert yourself as a top contender, but also provide some easier victories in the meantime. What should separate your blog content from a competitor is your unique perspective.
Build a story around the keywords and search terms that you know are being trafficked. Engage with your audiences in a different light than your competition. These differing but strong opinions are what makes thought-leaders in any industry.
Spend Less Time Searching and More Time Capturing
It's true: the backbone of any great content marketing blog campaign is good planning and research. However, that research can quickly consume more time than you'd ever thought. It's also often the largest hurdle content marketers face when looking at a new campaign.
There is an almost endless supply of content ideas already floating around the web, and analyzing the data behind all of the content is simply intimidating. This is what drives us to provide our customers with a better, streamlined process for analyzing consumer insights and choosing the best high demand blog topics for their campaign.
Are you ready to take advantage of DemandJump? Join our free trial and get instant consumer insights.
Get Your Free Pillar Strategy Report