What Are the Best Content Marketing Services?
December 23, 2020 •DJ Team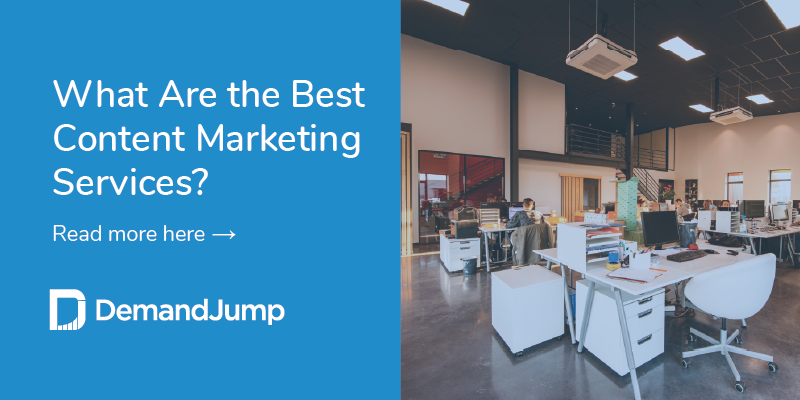 In the next few years, we're going to see many businesses investing heavily in content—and other, smaller businesses using it to whatever degree they can. With that in mind, whether you're a business looking to hire a freelancer or agency, or you're an agency trying to determine what services to offer, you're going to find a lot of people looking for very specific services.
While the "best" services might be handled on a case-to-case basis, there are certain types of content we know turn out better (and more effective) when left in the hands of professionals. Let's look more in depth at content marketing services and see which ones are best for you.
What is Content Marketing?
Before we look at services, let's look at content marketing as a whole. At its core, content marketing means any material you create and distribute online. Usually (and ideally) it's something that your audience finds valuable or helpful. And beyond that, it fulfills any number of other goals as well. Some of those include SEO value, garnering interest in your audience, driving new sales leads, and bolstering the business or one of its figureheads as a leader and expert in the industry.
Types of Content Marketing
Sometimes it can seem like the list of types of content marketing is endless. In large part, it is. There are new channels being introduced every day, and with those, there are also new types of media being created specifically for these channels. Regardless, the limit of content marketing is your imagination.
As it stands, there are dozens of types of content out there. Some have been around and part of digital marketing for a long time, while others are still relatively new to the scene. These tend to be the most widely utilized types of content—and the most successful.
Blog Posts - Blogs are articles that are usually hosted on your website. They can be long or short, but usually offer some kind of industry insight or helpful information to the audience.
Infographics - Because not everyone can process numbers as something interesting, companies started to pair them with visuals. These infographics make data interesting and make it easier for anyone to interact with the numbers.
Videos - Videos are huge with people aged 18 to 34. It's estimated that people in that age range watch at least one digital video a day. Whether it's an interview, a how-to guide, or something else entirely, video is an excellent way to meet your audience.
Social Media - Social media is pervasive—people all around the world are on at least one platform, and this makes it incredibly easy to both find an audience and distribute content to them.
Podcasts - More and more people are listening to podcasts, as it's often something they can do when they're either working during the day or running errands. What does that look like for your brand? It might be an interesting interview, or it might simply be one person sharing his or her thoughts on a specific topic.

Content Marketing Services List
So given those—and so many more—types of content, content marketing agencies offer all kinds of services. What are the best ones you should look for? Much of your decision depends on your budget and the complexity of your strategy. That said, let's look at a few.
Content marketing strategy - Your strategy is everything. Every piece of content you create has to fit within it, and in turn, your content marketing strategy has to fit inside your overall digital and traditional marketing strategies. Most agencies will be well-versed in strategy. This is a valuable service if you're either new to content or simply want to make sure you're on a path to success early on. Content strategy often includes identifying and finding your audience, method of delivery, and content scheduling.
Video production - The beauty of video is that almost anyone can shoot (and edit and upload) one all from a smartphone. That being said, production value on phone video varies pretty wildly, and none can compare to a professionally shot video. High production values can often make a person stick around to watch an entire video, making it worth the investment.
Blog and article writing - Blogs can be long or short, but regardless, they have to be both engaging and well-written. If you're not a writer, there's no shame in admitting that. Writers know how to weave a story and make it interesting enough to keep people reading (or at least skimming) down to the bottom. Plus, if you're really pushing out content, having a couple of professional writers can save your team from taking valuable time out of a work day.
Content distribution - There are dozens of channels to distribute content, when you consider owned, earned, and paid. The pros at an agency will know which ones go where, just how much to push it, and will help keep things on track.
Analytics and reporting - Content marketing is all about pivoting. If things aren't working, you can read that in the analytics and make adjustments in real time. Have one video in particular performing well? Send it out to other platforms to see how that works. A blog not getting any views? Maybe the topic just isn't hitting. Data can tell you everything.
Automate Your Content Strategy
DemandJump can help you create content in a fraction of the time. DemandJump's Insights show you where you are winning and where you are losing to your competitors around any topic. The platform will point out gaps and opportunities to take traffic share, and with one-click SEO-optimized content outlines, you'll save time in the process.
Save over 50% of your time while creating better content - that ranks!
Get Your Free Pillar Strategy Report