What Are The Elements of a Content Marketing Plan?
December 10, 2020 •DJ Team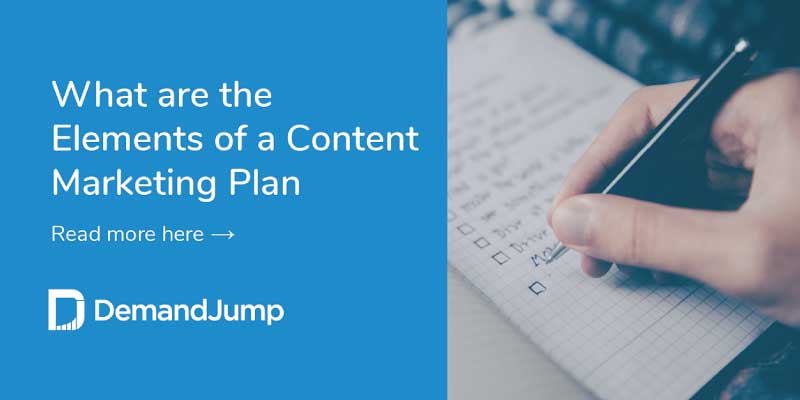 Content marketing is an essential component to a modern marketing strategy for brands all over the world. Playing by the rules of digital spaces and content sharing, content marketers aim their sights on building trust, gaining brand familiarity with consumers, and even providing users value by developing multi-leveled content marketing plans. This often means answering commonly searched questions related to their industry, or handing out how-to guides for consumers navigating their own problems.
But, simply publishing blogs every so often or sending out a Tweet to a social media audience won't provide the kinds of returns that skilled content marketers find on a consistent basis. Top-tier content marketers exert a ton of their resources to research what their audience is looking for, how their best efforts have succeeded/failed, or even deep-diving through lengthy data sets to understand their best opportunities. Then, they compile this information into a working content marketing plan, making their route forward planned and precise.

What are the elements of a content marketing plan?
Content marketing plans have many facets that all tie to a central messaging theme and work together to produce a measurable. As you build your next, or even your first, content marketing plan, consider the elements that are needed to chart out the absolute best path to success. Sure, every marketer has their preferred list of vital pieces to their content marketing plans but many still choose, time and time again, to include these popular elements to theirs:
An objective, measurable goal will enable you to better plan how to reach it. There's also incredible benefit to having hard data for past campaigns, to show you how successful you were, and how to adjust campaigns moving forward to be even more effective. Goals can consist of many tangible elements such as an increase in web traffic, new leads for your sales team to pursue, or sales of your products online.
When you write a new blog, who are you talking to? Have you done your research on what content your audience prefers to engage with, what topics are they looking for, and what digital spaces they inhabit? Understanding your audience is a big part of setting your plan on the right course.
Without a proper, multi-leveled messaging description. This overarching topic will focus all content created to stay under its umbrella, and provides inlinking content to walk users right through a sales funnel. The best messaging guideline will come complete with thoroughly researched keywords that will boost each individual piece's biggest opportunity to capture an audience.
Content Development and Distribution Schedule
Whether your campaign is 3 months or 3 years long, every content marketing plan needs a schedule that lists out every piece of content to be created, and provides marketers with deadlines for completion. They also lay out where and when they are to be shipped out to the masses.
The digital landscape changes frequently. As any campaign moves forward and data start to roll in on early content, marketers need a course of action when an adjustment to the overall plan is needed. If published content isn't as effective as you had expected, you'll want to know how to make adjustments to correct future content before publishing.
Examples of content categories
These are the most frequent content marketing categories, of which typically included in most content marketing plans:
Blogs, whitepapers, case studies, landing pages - anything written.
Eye-catching designs that use imagery to present data.
Trending topic newsletters, guides, invitations to other sources of brand content.
Twitter, LinkedIn, FaceBook, TikTok, Web Forums - wherever your audience consumes and shares content with others.
Uniquely created videos, often hosting on popular video channels like YouTube, and then shared through any distribution channel.
Customer testimonials, social media comments and shares, paid influencer advertisements, mentions/links on external content.

Building a content marketing plan requires data
A plan that marketers and leadership can trust is one that is backed up by data. This means that every single decision needs to be fueled by what is learned from past successes and mistakes, as well as researched current trends and analyzed user behavior. This often means that marketers spend hours stumbling through multiple tools and data sets to make determinations on their next content marketing plans. DemandJump exists to boost our users' efficiency and effectiveness by giving them key insights and behavior. Join our free trial and get instant consumer insights today.
Get Your Free Content Marketing Strategy Report