What Are the Important Stages in SEO?
June 12, 2023 •Clare Sheehan
Recognizing that there are so many types of SEO in digital marketing, we're taking this opportunity to focus on what we do best—content. Without further ado, here's how SEO works step by step (or stage by stage) for creating SEO content designed to rank at the top of search engine results pages.
For even more inspiration, check out our SEO plan template—which can guide you through the process of taking your content from zero to hero!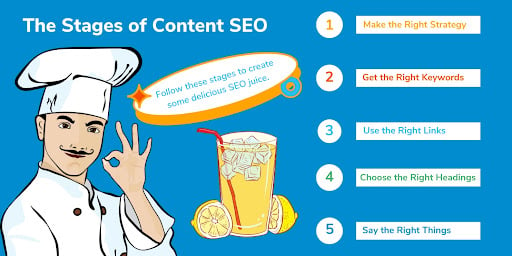 Stage 1: Make the Right Strategy
Before you jump into writing, you must make sure you've selected the right topics for your content strategy. When creating a content SEO strategy, you can't choose topics at random, your topic selection must align with your business offerings and the audience's search intent. But how do you start? Consider DemandJump. Instead of guessing what your audience is searching for, our platform gives you the search data you need to choose the right topics to write about.
Stage 2: Get the Right Keywords
There are three things to keep in mind when selecting keywords for your SEO content.
The keywords you select need to be relevant to your topic and match the search intent of the customers or prospects you want to attract. Grabbing the first few keywords with high search volumes won't get you the traffic you need.
You should use a mixture of short-tail and long-tail keywords to capture traffic from people who are broadly searching as well as those who are asking specific questions.
You need to make sure that your keywords tell a story—no more keyword stuffing or "writing for search engines," your content needs to be human-centric and helpful.
Stage 3: Use the Right Links
Your linking strategy needs to be SEO friendly, meaning you need to cite your sources and you shouldn't pepper your content with internal links willy-nilly. Really, having too many internal links can actually hurt your content's ability to rank. From an external perspective, linking to credible sources in your content shows search engines that you are not plagiarizing and that your brand is connected to the authoritative web of online resources related to your chosen topic. Many marketers have begun to experiment with new linking strategies. For example, DemandJump's Pillar-Based Marketing strategy (PBM) uses a specific internal linking methodology to create highly-structured content networks. But more about that later…
Stage 4: Choose the Right Headings
You also need to be strategic about which keywords you use as H1s, H2s, H3s, and so on. When possible, it is best to select long-tail keyword questions as the headers for your content. These are the questions your target audience is asking, and making them headers in your content lets search engine crawlers know that your brand is answering popular search queries. In the end, this practice gives you the SEO boost you need while making it easy for readers to skim your content and find the answers they want.
Stage 5: Say the Right Things
Just because you are writing web content does not mean you can get away with boring or error-ridden articles. Everything you write must be high-quality, accurate, and helpful. DemandJump's in-house content experts use various tools to help ensure they create top-notch writing. For example, the Hemingway App is a super valuable tool that tells you what reading level your writing is, so you can make targeted adjustments based on the preferences of your target audience.
Of course, these are just the basic ingredients. You need flavor to rank at the top of search engine results pages. At DemandJump, our secret sauce comes in the form of PBM. Learn all about our recipe for success, and the changing SEO atmosphere, in the sections below.
The Current Content Atmosphere: How Does SEO Work on Google?
One of the most significant changes in recent SEO history was Google's Helpful Content Update. In Google's own words, this update aims to "ensure people see more original, helpful content written by people, for people, in search results." Google also laid out some specifics to consider when writing "helpful" content:
Have an intended audience in mind when you create content for your website.
Have your content clearly demonstrate first-hand expertise and a depth of knowledge.
Ensure your content and site have a primary purpose or focus.
Write content that will make someone feel that they've learned enough about a topic to help achieve their goal.
Create content that makes the reader feel like they've had a satisfying and valuable experience.
As you can see, all of the content SEO stages we discussed previously perfectly align with this new update, funny how that works out!
What About the AI Elephant in the Room?
As we mentioned before, the SEO atmosphere is always changing. One of the most recent, and possibly disruptive, changes is the introduction of AI content tools like Chat GPT. So, what does it all mean? Is AI a friend or foe for content marketing? Is it a passing fad or the new norm? These questions are a bit too complex to cover in this little blog. If you're interested in learning more, check out our AI webinar and see what the fuss is all about.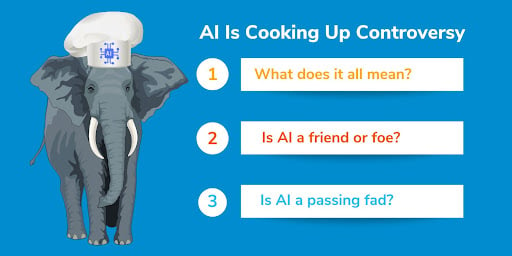 Embracing Change and Going Beyond Basic SEO Strategies
You can do everything right with your on-page optimization and technical SEO and still have content that doesn't rank. With an ever-evolving search atmosphere, it's necessary to try new things and think outside the box. And trying out PBM is a great first start. Why? That's a great question, let us explain.
A PBM strategy shows you how to create and leverage structured content networks on your website. This practice enables you to capture more organic traffic and match search intent by mimicking the network of search behavior surrounding Pillar Page Topics you choose to write about. This approach helps you reach the top of search engine results pages and capture the attention of your ideal customers.
Learn more about the key elements of PBM at DemandJump University! And if you love books like we do, check out Ryan Brock's latest release—Pillar-Based Marketing: A Data-Driven Methodology for SEO and Content That Actually Works.
Get Your Free Pillar Strategy Preview!