What Are the Most Important Pages on a Website?
December 2, 2021 •DJ Team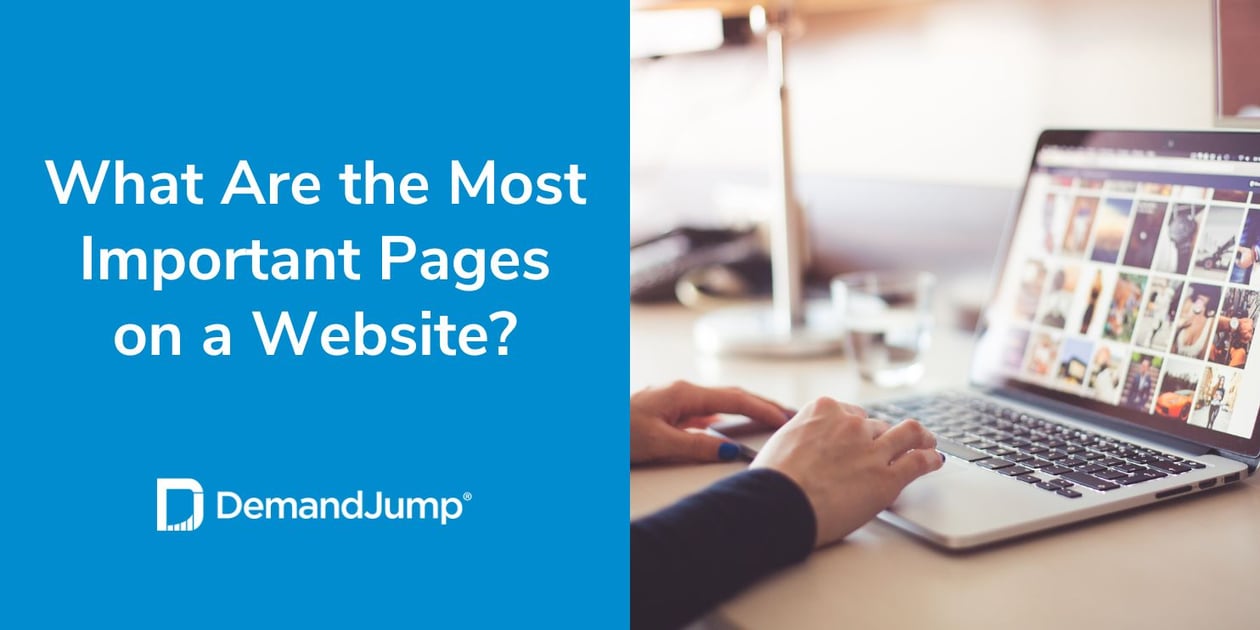 There are approximately 56.5 billion web pages indexed on Google alone, with 4.66 billion active internet users all over the world, now that is a lot of website content.
You probably visited 10 different web pages before lunch on a daily basis. With such a large amount of content out on the web, if you are trying to create a website, what pages deserve the most attention? What are the most important pages on your website and how SEO can lead to success?
Take a moment to scour the web, or head over to a few of your favorite sites to visit. While they might appear to be completely different stylistically and what they are providing to each user, there are a few common threads among every website.
So, what are the main pages of a website? In fact, there are usually four pages that you can find on almost any website.
4 Main Pages of a Website
1. Homepage
First impressions matter, especially when it comes to website design and functionality. As the main page of a website, if a user visits the page and it looks like there was no thought or care put into the creation of it, they will likely click away and try another site.
Studies have shown that 38% of users will stop using a site if the layout or content is unattractive. Even if your website has the best content out there, or has the best product online, it won't matter if a user cannot stand to stay on your site for more than a few seconds.

A good home page will answer the question of "Who I am" or "What I do" for the user without them having to put in much effort. Establishing a brand or aesthetic can all come down to the design of your homepage.
Finally, the homepage should be able to resonate with the target audience. A B2B business for example would want a more persuasive website design. Showing off their specific successes with other B2B sales to entice other businesses to work with them.
2. Blog Page
Hey, you're reading one right now! A blog page is a fantastic addition to any website, as it is a page that can give some personality to the overall brand. A quality blog page will have a unique voice that speaks to its audience. If that isn't convincing, blogs get 67% more leads than sites that do not utilize one.
Apart from connecting with and educating your audience on specific topics, blogs are also perfect for driving more traffic to a website. By utilizing search engine optimization (SEO) and keyword research, a blog can find its way in front of more users than just your target audience. A well-written blog can effortlessly weave creative storytelling, sales, and marketing all into one package.
3. Contact Page
This page serves as a foundational piece of any website. If someone comes across your website trying to do research for something they wish to buy, and they find that you have a plethora of relevant information, while at the same time, not having too much on the screen for them to choose from, they will be more likely to stay or even buy from your site. If you don't have a contact page, then sadly they might need to look elsewhere.
Even if a visitor isn't looking to buy anything, being able to connect with your team is an invaluable aspect of a website. This page can take on a variety of forms as well, it does not have to be a boilerplate contact page. It could be a calendar to schedule an information call or a questionnaire where the user fills out a shortlist of related questions, and you connect them with the best solution for what they are looking for.
4. About Page
Similar to the blog page, the about page of a website communicates the heart of why you, a business, or a team are doing what you do. Typically, the about page will include elements like a mission statement, a promise to the customer, customer testimonials, or the history of your work.
The about page is also similar to the homepage, but the major difference is that the homepage should work to inform the visitor about what you sell or what your work is. While the about page should focus on the why.
Good Website Design Examples
As mentioned in the previous sections, website design makes a crucial first impression on a user. Great website design can attract more visitors on its own, as well as turn those visitors into customers more easily. Bad website design, on the other hand, can just as easily turn away potential customers visiting the website. Three elements that should get extra focus during the website design process are colors, typography, and imagery.
The first thing a visitor will notice is the

color palette

of a website. A website that uses complementary colors will be pleasing to the eye. Color can help highlight a website's most important information, and create stronger brand awareness.

Typography

is an area that does not get enough attention in website design. As a visitor is going to do a lot of reading on a website, especially if they go to the blog page, having typography that matches the theme and aesthetic of the website will create a more enjoyable experience for the visitor. It is also important to not have too many different typefaces on a website. Two or three is a good rule of thumb.
Imagery ties everything together. It is not limited to pictures included on the site, as it can be illustrations, videos, and other graphics. The human brain is able to identify an image in around

100 milliseconds

. The imagery of a website should be expressive of the brand it represents.
Check Website Reputation
In the previous section we touched on examples of good website design, we also touched on some aspects of poor website design. Bad website design doesn't just mean that not a lot of effort was put into it, but that something more nefarious could be lurking on the site.
When designing a website, implementing everything we have discussed is a great way to build a positive reputation with users. Avoid spam of all kinds. We know that it can be helpful to get paid from an advertiser, but if there are too many of them that keep popping up, the user may become frustrated or uncomfortable.
A simple workaround for this would be to work in a feature where return visitors do not get any pop-up ads, that way you can still make money from ads for new visitors.
Expand your Website's Reach with DemandJump
Need help? DemandJump offers automated keyword research and a one-click content outline generator that recommends headings and questions to answer within your content. Get started today for free!
Get Your Free Content Marketing Strategy Report