What Are the Three Key Components of Optimizing for SEO?
December 6, 2022 •McKenzi Moorman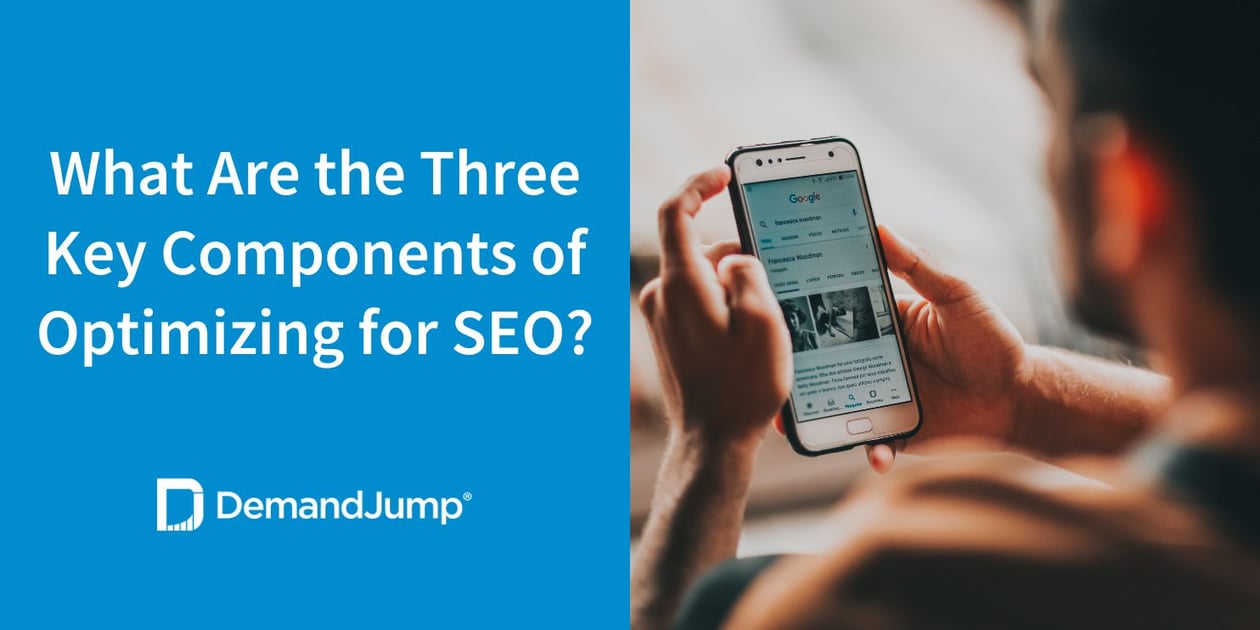 Search engine optimization: this short little phrase holds so much power when it comes to driving traffic to your website and boosting sales. After all, it is the process of improving the visibility of your website. When many people think of SEO, they think of SEO keyword research or content optimization. And while that is definitely part of it, that's not all of it. In this blog, we discuss what the point of SEO is and the components of search engine optimization that will get traffic to your website flowing. Let's dive in.
What Is the Objective of SEO?
Ultimately, the main point of search engine optimization is to boost organic traffic to your website. Organic traffic refers to the number of visitors to your website who arrive there from unpaid methods such as finding your content under search results on Google. Boosting this type of traffic benefits your business because it's free and can lead to an increase in conversions just like paid search ads can.
SEO works by considering the two types of viewers of your website: search engine bots and human beings. You have to add keywords, descriptions, and other relevant information to your content so that the bots can find and classify your page as useful enough for the first page of search results. Meanwhile, your content should be readable and well-written to appeal to your human audiences. Google recently launched a helpful content update to help searchers find better, more original content, so making your content enticing for this update should be a priority.
What Are the Key Components of SEO?
There are 3 components of SEO that will boost your content in search engines and bring more visitors to your website: on-site or on-page SEO, regularity in posting good content, and off-site or off-page SEO. Let's take a closer look at each.

1. On-site SEO
This component of SEO focuses on optimizing your website. It involves improving both technical SEO and the overall organization of your website. When we say technical SEO, we mean the parts of your website that your reader can't see but search engine bots can. Some changes you can make to improve your technical SEO include:
Better organizing your code so that it's easier for bots to read
Using a content delivery network for a faster website
Consistently updating your site maps
Improving your technical SEO will make it easier for these bots to scan your website for relevant content to include in search engine results pages (SERPs).
When organizing your website, you should:
Make sure its structure makes sense to your audience
Use appropriate headers for the content included on each page
Include meta descriptions with the previews of your content to give your audience a little nugget of information to help them decide whether they want to continue reading it. Put keywords in your meta description so that search engine bots can pick up on the relevance of your content.
Internal linking also boosts your on-site SEO. When you link to other pages or pieces of content on your website, you boost the authority of that page or piece. What is authority in SEO? It means that other search engines recognize the one being linked to as an expert on something they mentioned. If you link to longer pieces of content within your shorter ones, you not only drive readers of the shorter pieces to the longer ones, but you also indicate to bots that your longer piece has relevant, useful information on certain topics. At DemandJump, we teach and promote a pillar linking strategy. For this type of linking, you include a link within your sub-pillars to the related pillar and links to the related pillar and sub-pillar in your supporting blogs.
2. Regular Posting
Have you ever been on a date with someone that goes really well, but then you two only text sporadically after that? We bet that not much came out of that relationship. The same happens between your target audience and your content. If you do not post on a regular basis or you do post regularly but it's not quality content, then your audience will lose interest and move onto a competitor's site. Your content has to be well-written, and it has to be reliable.
One way to improve the quality of your content is to:
Make it readable in the way it's organized.
Break up long chunks of text.
Insert relevant images.
Include keywords and phrases that your audience is searching for (DemandJump can help you find these terms).
Include lists and bolding to make certain parts of your content more organized and easier to scan through.
The better written your content and the more often you post that content, the higher the odds that your audience will come back to your site in the future

3. Off-site SEO
The last component of optimizing your site for SEO is improving your off-site SEO. One way to do so is to post about your content on your social media. Like with your content, regularly posting on your social media will drive traffic to your website. Including links to your content on your posts both informs your audience about your new content and sets up your content as an authority. Remember talking about authority earlier?
You can boost authority, too, by partnering with other businesses to post something on their website that will link back to yours. Or, if you make sure that you have quality content, you may even naturally encourage other businesses to link to your website as a source in their content.
Improve Your SEO With DemandJump
DemandJump offers you the tools you need to boost your SEO and drive organic traffic to your website. We will give you ideas on a pillar strategy based on whatever topic you choose so that you know what to write about. The platform will even generate content briefs and insight reports to inform you of what keywords and phrases to include within each piece of content. Then, once your content is published, our platform will tell you how well it is performing and how you and your competitors are ranking for certain keywords.
Sign up for a free account to discover how best to optimize your content with DemandJump.