What are the Types of Content Marketing?
December 18, 2020 •DJ Team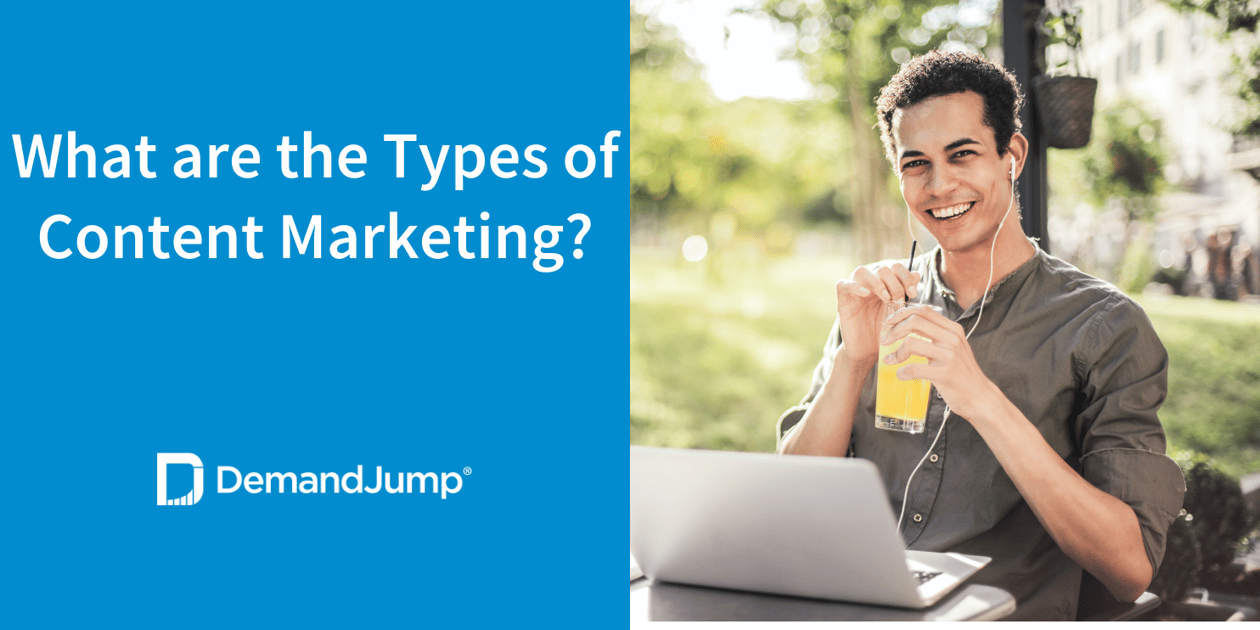 Diving into the world of content marketing can be confusing, with so much information floating around. If you want to get started building out a content library for your brand's marketing purposes, it can be difficult to figure out what kinds of content to start with—or even how many different types of content marketing there are! Some claim there are twelve or five or even up to 105 types of content!
We've simplified it for you and grouped things into three types of content to make it easier to understand and plan your content marketing campaign.
Three Types of Content
Written
Think about this category as things that your customer will spend some time with. Creating this type of content is important to engage your customer and can often be a useful educational tool. You can inform your customers about your products and offerings in an in-depth and detailed format that helps them understand what your business brings to the table.
Types of text content:
Blog posts
eBooks
Case studies
White papers
Social media posts
Visual
Striking visual content is a great way to grab attention and convey a message quickly. Bold and clean visuals are important to keep the impact of your content high. It's easy to bog down a visual with a lot of text—resist this temptation! Visual posts are meant to be more focused and condensed. If you have a lot to say, consider revamping your content into a written format like a blog post or eBook.
Types of visual content:
Audiovisual
Audio and audiovisual content falls somewhere in between the written and visual categories. This content has similarities to both. These formats are a natural fit for telling a story and for showing the human interest side of your business—and they happen to be the most popular types of content marketing on the web today. Through short or long videos, podcasts, or webinars, you can share a glimpse behind the scenes or sit down and speak to your customers about why you are passionate about your business and create content that is immediate and engaging.
Types of audiovisual content:
What type of content is best for social media?
It's important to remember that not all types of content fit on all social media platforms. When developing your content marketing strategy, remember that social media platforms are typically geared towards a particular type of content. Be sure to do your research to understand what types of posts fit on the social media platforms you are using.

Facebook
Facebook is an interesting platform because you can (and should) use a mixture of all 3 types of content. You aren't limited by characters or video length, which means your content can be longer if necessary. However, you may want to use links for things like blog posts and direct your Facebook traffic to blog posts on your website. Long, text-based posts aren't the best for this platform since the formatting tools are rudimentary and Facebook cuts off longer content and hides it under a "Read More" button.
Instagram
This social media platform is primarily visual and is meant specifically for pictures. You can post videos that are 60 seconds or less, and the Instagram TV feature allows brands to post longer-form videos with a few extra steps. Text-heavy captions and links don't work well on Instagram due to the nature of this platform (actually, links don't work at all—though tools like LinkIn.Bio provide ways around that), but hashtags are a great way to expand your content's reach.
LinkedIn
LinkedIn is similar to Facebook, but primarily a place to put text-based content and more in-depth information about your business and business strategy. Pay attention to the tone—LinkedIn tends to be more formal than other social media. It is possible to post videos, but this type of content doesn't tend to get much traction on LinkedIn due to the nature of the platform.
Twitter
Short text-based posts, links to other content, and images work well for Twitter. Keep in mind that you are limited by the character restrictions—280 characters per tweet. Think short and snappy for Twitter!
Snapchat/TikTok
These platforms are similar in that they both use short videos. Typically used by younger customers, these platforms favor short and above all else genuine content.
Put yourself in their shoes and think about what you would like to see. What type of content fits best with your products and services? For example, a business that sells fine artwork would naturally want to take a lot of videos and pictures of their goods, but a lawyer might be more inclined to write blog posts and ebooks to help their clients understand legal matters.

How can DemandJump Help You?
With so many different social media platforms and content types, it can be difficult to figure out what your customers like to see. Content marketing can be powerful and effective, but generating content can become a huge task. With DemandJump's Marketing Attribution tools, you can eliminate wasted time and know with certainty what is working for you and your business.
Do you know which of your content marketing campaigns are making the biggest impact? With DemandJump's tools, you can see where customers are coming from, what content brought them to you, and even see the pages they visited and all their touch points on their path to purchase. You can know what type of content drives conversions for your business and which content campaigns are creating revenue.
Try it for free - save time and create better content - that ranks.
Get Your Free Pillar Strategy Report