What Does a Content Marketing Agency Do?
November 25, 2020 •DJ Team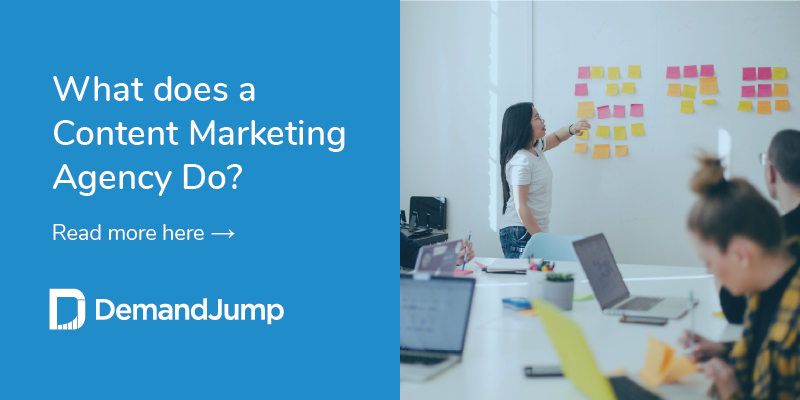 It's not uncommon to outsource some of your marketing help. It's a full-time job for most people, and when you're trying to run a business—or run the marketing for several—the actual creation of the content can get to be a lot. Of course, before you actually go signing any contracts with an outside source, it's a good idea to know what they do and how they operate. Let's get a look at what a content marketing agency does.
What is Content Marketing and How it Works
Content marketing is a subset of digital marketing. It means you're creating helpful, relevant, valuable information and distributing it to your audience via a wide range of media—usually that which you own, like social media outlets, YouTube, and your website or blog.

The content you're creating could mean almost anything. It might be a blog post where you provide a little expert information. It could be a video where you provide a tour of the factory where your goods are made. There's really no limit, as long as the audience finds your content interesting and helpful.
There can be several goals behind content. First, it helps cement you as a leader in your industry. The more expert information you're able to share, the more likely people are to come to you when they have a question. Second, it boosts your website's SEO value, making it more likely that people find your site through organic search. Third, content marketing pulls potential customers into your sales funnel, where you can start moving them along towards a sale with other marketing techniques.
Content Marketing Agency Services

Now, if you want to hire an agency to help you out, what can you expect? Like most businesses, every content marketing agency is a little different. Some will offer things that others don't. Here are a few things you can expect.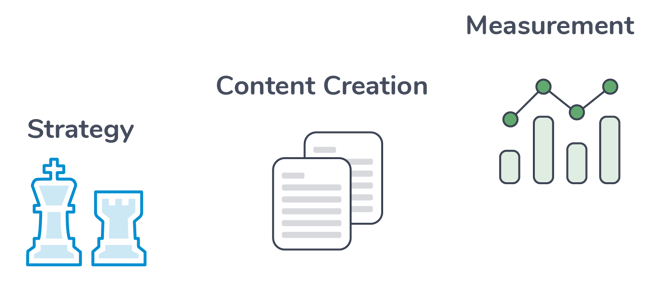 Strategy - Most agencies will put together a solid content marketing strategy for your business. They'll look at your audience, where they are, what they want, and design a content plan for that.
Content Creation - In many cases, agencies will take care of the content creation itself. Especially if we're talking about blogs, ebooks, landing pages, case studies, and infographics. In some cases, they may also help with the production of video or podcasting.
Measurement - Without measurement, content marketing is mostly noise. Most content marketing agencies will help you measure how your content is performing. That way, you can pivot on your strategy to focus more on the things that are working in your favor.
Want to create your own content? DemandJump provides content outlines on any topic of your choosing, ensuring your content ranks.

What is the Role of a Content Marketer?
Whether you're hiring an agency or looking for someone to do the work in-house, your content marketer will have specific roles you're looking to fill. While they don't need to be a jack-of-all-trades, there are certain things that are a must. In particular, your content marketer should be able to write, and write well.
Your content marketer will oversee your content marketing strategy. That means making sure that all of the content that's being shared not only fits the strategy, but also falls in line with your brand message and identity.
Your content marketer will make sure you stick to editorial calendars, both from a production standpoint and a publication point of view.
A content marketer may also oversee social media accounts, and be responsible for responding to anyone who interacts with the brand's account.
Finally, as overseer of content strategy, it's also on the content marketer to crunch the numbers as they come in and make suggestions for how to change things if necessary, or prove that it's the right move to stay on course.
Do I Need a Content Marketing Agency?
Let's be clear: a content marketing agency is not a full-service digital or traditional marketing agency. Their focus will be on content and making sure what you're doing is working. And while you (or your employee) is definitely the expert, a content marketing agency can be a big help in the actual creation of the content. Let's look at a few specific areas where you could benefit form a content marketing agency.
You need flexibility - If you're a small business or a fast-growing start up, you know that your marketing needs are going to change by the week. A content agency is nimble and can help you pivot to make sure you're hitting the right mark.
You need people - Your employees may be too busy to create the content. Or, even worse, if your main source of content is leaving, you don't want your marketing efforts to flounder along with it.
You need a reputation - Thought leadership and content marketing go hand-in-hand. Putting your name out there, with help from agency folks who know the precise places to put it, can help bolster your reputation in the marketplace.
You need time - Making content takes time. It's time-consuming to sit down and knock out seven blogs, or to spend half a day in front of a camera making a video—let alone editing it. Experts can speed this up for you.
You need creators - Maybe you're not a business, but a marketing agency yourself. And while you may be great at the strategy and measurement, you need help with the creation. Fortunately, content marketing agencies are made for that.
Whether it's an in-house team-of-one or a full-blown content marketing agency, every marketer worth her salt knows the tools you need to make sure your content is performing to the best of its ability. Try a free trial of DemandJump and let us help you get your content marketing efforts dialed in.
Get Your Free Content Marketing Strategy Report