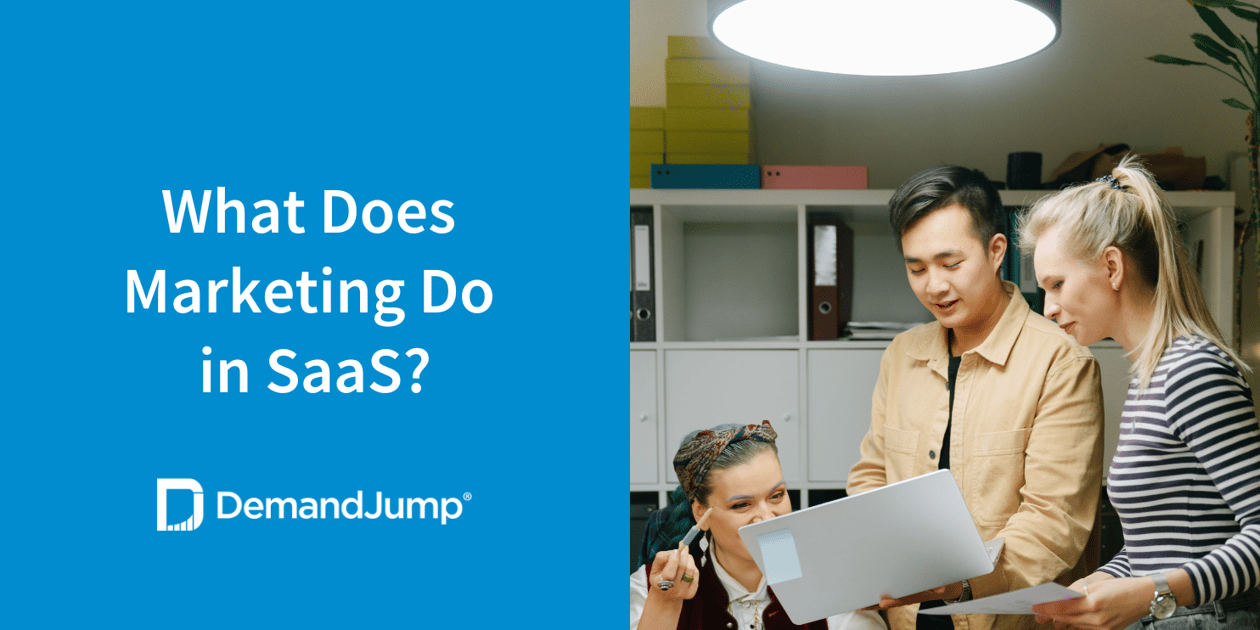 Generally, the goals of marketing include things like increasing brand awareness, generating and qualifying leads, and increasing customer loyalty—all of which lead to revenue growth. While the nature of business-to-customer (B2C) and business-to-business (B2B) marketing are different and have their own unique goals, the fact is that modern businesses simply can't meet their objectives without efficient and effective marketing strategies.
What does that look like for software-as-a-service (or SaaS) companies, though? These primary marketing objectives still apply, but how do you create an effective B2B SaaS marketing strategy for short- and long-term gains?
In this blog, we'll address three important questions, so you can approach marketing with a solid understanding of what makes SaaS marketing unique—and how to get it right:
How is SaaS marketing different from traditional marketing?
Why is content marketing important for SaaS companies?
What is a Saas marketing strategy, and how do you develop one?
How Is SaaS Marketing Different from Traditional Marketing?
The most notable difference between SaaS and traditional marketing relates to what, exactly, is being marketed and sold—and to whom. So, what makes SaaS marketing unique? It mainly centers around how SaaS selling is different from traditional software selling. Here are three key differences between how sales and marketing differ between SaaS and non-SaaS companies:
SaaS is a different kind of product. Compared with a more traditional product, software is almost always changing—being updated with new features or improved infrastructure, for example. How those changes and updates are communicated to customers can make the difference between loyalty and churn. Due to its intangible nature, marketing SaaS requires an approach that helps to educate customers and demonstrate the benefits and overall value.
The sales cycle for SaaS tends to be shorter—most of the time. SaaS sales cycles tend to be shorter, since customers can easily do their own research, sign up for a demo, and make a purchase over the span of minutes. Because pricing and other information is typically detailed on the company's website, marketers' job is to connect the product/service benefits with unique customer pain points.
Customer retention is among the most crucial metrics for SaaS companies' success. From the customer's perspective, a SaaS buying decision isn't a one-and-done prospect. In fact, many of the moments that can make or break customer loyalty occur after the contract is signed. Marketers are wise to focus on elements like live customer support and troubleshooting resources in order to set the table for successful onboarding, engagement, and retention.
Why Is Content Marketing Important for SaaS Companies?
Content marketing is an essential part of any SaaS marketer's toolbox because it generates interest in your offerings and connects the dots between customers' most pressing needs and the software's capabilities.
Content marketing centers around one key principle: providing valuable, relevant content to help customers better understand their own needs and what their options are for meeting them. When done well, content marketing can provide a relatively seamless experience for customers across each stage of the buyer's journey—awareness, consideration, and decision-making.
Awareness: Content marketers can increase brand awareness by publishing timely content that is easy to understand. Well-written, topical blog posts are an excellent way to get customers' attention and gain their trust. Done well, SaaS content marketing initiatives can elevate your company to "thought leader" status.
Consideration: Most SaaS companies have direct competitors with very similar product/service offerings, so other elements of a SaaS content marketing strategy should include content that shines a spotlight on what, exactly, makes your solution better. An experienced content marketer will be able to nudge customers' thinking without seeming overly salesy.
Decision-making: Finally, a comprehensive content marketing plan will include compelling Calls-to-Action (CTA's) that make it easy for customers to see the unique value you provide—to the point that they're ready and willing to sign up for a demo or sales call to signal a decision.
Many successful content marketers rely on DemandJump's platform to inform their content marketing strategy—namely, what types of content to create. Well-written content that anticipates and answers prospective customers' questions tends to bring about excellent results. With DemandJump's keyword research and content planning tools, knowing exactly what kind of content to create.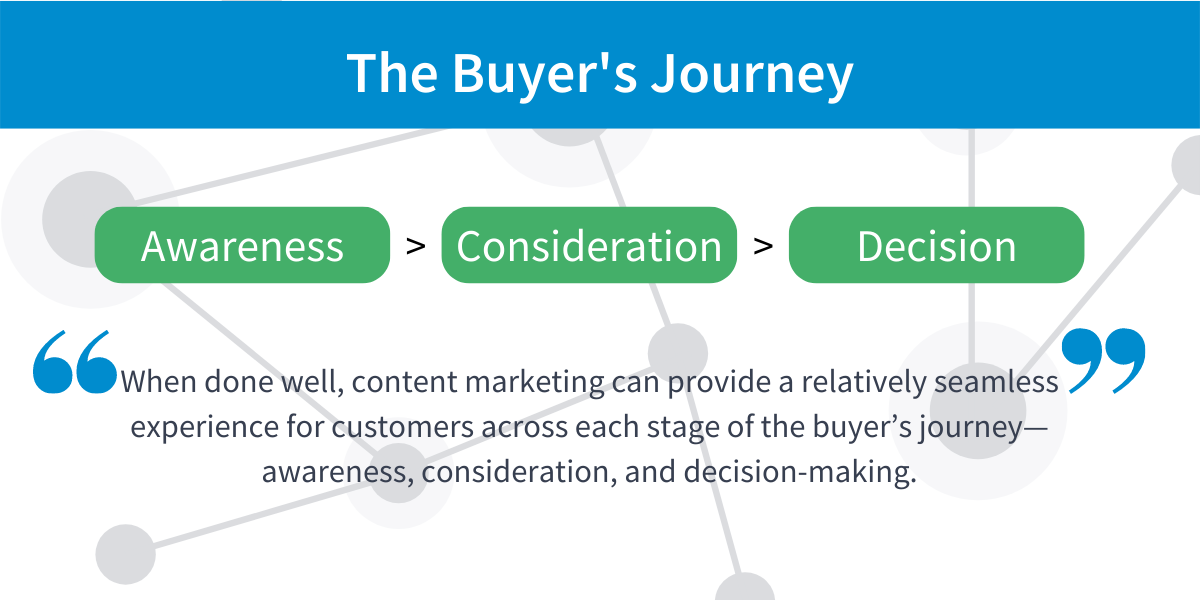 What Is a SaaS Marketing Strategy, and How Do You Create One That Works?
A SaaS marketing strategy is one that connects with customers wherever they are along the buyer's journey and helps them make the decision to do business with you. It centers around high-quality, relevant content that builds trust with customers, differentiates a product or service, and nudges prospects toward deal closure—all without being overtly salesy. The best SaaS marketing campaigns connect the dots between real customer pain points and the benefits of what you're offering.
Effective SaaS marketing strategies are likely to include a few different elements, including:
Creating well-written and informative website content, like blog posts and landing pages.
Utilizing search engine optimization (SEO) best practices, including keyword research that helps you know exactly what type(s) of content your customers are searching for.
Investing in paid search or pay-per-click (PPC) elements as a means of enhancing brand awareness and reach.
Generating referrals that can demonstrate real value, in order to bring in new business and build compelling case studies.
Promoting content through social media channels, podcasts and webinars, and so on.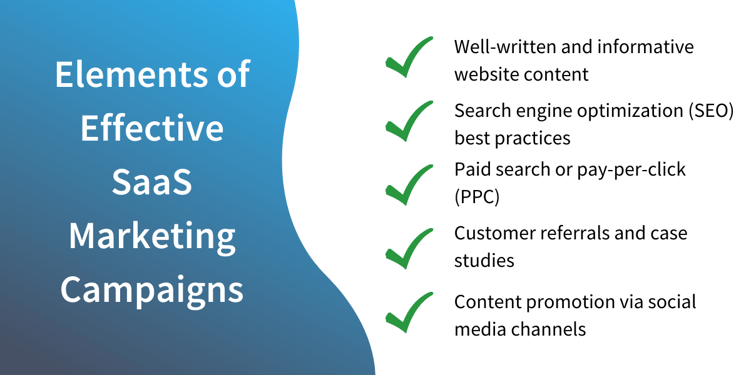 Develop Winning SaaS Marketing Content with DemandJump
DemandJump provides an exceptional platform for SaaS content marketers to better understand and connect with their customers, including features like:
Keyword research and content planning tools, so you can write and publish the right content at the right time.
Competitor research, so you can identify and strategize your best opportunities to convert more customers.
In-depth performance analysis, to help content marketers better understand which elements of your content marketing strategy are working, and which can be further optimized.
If you're curious about what this all looks like, and how it might help your business, then sign up to try DemandJump—for free—today.