What Is a 10x Content Pillar Page?
April 25, 2022 •Bret Sexton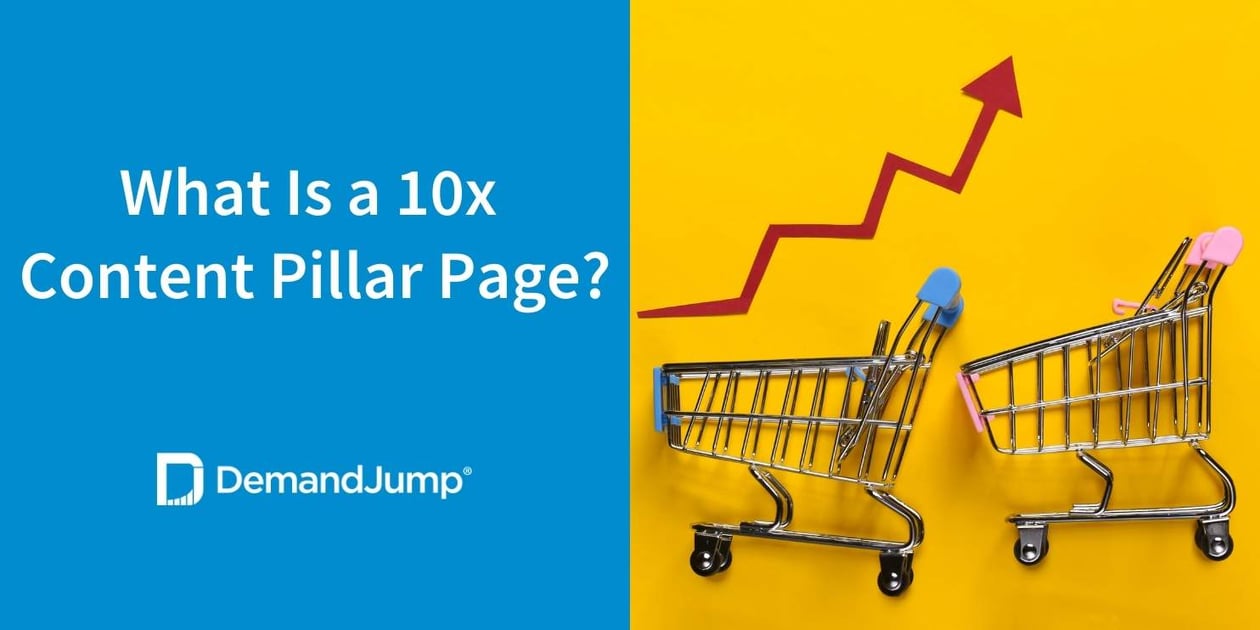 In the world of content marketing, every company is trying to find a way to reach its audience more effectively. By utilizing an SEO pillar strategy and a 10x content pillar page, a company can create targeted content that generates the most amount of organic search traffic by answering its audience's most commonly asked questions.
A 10x content pillar page working in tandem with a pillar strategy is one of the best ways to guarantee you are not wasting your time and efforts with the content you create. In this blog, we'll break down what precisely a 10x content pillar page is and how DemandJump can help you put it all together to dominate content marketing.
What Does 10x Content Mean?
Put simply, a 10x content pillar page is a piece of content that is ten times better than the current highest-ranking content for that search term or question as it relates to search engine rankings. Easier said than done, we know.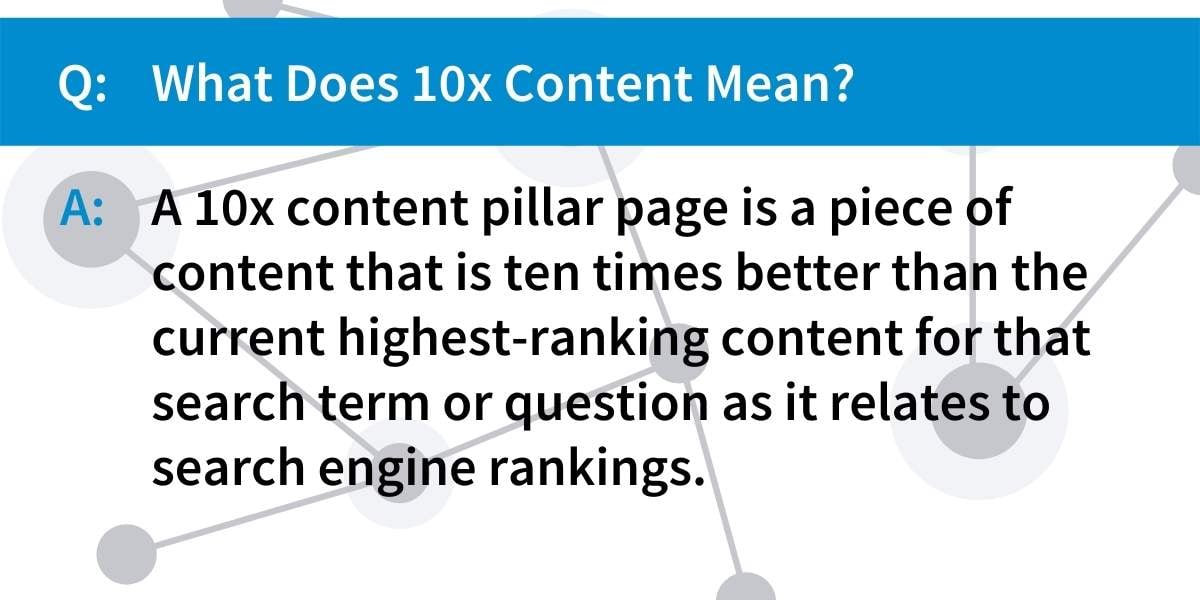 So how exactly do you make your content ten times better than what is currently out there? Here are three ways that any content marketing team can ensure what they are putting out is better than the competition.
Answer Quickly: Answering a question or speaking to your audience's pain points are necessary parts of your content. However, at what point in the blog you address these elements also plays a role in your overall SEO performance. The sooner that you can answer the question of your blog, the better your content will perform.
Graphics: Not only do you need to develop a page full of quality and enriching content, but it also needs to be unique. One easy way to stand out is to have infographics on your pillar page that support the text. The benefit of having helpful infographics on your 10x pillar page is that they include easy-to-quote information, making your piece even more shareable.
Look to Competition: You never want to focus too much on your competition, but ignoring them is not a good strategy, either. See what techniques your competition is using to answer your audience's pain points and either improve or expand upon their work to ensure you are the source that answers their questions fully and accurately.
Understanding what a 10x content pillar page is and what tactics you should employ to make one successful is a great start, but you still need to know what your audience is searching for and then write the actual content. This was something that used to be a guessing game. DemandJump can solve both of these issues for your team. Our platform will show you exactly what your target audience is searching for and give you examples of content to write in order to reach them.
10x Content Pillar Page Example
When preparing to write your own 10x pillar content, you will likely come across in-depth pieces like a report or guide on a topic your business is heavily involved with. Let's use B2B marketing as an example. A great example of a 10x pillar page for this topic would be "Best Practices for B2B marketing." This title, or something similar, would work well because it allows you to establish yourself as an authority on the subject while also promoting your own services to fix the pain points you are writing about. A win-win!
So, how do you write a pillar page? To help your team get started with creating this content, let's look at three ways you can make one.
Fresh Start: Starting from scratch can seem like a daunting task, but this allows you to pick a new and unexplored area of your business to write about. This route requires more research, but if you partner with DemandJump, the backend work will be taken care of so you can immediately begin the writing process.
Expansion: Selecting a shorter piece of content that is already performing well and turning it into a 10x pillar page is an excellent idea if the blog only scratches the surface on a topic. An average blog is around 750 words, and a pillar is normally in the 3,000 word range. You can see how this amount of content can impact the performance of the piece.
Upgrade Content: This is similar to expanding on a well-performing blog, but if you have a whitepaper or similar piece of content sitting around, you can turn it into a 10x pillar page to boost its performance.
10x All Your Content with DemandJump
At DemandJump, we understand how an SEO pillar can impact your company's performance in search results. Whether you need help with a direction for your content or need everything written for you, our team has all the resources to turn you into content royalty.