What Is a B2B SaaS Business Model?
November 30, 2022 •Jeremy Flick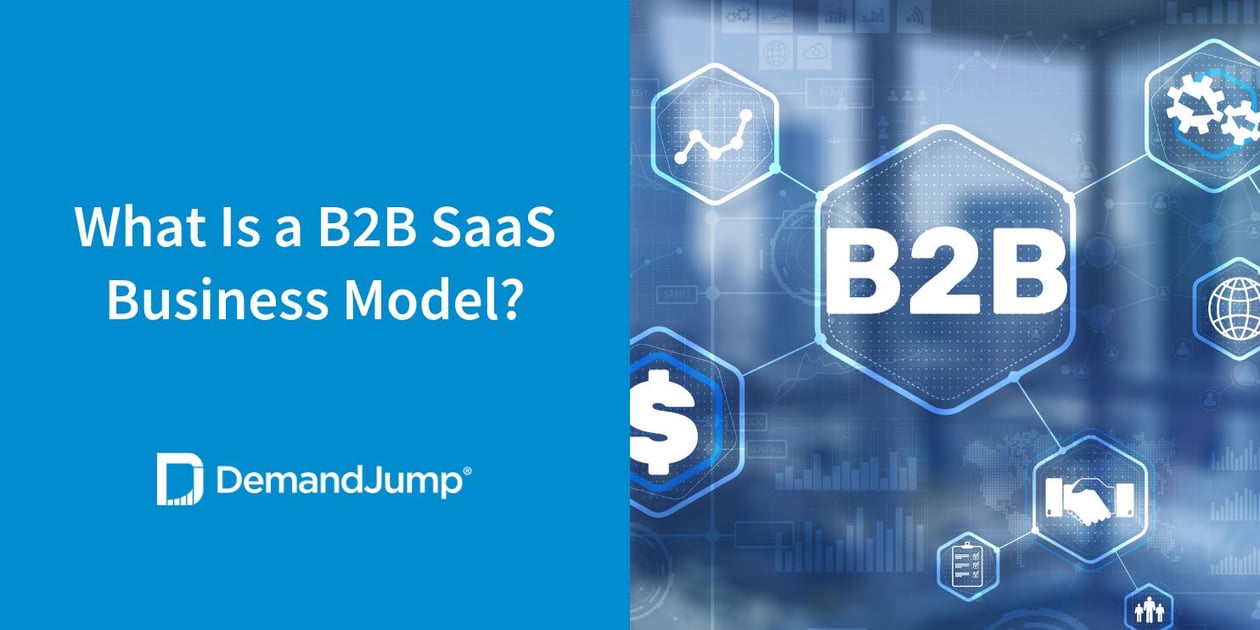 As a B2B SaaS company, your ability to get your software into the hands of other businesses is essential to success. Expanding your customer base relies heavily on marketing and business models like freemium and product demos. So what steps should you take to build a robust customer base?
The answer is using various SaaS marketing techniques like high-value content and increasing access to the product. Numerous channels, such as social media, email marketing, internet advertisements, and content marketing, may be used to accomplish this.
In this blog, we'll answer: what is a SaaS business model and how does it work?
What Is a SaaS Business Model in B2B?
A business-to-business (B2B) Software as a Service (SaaS) is a business model in which software developers build a program and charge a subscription fee to access and use it. A SaaS solution is typically used to solve specific pain points and increase efficiencies across multiple levels of an organization. And this SaaS solution regularly becomes quite crucial to their businesses. For example, DemandJump helps businesses gain insights on what people are searching online, so they can make effective content for marketing. A SaaS company can make money in various ways, but generally, its recurring subscription revenue will be the main source of income.

Most frequently, recurring revenue functions on an annual and/or monthly cadence (known as ARR or MRR). This kind of pricing model, made possible by cloud computing and online delivery, enables startups and other SaaS businesses to produce recurring revenue while concentrating on new features, new products, and improved service.
SaaS companies typically use different types of SaaS business models, like:
Freemium models allow users to try features of a company's service, without all of the features available for use. Typically the locked features incentivize users to subscribe to premium accounts. Sometimes features will be offered on a limited basis so users can try them before committing to a paid tier.
Free trial models give users the opportunity to try all of the features of a company's service for a limited period of time. These trials bring immediate benefits and value to the users, which can influence their decision to subscribe once the trial is over.
Sales demo models enable potential customers to see how a SaaS solution can address pain points and provide resolutions. While a demo can show how the product works, it is typically more beneficial to demonstrate the value of the software in this model.
While these different SaaS business models provide access to a product, these approaches often introduce the software to different audiences. Testing various models enables SaaS companies to attract a broader range of users. Certain platforms might work better with one model like freemium accounts as opposed to other models with full access for a limited time.

What Is an Example of a SaaS B2B Business Model?
Salesforce offers Customer Relationship Management (CRM) products, which include Service Cloud, Sales Cloud, Commerce Cloud, Marketing Cloud, and Experience Cloud. Salesforce uses a free trial model which offers:
Pre-loaded data or the ability to upload your own data
Pre-configured processes, reports, and dashboards
Guided content, how-tos, and best practices for sales
Online training and live onboarding webinars
Dropbox offers storage, backups, and document signing services that, for most tiers, comes with a free trial. This includes Dropbox's "Advanced" tier for "complex teams" which provides several features like:
Easy to use content protection and external sharing controls
Recover files or restore your entire account for up to 180 days
Automatically back up computers—and connected external drives—directly to the cloud
Always-on security monitoring, notifications, and alerts
Large file delivery with Dropbox Transfer (up to 100GB)
However, enterprise level accounts are only available by contacting the Dropbox team.
What Is the Difference Between SaaS and B2B?
B2B is a type of SaaS solution, specifically focused on providing software and services for businesses. However, SaaS isn't always B2B focused, it can also be offered as a business-to-consumer (B2C) service. Let's break down SaaS and B2B further:
Software as a Service Characteristics:
One major defining characteristic of the SaaS model is that businesses subscribe with recurring payments to use the software and services online or through an app. SaaS business models also focus on the value of heightened customer retention and the ability to consistently update for their customers. Other SaaS components include:
Scalable to give customers the option to access services as needed
Accessible with only an internet-enabled device
Integration with other applications like Google Search Console, analytics platforms, and CRM programs
Other software purchased on the enterprise level is sometimes called "packaged software." This is typically hosted on-site with purchase of the end-user application licenses, and businesses can configure and modify this package as needed.
Business-to-Business Characteristics:
B2B simply involves selling a product or service from one business to another. Transactions between companies, as opposed to those between a business and an individual consumer, are referred to as business-to-business.
B2B companies play an important role in developing and innovating solutions for other businesses. Let's look at B2B SaaS companies as an example. For a B2B SaaS company to succeed, they must offer a solution to a need or an issue that can be solved with software.
As a B2B SaaS company, DemandJump helps businesses research insights on what people are searching for online. With high-value keywords and questions, businesses can create content that will boost their rankings on Google and reach more people. Our software is built to take away the pain points of extensive research in hopes that a business might reach a wider audience. Our customers have seen major success and reached page one of Google using our platform's insight reports. To learn more about our B2B SaaS marketing solution explore our website and try our freemium software.