What is a content marketing blog?
November 24, 2020 •DJ Team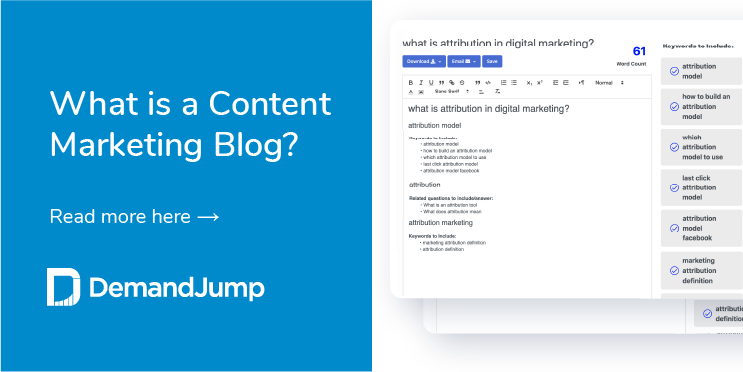 For marketers entering the digital arena fresh-faced and ready to explore the number of ways they can provide valuable content to potential customers, one of the very first steps to take is to start producing blogs. For many content marketing plans, blogs are an integral component to successfully capturing an audience and getting them onboard with an idea.
Is there a difference between content and blogs?
Sure! At the most basic, blogs are content. In fact, the term "content+ is generally used to describe any created experiences for an audience or end-user—written copy, videos, designs, speeches, etc. For lifestyle influencers, blogs may take a more informal, autobiographical format that invites readers into the writer's life. Content marketing blogs take on a professional, industry-related approach that sets out to provide valuable guidance and thought within the context of a larger digital marketing campaign. If your business is retail, you may craft blog messaging intended to provide insight into the coming season's trends and showcase how your products fit those trends. Manufacturers might publish blog content that seeks to provide thought leadership about emerging technologies.
How to use blogging for content marketing
This is what really separates an informal, personal blog a tactical component of a results-driven digital marketing campaign. A thoughtfully crafted content marketing blog strategy is often a vital part of marketing on the web, fitting into many stages of a buyer's online journey with a business.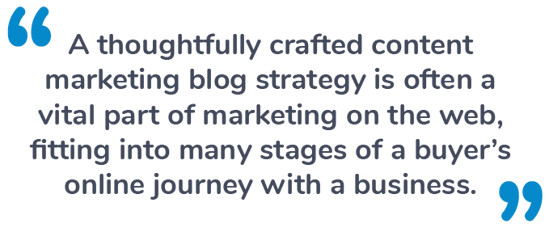 By far, though, blogs are critical for catching potential customers who are searching for guidance online, providing them with thoughtful value, and then moving them further along your sales funnel. That means every content marketing blog has to drive a desired action from your readers, whether it be to download a white paper, complete an RFQ form, view products, or complete another actionable event.
How to write a blog
The heart of every blog is the desired outcome or lesson learned. For businesses, a blog typically works to buff a digital marketing campaign and acquire new customers. A good rule of thumb for any content marketing blog is to focus on delivery value to the reader over a hard sell.

With those important considerations in mind, it's time to think about what your end-user might be interested in reading. Successful blog marketing will account for popular keywords and search engines queries to understand what topic opportunities will provide the most effective value for your readers and your lead driving. For our end-users, like you, helpful guides for content marketing initiatives are on par with our business objective and the user's pain points. So what kinds of expertise do you have that would benefit your readers? What questions do your best customers ask before making a purchase decision? These are the questions that should drive the creation of any new blog. Then, identify key points that help drive that answer in a new and exciting way.
Let us help kickstart your content creation with free content outlines that will ensure your content ranks.
How to Structure a Blog Post
With your topic at hand, it's time to structure your blog post. Start with an introduction that identifies what readers should expect to learn from the post. The next, and perhaps most crucial step, is to organize your thoughts in an outline. Blog outlines can take many shapes and sizes, but some of the most utilized templates would include clearly defined sections with headers, lists, or tips that will be easy to follow for both you and the reader. Each main point in your blog post should be introduced by a clear header, which will not only help your readers easily identify what information is most important to them, but will also help search engines understand what information is in your post, and connect it to readers looking for it.
Because content marketing blogs are intended to drive a desired action, they should all be thoughtfully concluded. After you've provided valuable content, invite the reader to learn more through a white paper, or engage in another step of your marketing campaign, like signing up for a product or service trial.
Instant Consumer Insights on Demand
Great content marketing blogs start with knowing your audience, having good data around what they are interested in, and finding your place among the sea of content on the web. DemandJump's instant Consumer Insights can provide all the tools you need to begin your next successful content marketing campaign. Try our free trial today and see how you stack against your competitors.
Get Your Free Pillar Strategy Report