What is a Content Strategy Framework?
March 16, 2021 •DJ Team
There are many different types of content marketing and it can be confusing to keep them all straight. Facebook posts, blogs, eblasts, websites, podcasts, videos...the formats are endless.
With an ever-expanding universe of content, how can a business attract customers and create a unique point of view in the content marketing world? One solution is to utilize a content strategy framework that puts every piece of your content puzzle in its proper place.
What is a content strategy?
Content strategy is the process of taking your business goals and figuring out how to achieve them through utilizing content marketing. It is a delicate dance of give and take; knowing exactly what pieces of content to create and publish on which platforms in order to engage and attract your target audiences.
Content strategy is the brains behind content marketing and is the driving force that makes your campaigns wildly successful (or, if you lack content strategy, a horrible failure).
In order to have a truly successful content strategy, your content strategist must understand not only the how, but also the why. Content strategy must come from a place of deep institutional knowledge - being immersed in your brand's voice, style, and purpose.
Understanding the business and the ultimate goals of the business are vital to having a content strategist who is accomplished and competent and able to build a comprehensive content strategy that works.
So how do we create a content strategy framework?
The best way to create a content strategy is to set up a content framework. What is a content framework? So glad you asked! A content framework is your blueprint where you detail why you are creating content, how you are going to create it, and a place to plan out every aspect that goes into your content marketing.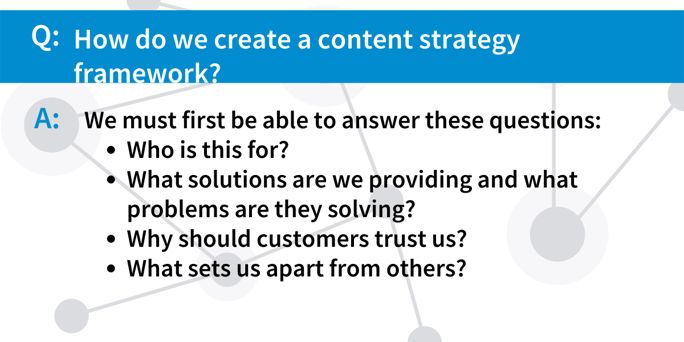 Your content strategy framework is a place where you can state your goals, your brand vision, and all the objectives that you are striving to meet. This is the "why" and "how" behind what you are doing with your content marketing and having a solid content strategy framework will make sure that the content marketing campaigns don't go astray.
As you are building your content framework, ask yourself these essential questions:
Who is this for? Knowing exactly who your audience is (as well as segmenting your audience into different demographics) will help you create a framework that actually works.
What solutions are we providing and what problems are they solving? Answering this question will help you make sure that your services are unique and needed, and may give you ideas for the types of content that will help your business stand out.
Why should customers trust us? As a brand, your newest audience members won't know you from any random stranger they meet. That's why it's important to think critically about where you'll derive your authority. Do you have seasoned subject matter experts you can lean on? Industry data you can share? Reputable sources you can quote? Make it clear that you know your business.
What sets us apart from others? You have to know what your strengths are in order to be able to convince your target audiences to purchase your goods or services.
It is very important to build into your content strategy framework a way to evaluate and measure the success of your campaigns. If you don't know what is working, then you cannot make solid decisions based on facts.
Keep in mind that knowing what doesn't work is also an important data point; investing time and effort into failing content marketing pieces is a huge waste and paying attention to the weakest links will help you know when to cut your losses and move on.
Decisions made in the dark or made on instinct can often lead to disaster, but numbers rarely lie. Data is your biggest friend and teacher, and a good content strategy framework recognizes and incorporates data.
Being able to capture and measure your analytics will set your content strategy apart and create a huge return on investment for your company.

DemandJump can help with your content strategy
Talking in broad terms about content strategy and how it can affect content marketing is great, but when it comes down to the nuts and bolts of actually creating it, how does one actually do this? Well, DemandJump can help.
With DemandJump, you can create a board with all your marketing to-do's and collect all your information in one place. We have tools for all the ins and outs of content marketing—we have tools to help you create content like being able to see keywords that your specific target audience is searching for (as well as their online behavior) to the other side of things to see what happens afterwards and figure out what pieces of content are being clicked on and engaged with.
In addition, we can help you transform your content strategy by helping you plan your content calendars, creating prioritized lists of content to create, helping you understand the revenue impact of your content, and more!
DemandJump's podcast, Page One Or Bust!, goes into elaborate detail on how to make the most of Pillar-Based Marketing best practices. Check out this clip below to learn more. For the full episode, follow this link.
Experience the difference today and try a free trial of DemandJump to see your content strategy take off like never before.
Get Your Free Pillar Strategy Report