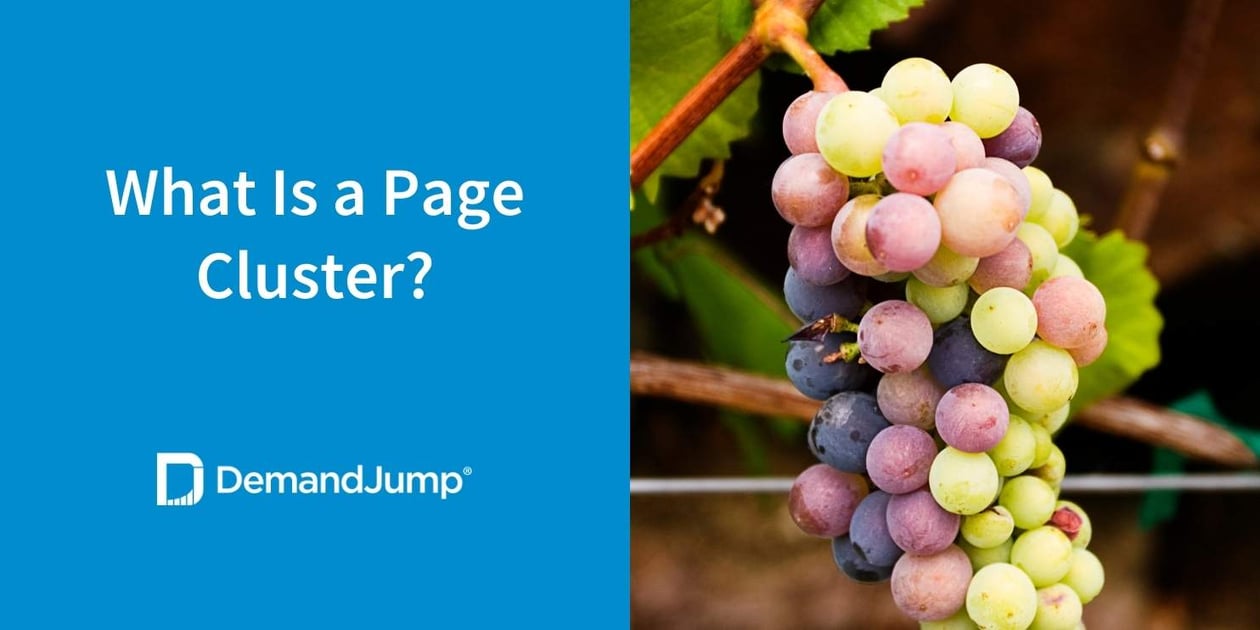 What is a page cluster? If you're asking this question, you're probably also wondering: what is a content cluster? What is a topic cluster? Great news: these terms all mean the same thing! In fact, page clusters, content clusters, and topic clusters are all also known as another term: an SEO pillar. Confused? Don't worry, we'll help you understand. For the purposes of this blog, we'll use the term "topic cluster" or "pillar."
A pillar (or topic/content/page cluster) is an ecosystem of content. Think of a topic cluster like a pyramid—there is one long piece of content at the top, with smaller pieces of content that support it. Your content pillar at the very least will contain:
1 pillar piece - around 3,000 words

2-3 sub-pillars - around 2,000 words each

5-10 blogs - around 750 words each
Let's take a look at a topic cluster example:
Pretend for a moment that you have an organic beauty product company where you sell products like natural makeup and skin care products. Your topic cluster might look like this:
Pillar

Sub pillars

Best Natural Products for the Face

Clean Beauty Products

Natural Products vs. Synthetic Products

Supporting Blogs

Which natural product is best for the face?

Which natural ingredient is best for skin?

What beauty brands are actually clean?

What are the cleanest skin care products?

Is clean beauty the same as organic?

Are clean beauty products safe?

What is a synthetic product?

Are natural products really better?
As you can see, your topic cluster starts with longer, more broad topics and then zooms in to more specific, shorter blogs. But why are topic clusters and pillar pages such an effective strategy for content?
How Do Topic Clusters Work?
Topic clusters work by capturing the majority of keywords around a particular topic and then linking the smaller pieces up to the longest piece of content, the pillar. This network of content answers the major questions that people might have about the topic and gives readers a large amount of valuable information.

While a topic cluster is great for providing your potential customers with the answers they are looking for, there's another aspect to how topic clusters work: search engine optimization. SEO is the "holy grail" of content marketing—getting your website to rank number one on the search results is the ultimate goal.
Topic clusters are a highly effective way to do this. The reason it works so well is because a topic cluster establishes your authority on a subject not only to your readers, but also to search engines. When you use the keywords and questions that people are searching for, search engines reward your content with those coveted first page rankings.
How Do I Create a Topic Cluster?
With DemandJump, of course! To toot our own horn a little, we've built a platform that makes it easy to create topic clusters. We do all the heavy lifting (or rather, our platform does) of keyword research to provide you with a pillar strategy and the exact keywords that people are searching for any topic you want to rank for. Our technology eliminates the guesswork, showing you what customers are searching for, what your competitors are ranking for, and which keywords you can win.
When you're ready to start creating topic clusters, using the right tools makes the job much, much easier—with better results than guesswork. DemandJump's platform is built to help you optimize your SEO results through robust keyword insights and auditing, topic clustering, content outlining, and more. Try it yourself for free and experience the DemandJump difference!
Bonus: Topic Cluster SEO Checklist
Ready to write your first topic cluster? Here's a little checklist of reminders to help your content rank!
ロ Identify the keywords your competitors are ranking for
ロ Evaluate how competitive your keywords are
ロ Calculate the search volume of each keyword
ロ Choose a topic that is:
Relevant to your business

Has a high search volume

Not too broad

Not too narrow
ロ Determine your pillar, sub-pillars, and blogs
ロ Choose keywords and questions for each piece of content
ロ Create outlines for each piece of content
ロ Write your blogs. Remember to:
Include keywords and questions

Answer the questions clearly and concisely

Check for spelling and grammar

Have multiple people proofread

Do your research and make sure you cite your sources

Don't forget the call to action!
ロ Publish your content
ロ Sit back and watch your content rank—fast!
(We'll leave you with a little hint: we can help you with most of the items on this checklist here at DemandJump!)