What Is a Topic Cluster in SEO?
March 25, 2022 •Jeremy Flick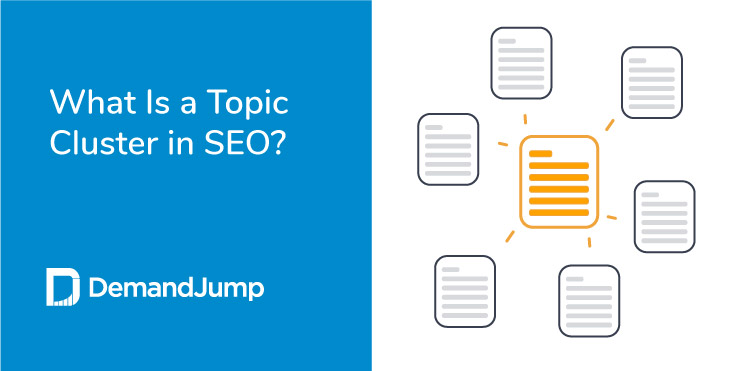 Are you unsure how to use SEO to your advantage? Don't worry! The answer to your SEO woes is the SEO pillar strategy. This strategy is built from several components, like short and long-form pieces, to help you use high-ranking keywords to your advantage.
Writing content in clusters extends your reach on search engines, so your customers can find you before your competitors. The content cluster SEO strategy has helped businesses climb the ranks to page one! There are several topic clusters examples, but let's start with defining topic clusters.
What Is a Topic Cluster?
A topic cluster is a collection of closely related topics, each topic broken into separate branches that become more specific and focused on a particular idea. Once you break down individual topics, they have three main components: the pillar page, sub-pillars, and supporting blogs.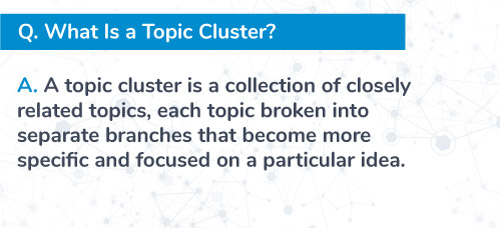 A pillar page thoroughly discusses a topic you want your customers to know about. Content clusters are the grouping of sub-pillars and smaller blogs under the umbrella of the larger topic (pillar) and focusing on long-form questions and high-ranking keywords. Each group of blog content hyperlinks back to the pillar and sub-pillar pages creating an organized, cohesive body known as a topic cluster.
Using a topic cluster content strategy, you can generate pillar pages and blogs that make you the authority on any subject and help you reach page one of Google!
Because topic clusters link to each other, search engines connect each piece of content in a comprehensive group. This means that search engines decide you're the expert in the subject and boost your content up the page rankings.
What's the Difference Between Topic Clusters and Pillar Pages?
We talk a lot about pillar pages and the strategies you should use to strengthen your content, but is there a difference between topic clusters and pillar pages? To put it simply, pillar pages are long pieces of content at the top of a pillar page strategy (broken down into pillar pages, sub-pillars, and blogs). Topic clusters are the grouping of each of these pages together.
How Do You Create a Topic Cluster?
To create a topic cluster, it's important to know what topics will drive traffic to your website. What ideas are important to you? What topics do you want to write about to reach page one? The following steps will guide you through the process of building a topic cluster:
Start by deciding your topic. Remember, you want to be the go-to expert on your subject, so choose a topic with enough information to cover several different pieces of content. A.I builds wants to be an authority on "computer components" and "building computers." Below is an example of a content roadmap for computer components. Let's break it down.

Focus on high-ranking keywords and questions to help you write your content. Using DemandJump, A.I. Builds created a content brief and insights report, pulling up keywords and questions that drive SEO so they can beat their competitors and reach page one on Google. The top keywords for computer components are "4 main parts of a computer" and "parts of a computer and their functions."

Write your first pillar. You can have more than one pillar page, but it's a good idea to start with one topic to build out your sub-pillars and blogs. Remember to make this pillar as thorough as possible within the 3,000-word count. Consider the tone you want for your audience: friendly, formal, fun, etc. In this step, A.I. Builds focused their pillars on the keywords from step two following the roadmap from step one.
Write sub-pillars and blogs relating and linking back to the pillar (and to the sub-pillar for blogs). Connecting these together will create a network of content that SEO loves. You can write several sub-pillars (1,500 - 2,000 words) relating to the pillar and multiple supporting blogs (750 words) within each sub-pillar.
Always have others read your work to check for any errors. You want your content to be an authority and impact the reader.
Continue writing sub-pillars and blogs until you answer the questions people are searching for the most within your topic.
DemandJump helps you create a topic cluster content strategy using high-ranking keywords and specific questions with an integrated content cluster strategy generator. You'll get suggestions for pillars and sub-pillars, leading to a topic cluster that will land you on page one!
DemandJump Does the Work
It's time-consuming to search your competitors' websites, look for keywords, and compare their content, but you don't have to do it alone! DemandJump provides you with insights and content briefs that allow you to work with your content pillar strategy without the hassle. We crawl the internet looking for the top keywords and questions, exactly how customers search them, to pave the road for your content creation.
Get started for free today and see just how easy it can be.