What Is an Example of B2B SaaS?
November 30, 2022 •Jeremy Flick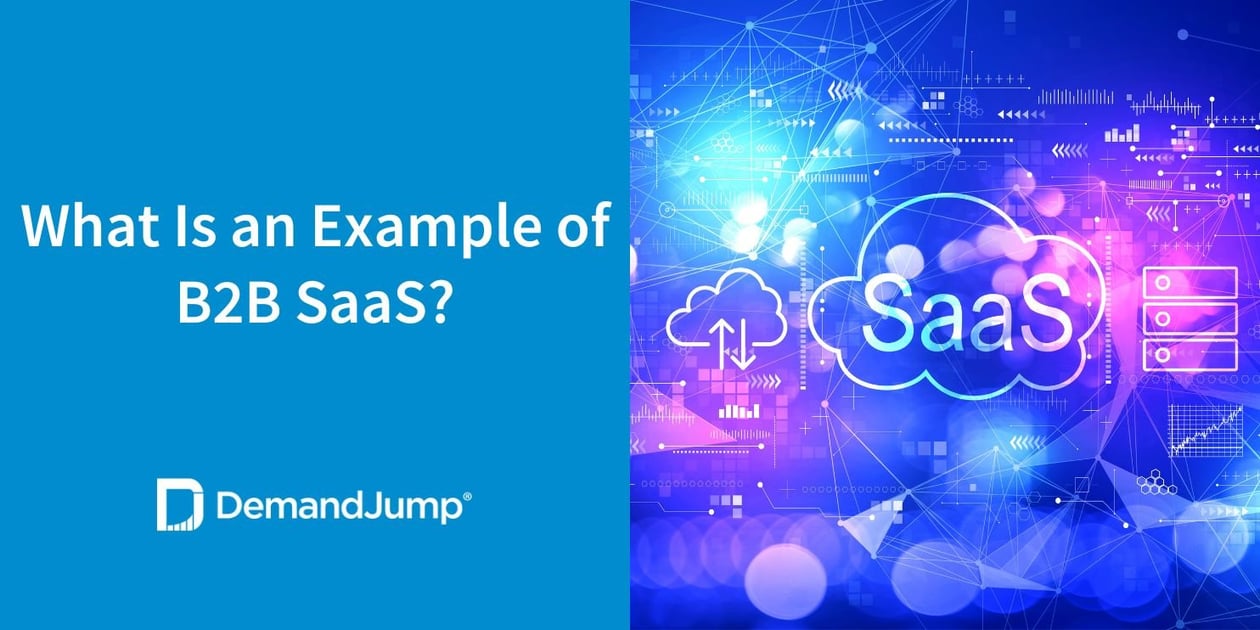 As businesses start to put a focus on digital technology, there has been a growth in demand for business-to-business (B2B) Software as a Service (SaaS) solutions. According to Fortune Business Insights, by 2028 the market is predicted to reach $716.52 billion. With this growth, more SaaS solutions are being developed to address the problems faced by many businesses. SaaS marketing is essential for new and established B2B Saas companies to reach their target market and demonstrate how they can not only solve businesses' problems, but also answer any questions they have as an authority. SaaS B2B marketing can help your business deliver organic traffic to your site and boost conversion.
Before we dive into an example of a B2B SaaS company, let's first discuss what these companies actually do and the services they provide.
What Are B2B SaaS Companies?
Business-to-business Software as a Service companies offer their software solution as a subscription service to businesses. B2B SaaS's primary goal is to solve a pain point that a business experiences and improve the effectiveness and efficiency of their operations with software technologies. SaaS providers are likely to have higher security, more rapid upgrades, and better user experiences since they have more control over their product than traditional providers who offer on-site software. According to the newest SaaS trends for 2022, the best SaaS products are made to be efficient and simple to use, which helps businesses adopt the software within their operations.

In terms of payment structure, SaaS companies is often use monthly or annual subscription fees. Businesses pay SaaS B2B companies for the plan they need during the time they need it, rather than purchasing an expensive licensing fee. This means B2B software companies can be more transparent with their pricing and offer exactly what a customer wants. Since SaaS companies have a wide range of potential consumers, they may expect that more people will use their products, which will increase the demand for their service.
What Is B2B SaaS Software?
Most modern B2B SaaS software solutions are cloud-based solutions to a business's problem. With SaaS, you don't need to install software on-site because the infrastructure and hardware are already included in the SaaS service online. As a result, B2B SaaS software has several advantages:
Cost effective by avoiding high licensing costs like typical on-site software.
Easily accessible with a browser like Chrome or Firefox from anywhere as long as there's an internet connection.
Flexible payments by paying on a monthly or annual basis for only the plan you need.
Continuously updated so you don't need to update manually—it will just work.
Secure data is easily backed up and saved on the Internet and viewed from other computers.
Real-time data to access information and analytics immediately.
Scalability with SaaS technologies since they are more adaptable to changing consumer demands or requirements.
However, not all SaaS companies focus on the same problems. There is a vast array of software solutions to address specific pain points businesses are experiencing. Some examples of B2B SaaS solutions include:
Project management software
Team collaboration software
Invoicing and payroll software
Inventory and logistics management tools
CRM and digital marketing tools

What Is an Example of a SaaS Company?
DemandJump is a B2B SaaS company that specializes in Pillar-Based Marketing. In fact, we've pioneered the term to develop a proven content marketing plan for businesses to reach their target audiences organically. Our SEO (search engine optimization) keyword research includes Consumer Insight Reports and Content Pillar Strategies that help you create content that matters to your audience, rather than keyword stuffing in hopes to rank on search engines. Google can recognize when your content is high-value or simply trying to rank.
With the DemandJump platform, your business can:
Review marketing and sales data that allows B2B marketers to see what is driving pipeline and closed won revenue—and more importantly, what is not. Which campaigns lead to closed won revenue? Which pieces of content drive pipeline value? What organic search terms drive deal revenue? Which paid keywords drive pipeline value?
Align to customer behavior with Consumer Insight Reports to have a step-by-step guide on how to coordinate the way you market and sell with the way your prospects decide and buy. With this you can find competitive gaps to gain market share and recommended content to create. See your target customer's complete path to purchase before they even reach your site.
Find a central source of truth, and direction, for their marketing efforts. Act on prioritized automated recommendations with predicted outcomes. Know what content to write, campaigns to create and keywords to use. One-click actions give your team valuable time back. Allocate your budget with data-driven attribution.
Build a Pillar-Based Marketing plan using the Content Pillar Strategy. Write short, medium, and long content that is all connected together to boost your business as an authority in any topic. Our platform helps build a Pillar Strategy specific to what you want to rank for.
Because of the variety of SaaS solutions out there, it is essential for B2B SaaS companies to market their product. Without a strong marketing plan, it will be difficult to target the correct customer base and generate the necessary revenue. Building brand loyalty requires ongoing market research, interaction, and service improvements. DemandJump can help you boost your content marketing to page one of Google and help you reach your audience organically.
Get Your Free Pillar Strategy Preview!