What Is B2B Content Marketing?
January 17, 2023 •DJ Team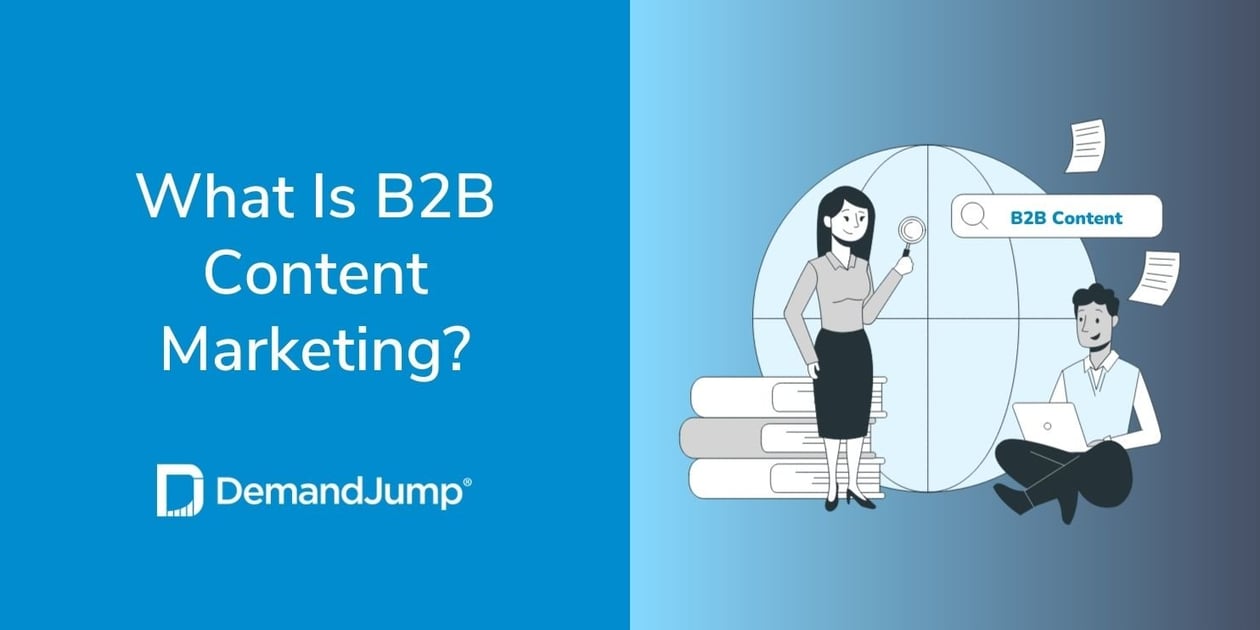 The fundamental concept of business-to-business (B2B) content marketing is fairly simple. Its main objectives are to make other businesses aware of your product or services, illustrate the value you bring, and convert those businesses into loyal customers.
Although content is just as effective in B2B sectors as it is in the business-to-consumer (B2C) realm, different challenges await marketers who truly want to capture the attention and earn the trust of busy, and often tough-minded, B2B prospects. Here are some of the most difficult hurdles B2B marketers face:
The B2B sales cycle is much longer
Prospects often take a long time to deliberate
Multiple stakeholders influence any buying decision
It's difficult to attract and retain the attention of target prospects
Markets are more niche, and there are less customers to go around
Now, most marketers would agree that content has become the darling of the marketing world. From manufacturing to SaaS content, content marketing has proven its merit time and time again across all industries. However, this doesn't mean B2B content marketing is fool-proof on its own. In fact, 90% of content on the internet never gets read. If you want to stand out, your work must be calculated, interesting, relevant, and helpful. Easier said than done.
So, how do you develop a B2B content marketing strategy that'll generate the best results possible? To help you make the most out of content, DemandJump created this handy guide that answers common B2B content marketing questions and explains how to use content marketing for B2B.

Why Is Content Marketing Important in B2B?
Honestly, we could go on and on about the importance of content marketing—it's our bread and butter—but we don't want to be a bore. So, here are two reasons why content is so powerful in the B2B arena.
Relationship Building
Creating helpful content is one method to build trust with your target audience. Providing thought leadership and education on a variety of topics that interest your audience will help them see your brand as an authority and encourage them to rely on your company as a trusted source of information. According to Gartner, B2B buyers spend only 17% of their time meeting with potential suppliers; the rest of the time they are conducting independent research. Therefore, regularly generating helpful content that answers your ideal prospect's questions will help you reach them, and build trust, as they compare solutions.
Affordability and Versatility
Although the upfront cost of creating content is higher than some other marketing tactics, it has longer staying power and is much more versatile. All content can be repurposed and updated as needed at minimal costs. Content can also be adopted across multiple platforms.For example, a podcast or video script can be turned into a blog, or white paper research can be distilled into an infographic for social media. The possibilities are endless.
What Type of Content Is the Most Effective for B2B Marketing?
When you are just starting out, written content should be your number one priority. Consistently publishing relevant and helpful articles will bring in new leads and also engage current customers—it's a win win. Additionally, creating a repository of engaging content helps boost your website's SEO and enables you to capture new rankings for more keywords. Optimizing your written content for search engine results pages (SERPs) ultimately ensures your content reaches your target audience.
But how do you make sure your content is as successful as possible? There are many strategies designed to help you craft effective content that ranks. At DemandJump, we use the Pillar-Based Marketing (PBM) SEO strategy.
PBM uses a revolutionary linking methodology to mimic user search behavior surrounding a chosen topic. There are 16 pieces of content in each pillar strategy, all of which link together to create a comprehensive network of related content centered around a topic of your choice. These 16 pieces of content include:
1 Pillar Page (3,000+ word article)
3 Sub-Pillars (2,000+ word articles)
12 Supporting Blogs (750-1,000 word articles)
Here's a visual to help you see how it all works: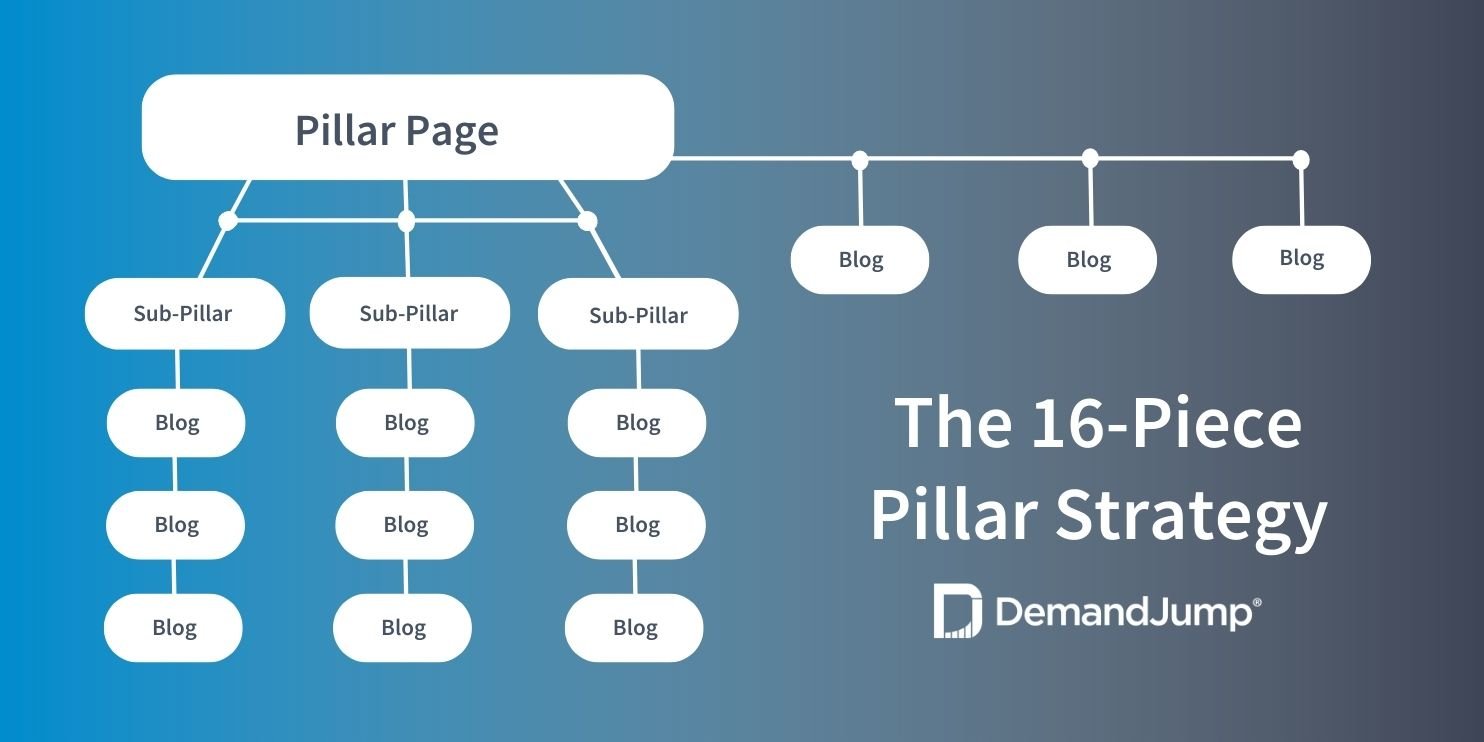 From a technical standpoint, the DemandJump platform automates the keyword research process to tell you what to write about and reveal the high-value terms and questions to include in each piece of content. We've found that PBM works for everyone, regardless of business size or industry. At DemandJump, sticking with our PBM strategy and platform helped us win 91 first page search rankings in less than five months!
But we've only scratched the surface in this blog. If you would like to learn more about PBM, explore our resources.
How Can I Make B2B Content Interesting?
A lot more goes into writing for B2B content marketing than meets the eye. Here are a few of DemandJump's best practices for writing engaging content:
Only market your solution when necessary. B2B audiences respond better to helpful advice rather than writing a sales pitch in every paragraph.
When explaining complex concepts, make sure to include examples and scenarios that will interest the reader while avoiding the use of jargon.
Use headers, lists, graphics, and other visuals to break up the content.
Have other people read what you have written and ask them if they were engaged.
Be direct and get to the point.
Do your research and only cite credible sources. B2B audiences are extremely discerning, and choosing the wrong sources can hurt your credibility.
Develop a rigorous editing process and never publish a first draft.
Write an introduction that grabs people's attention as soon as they read the first sentence.
For more best practices, check out our content marketing tips!
What Is an Example of Content Marketing Done Right?
There are tons of excellent B2B content marketing examples out there. Here's one of ours.
Client: Yourco, a two-way communication platform for non-desk employees.
Scope: Yourco had almost no content on their website and wanted to explore how content marketing could be used to educate and connect with their target audience.
DemandJump's Plan: Using the DemandJump platform, our Customer Success team crafted a comprehensive PBM content strategy for Yourco's chosen pillar topic, "internal text communication." This included 16 pieces of content:
1 Pillar Page (3,000+ word article)
3 Sub-Pillars (2,000+ word articles)
12 Supporting Blogs (750-1,000 word articles)
Once Yourco approved our proposed PBM plan, our Content Team got to work. After researching everything there is to know about "internal text communication," the DemandJump Content Team crafted helpful SEO content to educate and engage Yourco's target audience.
Results: Once everything was written, approved, and published, Yourco went from almost no presence on search engine results to winning rankings for 15 different keywords and one Page One ranking for "internal text communication."
That's B2B content marketing in a nutshell! If you'd like to learn more, check out our podcast, webinars, and blog for even more content marketing insight!