What Is B2B SaaS Content Marketing?
November 2, 2022 •Clare Sheehan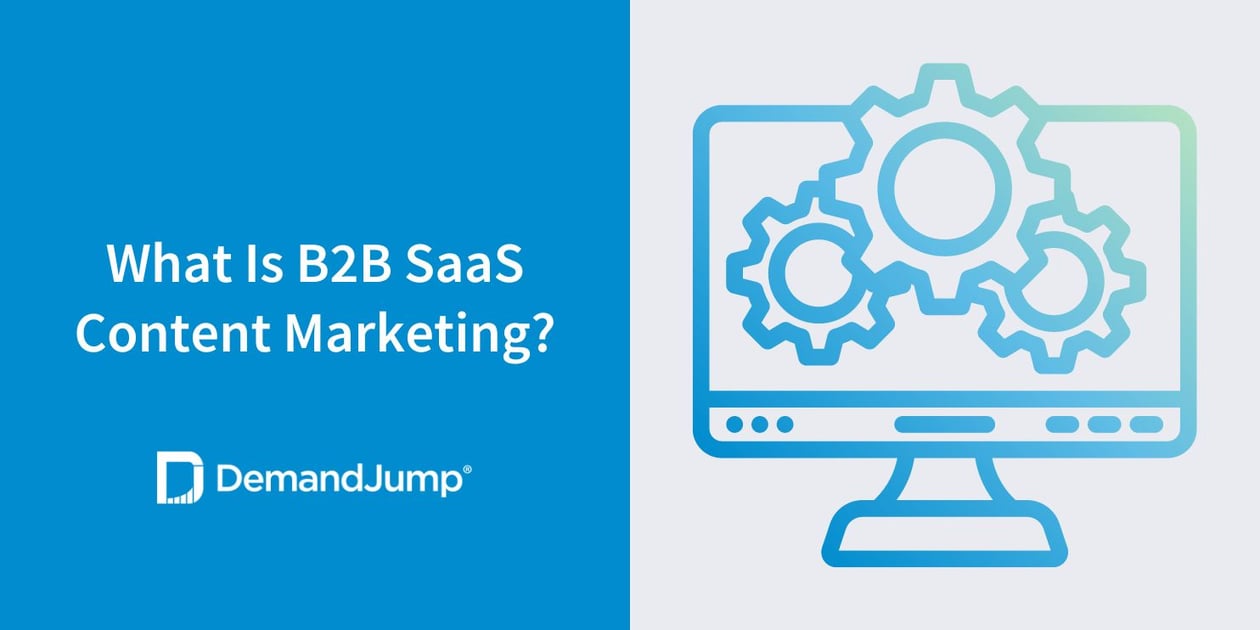 All marketers know SaaS marketing is a difficult beast to tame. SaaS platform's nuanced nature, short sales cycles, and the constant need to innovate all make it challenging to develop a fool-proof B2B SaaS marketing strategy. This is especially true when it comes to content marketing for B2B SaaS organizations.
As a SaaS company built by and for marketers, DemandJump decided to put together a brief guide to creating helpful B2B SaaS content marketing that ranks. Let's jump in!
What Is B2B SaaS Content?
As a subset of inbound marketing, content marketing focuses on delivering helpful and relevant content to the customer. Put simply, creating content that helps existing and potential customers understand the SaaS product and address their specific pain points is an absolutely vital component of any SaaS marketing strategy. Of course, the specific types of content a SaaS company chooses to produce will vary. Here are a few common SaaS content mediums:
Educational articles
White papers
E-books
Podcasts
Video resources like demos
But regardless of your unique situation, all B2B SaaS content must offer educational value and be explicitly clear about how your product solves your customer's problems.
How Do You Write Content for SaaS?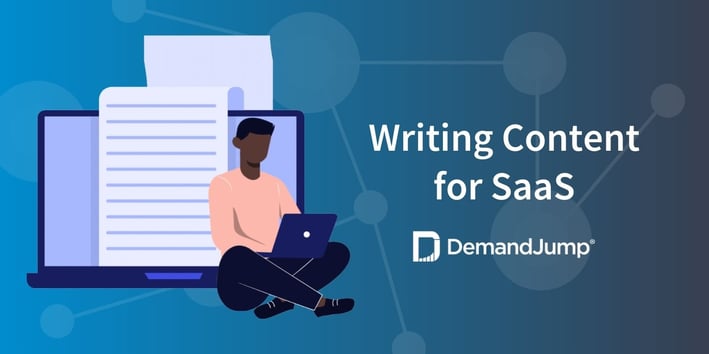 Discovering how to write SaaS content for a B2B audience comes down to three main points:
Show, Don't Tell | We get it, the temptation to go straight for the sales pitch when creating any piece of SaaS content is strong. But you must resist. Instead, choose topics that'll resonate with your audience, and use your industry knowledge to answer their questions. When it comes down to it, writing a 500+ word blog about how great your product is doesn't provide value. Focus your energy on creating content that answers your customer's most pressing questions and speaks to their pain points. In the end, using this method provides a better experience for your audience, and directly aligns with the objectives established in Google's

helpful content update

—which is top of mind for marketers in all industries.
Purposefully Display Your Product's Power | B2B audiences are busy, and don't have time to read through a lot of fluff. Therefore, all SaaS B2B marketing content needs to be intentional. Before you create any content, sit down with your team and determine how to best represent your SaaS solution's problem-solving capabilities. Part of this, as we mentioned above, involves speaking to your audience's pain points. Once those challenges have been identified, you can begin to outline purposeful methods for demonstrating the power of your solution as it relates to your audience's unique challenges. This can involve placing screenshots, product tours, or videos in your content. Regardless of what methods you choose, remember that the fundamental purpose of your content is to tell a story that educates your audience and explicitly shows how your solution makes their lives easier.
Choose the Right Keywords | In reality, the content you create doesn't matter if no one sees it. Choosing the correct keywords is the way your content will rank on search engines and reach your target audience. At a high-level, there are two steps involved in this process:
Step 1: Find keywords that your audience is searching for
Step 2: Write content that organically includes those keywords
It's plain to see that the SaaS market is getting more and more competitive every day. This means ranking highly on search engines is crucial to beating the competition. Of course, like all things in marketing, finding the right keywords is easier said than done. But that's where SEO solution, like DemandJump, come into play. DemandJump's platform collects thousands of search data points to show you the exact topics, questions, and keywords you should include in your content. These insights, coupled with our Pillar-based Marketing strategy enable you to create relevant, helpful, and engaging content that ranks.
Ultimately, winning content creation for SaaS comes down to this: your audience won't care about what you have to say unless you show them how your technology can solve their problems. Your customer is the hero of the story, and your platform is the resource they need to succeed! Honestly, we could go on about this for ages. If you're interested in learning more about how to create valuable content, give our podcast a listen!