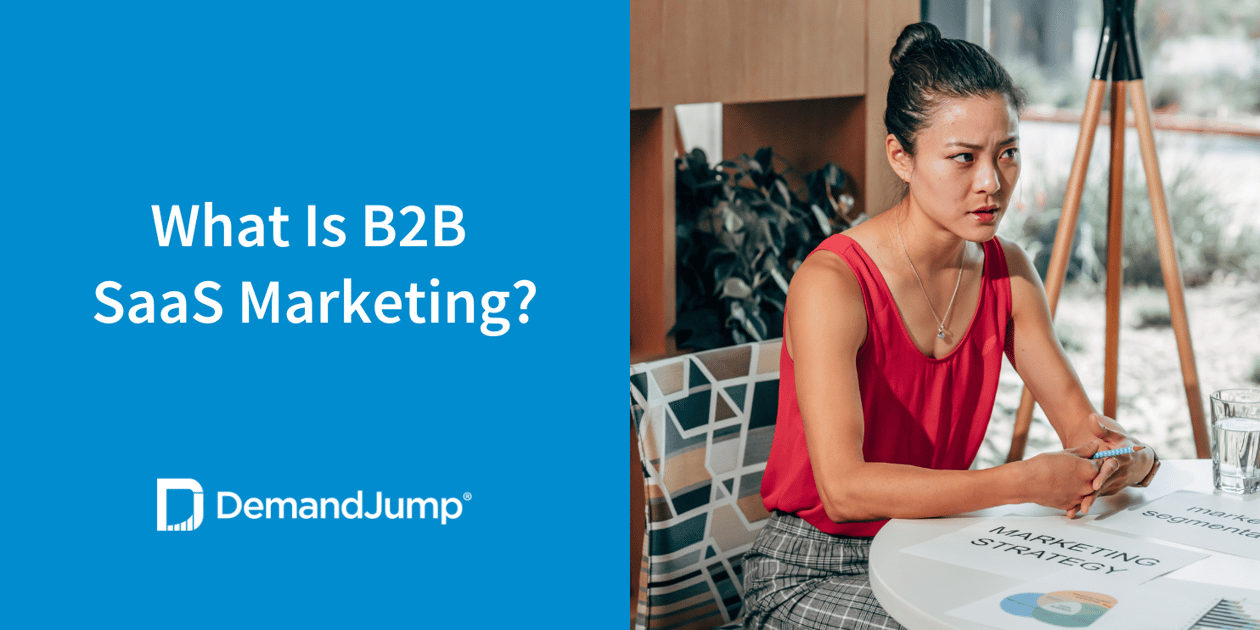 Love it or hate it, marketing is an essential component of success for companies of virtually any size and across countless industries. To put it bluntly, whether we're talking about an organization of 5 employees or 5,000, how a company approaches its marketing strategies can make or break their business.
Software-as-a-Service (SaaS) companies face unique challenges—but they're not challenges without solutions! In this blog, we're addressing a few common questions about B2B SaaS marketing: its goals, challenges, and best practices. So keep reading for a helpful overview of SaaS B2B marketing—and how to get it right.
What Are B2B SaaS Companies, and Why Is SaaS Marketing Different?
Business-to-business (B2B) SaaS companies provide software solutions to meet the needs of their clients, who happen to be businesses rather than individuals. Salesforce is a well-known SaaS company example. As one of the largest and most successful B2B SaaS companies, they provide a customer relationship management (CRM) platform for a wide range of business applications.
In terms of goals and objectives, what makes B2B SaaS marketing different? One of the largest differentiators is the nature of what they're selling—and who they're selling it to. While traditional marketing sells a tangible, easily-defined product, B2B SaaS marketers are instead selling a service—one that is often subscription-based. So, not only do these marketers need to build value for an intangible product, they also need to be able to build value over time. This way, they can ensure that subscribers keep coming back (and the revenue keeps coming in).
What Are the Challenges of B2B SaaS Marketing?
To successfully market a B2B SaaS product, marketers need to overcome a number of challenges, including:
Increasing website traffic and demand generation. How is your product/service different from your competitors' offerings? These points should help inform your strategy and approach.
Reaching the right audience. In order to drive a good marketing ROI, tailor your pitch(es) to your ideal customer profile(s) and their pain points.
Establishing a consistent brand voice. B2B SaaS marketers should utilize multiple channels to reach their audience—and the messaging and voice should be consistent across them.
Adapting to customer and industry preferences. The market for SaaS products is always evolving, with new competitors entering and exiting the fray all the time. If your product and/or its marketing don't meet your customers' expectations, they might bounce.
Converting leads into sales. It's important to not just attract prospects to your website or product, but to also nurture and qualify those prospects in an efficient manner. This means SaaS marketing isn't a "set it and forget it" kind of thing…it requires consistent attention for consistent results.
Retaining high-value customers. It costs significantly more to attract and sign a new customer than it does to keep an existing one happy and loyal, underscoring the importance of building value throughout the entire customer lifecycle.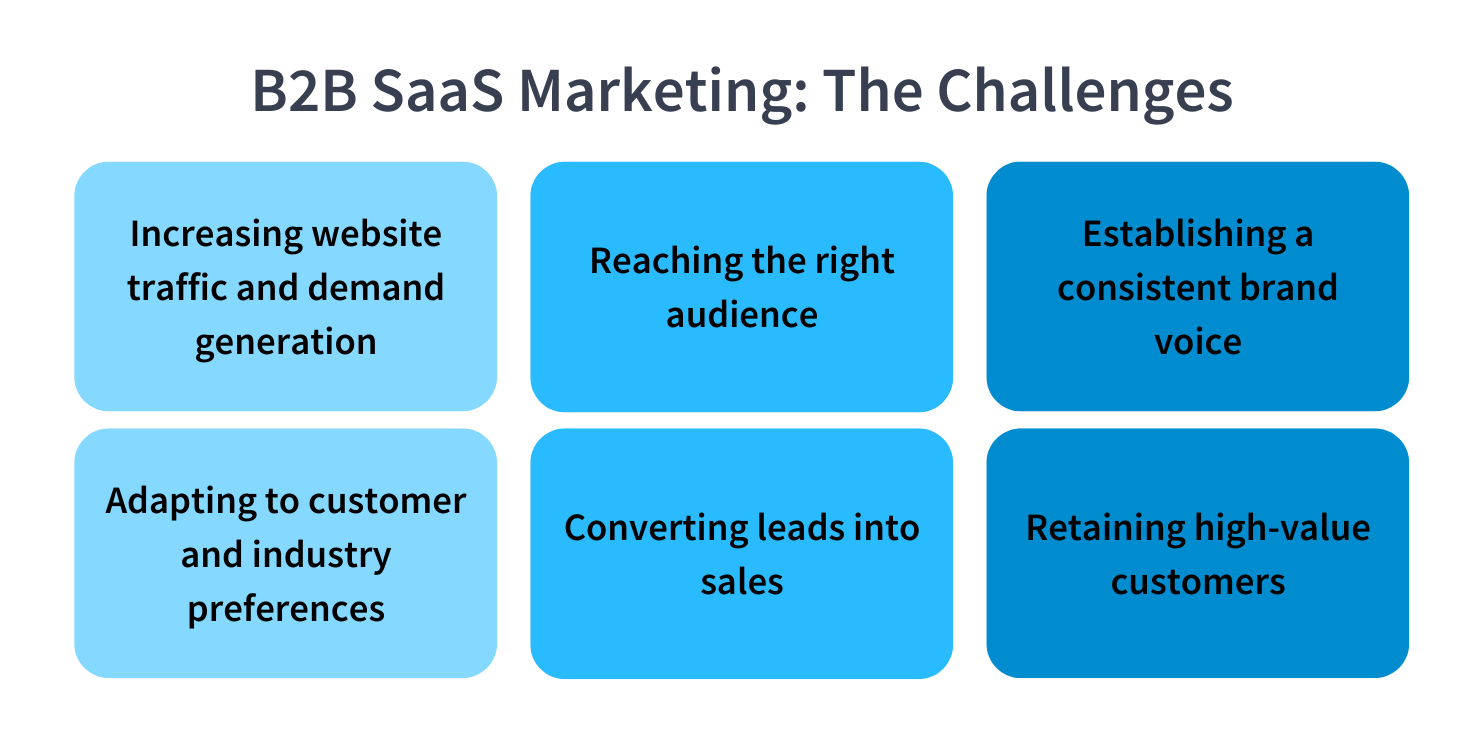 DemandJump's platform was built to empower B2B SaaS marketers with the tools and insights they need to develop—and implement—competitive strategies to outperform their rivals.
For example, our keyword research and content planning tools make effective content creation easy. You can also track how you're performing against your competitors, enabling you to make timely adjustments to your marketing strategies. Finally, our tried-and-true approach to content marketing—something we call Pillar-Based Marketing, or PBM—supercharges the process with better insights and actionable recommendations.
Next, let's explore how to measure the success of your B2B SaaS marketing strategy.
What Are the Top 7 Key SaaS Marketing Metrics?
Gauging the performance of a B2B SaaS marketing strategy can be tricky, but identifying and tracking the right metrics certainly helps. Here are ten of the most common metrics for B2B SaaS companies.
Net Profit: This metric provides a holistic view of a company's profitability, and helps marketers better understand the ROI of their efforts.
Customer Acquisition Cost (CAC): When it's all said and done, how much does it cost—on average—to attract and convert a new customer?
Customer Lifetime Value (CLV): Once you've signed a new customer, how much revenue does that customer's business generate?
Monthly (or Annual) Recurring Revenue (MRR, ARR): These metrics help quantify growth, and are calculated by multiplying the average revenue per customer by the total number of customers (for the month or year).
Conversion Rates: This metric helps to tell the story of how a prospect becomes a customer, and can help identify the marketing actions that help—or hinder—conversions.
Net Promoter Score (NPS): NPS asks customers one simple question: how likely are they to recommend your company to a friend or colleague? Increasing your company's NPS rating means more word-of-mouth promotion of your business, which can be priceless.
Churn Rate: It's natural and expected for B2B SaaS companies to lose customers over time—it happens. To be successful in the SaaS industry, acquisition rates must exceed churn rates.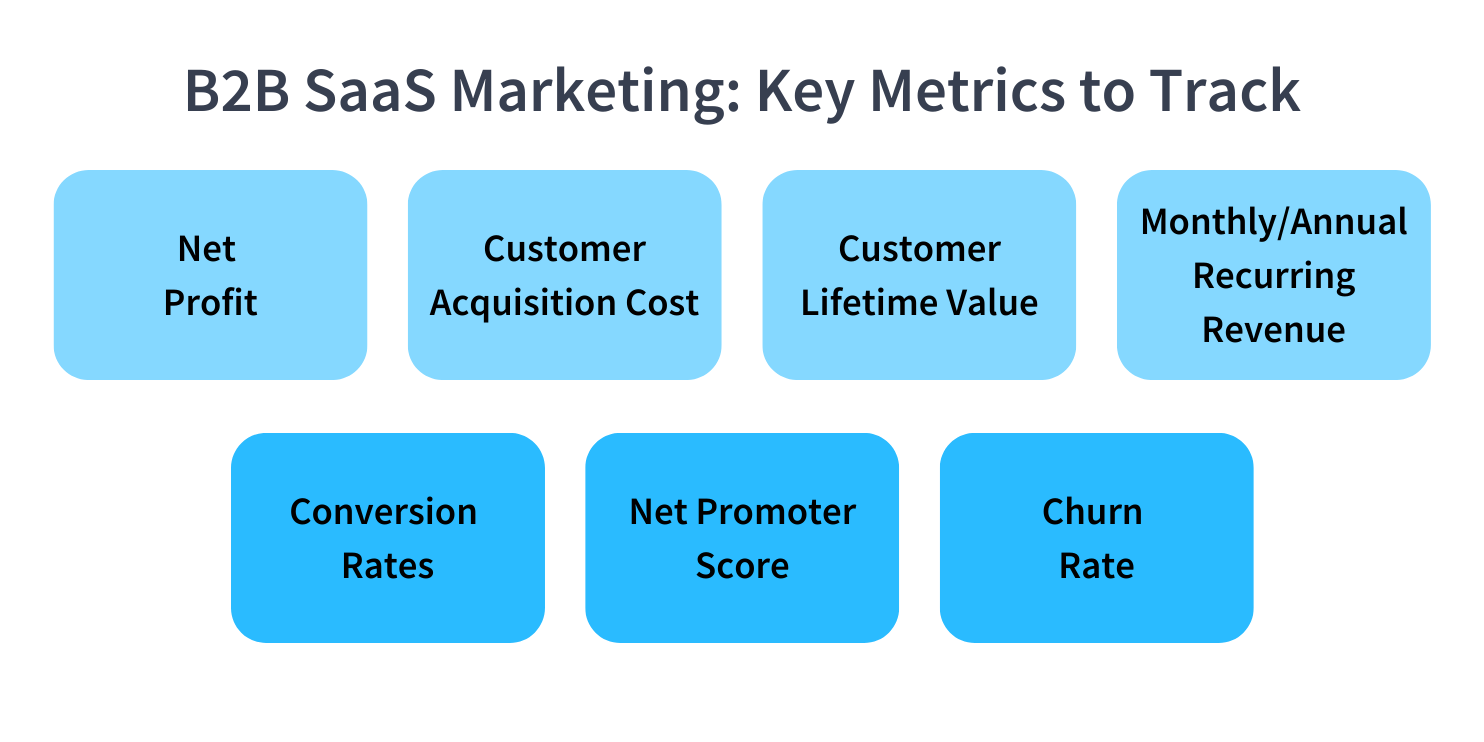 What Are the Best Strategies to Grow a B2B SaaS Company?
There are countless ways to grow a B2B SaaS business, but a few of the most compelling steps you can take today include:
Implementing a freemium model or offering a free trial. If the challenge of SaaS marketing is demonstrating the value of your product, there's no better way to do that than to let prospective customers actually test it out for themselves! A well-designed and implemented freemium model should not only generate interest in the product, but encourage prospects to convert to paid memberships.
Developing an organic content marketing strategy. Considering that over half of all internet traffic comes from organic search, content marketing is perfectly designed to increase website visitors. The primary concept behind content marketing is simple: produce informative, high-quality content that answers the questions your prospects are asking. For example, you may have found this blog by asking Google, "What is B2B SaaS marketing?" or something similar. If you want to learn more about the questions your ideal customers are asking—and the content you should be creating—DemandJump offers a number of tools designed for

content marketers

.
Investing in paid ads. While paid ads sometimes get a bad rap, paid advertising strategies can be effective complementary pieces in a larger marketing campaign. You might consider targeted social media advertising, for example, to reach a specific audience.
Discover DemandJump's Innovative B2B SaaS Marketing Platform
B2B SaaS marketing is a complex endeavor, but with the right tools in your arsenal you can carve out your market, attract and convert your ideal customers, and establish yourself as an industry leader.
Unsure where to start? You can learn more about our SEO keyword research and content planning and strategy tools online. Or, better yet, you can try it for yourself! Just click the button below to start exploring the platform—and what it can do for you—today.