Content is key to any successful SEO strategy. It's an opportunity for your business to connect with customers and educate them on how you can solve their problems. At least, that's what good content can do. Unfortunately, the internet is full of some bad SEO examples, too. If you're reading this, that means you're determined not to join them. At DemandJump, we're here to help.
In this blog, we don't just answer "What should I avoid with SEO content?" We also give you clear search engine optimization techniques to improve your rankings. Let's get to it!
What Is Bad Content vs Good Content?
Bad content does not educate your audience, build your authority in your industry, or improve your search engine rankings. All of these qualities belong to good content, which is why it is so essential to evaluate your creation process and look for potential improvements. You're likely aware of egregious bad content marketing examples, like the following:
Clickbait titles for articles that don't follow through
Confusing blogs that are overstuffed with keywords and jargon
Misleading sources
In contrast, good content follows the conventions of good writing. This includes:
Using clear and concise language
Providing answers to the questions you present
Referencing recent and up-to-date studies and statistics
What Are the Worst Practices To Avoid for SEO?
The worst practices in SEO are ones that drive away human readers, search engine bots, or both at the same time. Many of these worst practices may save time, money, and effort upfront, but they'll have disastrous results in the long run. Some have even been considered best practices in the past, so it's vital to check your current SEO strategy for outdated tactics. To make it absolutely clear which methods you should avoid, we've broken down the worst practices by the type of SEO they impact in the following section.
Navigating the 4 Types of SEO: Common Mistakes To Avoid
The four types of SEO that you should focus on are: on-page, off-page, technical, and local. Here's what can go wrong for each (and what you can do to succeed):
On-Page: This is the content that your readers (and search engine bots) are interacting with directly on your website. Blogs, about us pages, and product descriptions are all examples of on-page content. To optimize your on-page SEO, avoid worst practices like keyword stuffing and bad website designs.
Keyword stuffing is overfilling your content with keywords in the hopes that search engines will rank it higher. However, doing so just makes it difficult for your readers to engage with your writing. Poor user experience harms rankings, and so does the fact that Google has punished keyword stuffing since the 2011 Panda algorithm update. Instead of trying to cram in as many keywords as possible, focus on several high-value phrases and write clear, educational content around them.
Bad website design also pushes readers away, which increases your bounce rate and lowers page rankings. For on-page SEO, poor design includes an outdated user interface that looks like it's from 1999, with abrasive colors and a confusing layout. You can improve your on-page SEO—and user experience—by upgrading to an easy-to-navigate site with enticing images.
Off-Page: This is content that doesn't live on your website. Social media posts and other websites' blogs that link to your page can boost your SEO. Two common mistakes that marketers make are not using social media to promote their content and relying on outdated backlinking strategies. Neglecting social media causes your business to miss out on engaging an entire segment of your target audience. If you're not sure where to start, you can post new SEO blogs that you've written on platforms like LinkedIn to attract more readers.
Outdated backlinking strategies—like using link farm sites—can cause search engines to lower your rankings. These sites exist only as a home for links to other sites to try to boost their rankings. In other words, they're trying to game the system without providing any value for readers. Google's Penguin algorithm update from 2014 began punishing sites that use link farms and other unnatural linking strategies. Instead of using backlinking methods that no longer work, focus on creating content that is full of useful information. That way, other reputable sites will link to your articles as a way to build their own credibility (which will also boost yours).
Technical: This is how well the back-end of your website runs. One of the most significant mistakes marketers can make is allowing their site to operate with slow loading speeds. According to a recent

study

, the majority of visitors abandon unfamiliar websites if they have to wait two seconds or longer for a page to load. For mobile users, that time is slightly longer.

Google

cites that visitors tend to wait up to three seconds before clicking away.
To improve your websites loading speed, our marketing experts at DemandJump recommend the following tips:
Compress images
Upgrade your hosting solution
Reduce redirect frequency
Use a content delivery network
Remove unnecessary plugins

Local: This method is how you appeal to your audience living in your geographic area. The most common mistake related to local SEO is that businesses often ignore it. Think about how frequently you look up specific businesses near you on Google Maps, and several of those businesses don't have their website, phone number, or operating hours listed.
The good news is that improving your local SEO is a fairly straightforward process. One way to do so is by using localized keywords like "Best used cars near me" or "Accountants in Indianapolis." The other step you can take is by creating (or updating) a Google Business Profile. This will make it easy for potential customers to find your business when they are searching for solutions in their area.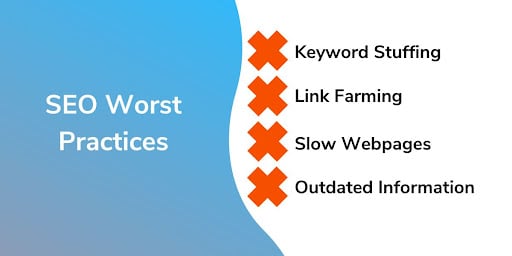 DemandJump: SEO Done Right.
Search engines value quality content that also meets certain technical specifications. DemandJump is the platform that helps you achieve both. Here's how:
Insight Reports show you which keywords your audience and competitors care about.
Pillar Strategy tools help you plan out an entire network of content, in which each individual piece boosts the rankings of the entire network.
Content Briefs outline the most relevant keywords and questions for each specific blog, so you jump right into writing.
Start your journey to rank one today!
Get Your Free Pillar Strategy Preview!