What Is Content Marketing? Content-Based Marketing Definition
November 9, 2021 •DJ Team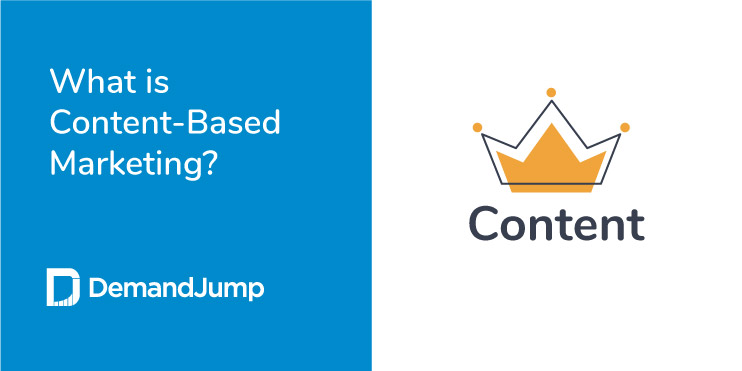 Thirty years ago, we consumed news and searched for information in a vastly different way. Thirty years ago, marketing strategies reflected the domination of print and broadcast.
Magazine ads and television commercials are still part of many marketing strategies, but today, digital marketing eclipses many other forms on the budget sheet.
With the drop in traditional broadcast and print consumption and the rise of search, especially mobile, the way that people discover products and services has been re-invented.
Today, it's much harder to get a user's attention.
Users face more than 5,000 marketing messages a day, a tenfold increase from the estimated 500 in the 1970s.
Brands need to work harder and smarter to gain a user's attention and trust, and they've discovered that they need to offer more value to users.
The resulting shift is called content marketing.

What is Content Marketing in Digital Marketing?
Content marketing is a method of attracting and retaining users by offering value-based content outside of a business's core business model that builds readership and brand loyalty.
While traditional advertising centers around interruption-based sales messaging, content marketing operates on the principle that by offering solutions to common challenges that its audience face, brands can drive traffic, engagement, and, ultimately, new business.
What is considered content marketing? Content marketing can take many forms, including blogs, webinars, videos, podcasts, social media content, or interactive tools such as an online quiz or calculator.
While primarily applied in digital marketing, content marketing tactics can also include live events and print magazines.
Content marketing's evolution is the natural consequence of the digital revolution. What are content marketing examples? Take, for example, a home products company that manufactures blenders.
Traditional advertising would create and run ads that highlight the blender's features or depict them in lifestyle placements. Content marketing would take a different approach, with possible tactics including:
Launching a YouTube or Instagram channel dedicated to videos of recipes you can make with the blender
Starting a blog with kitchen organization and recipe ideas
Publishing an article with a side-by-side comparison of blenders
Best Content Marketing Examples 2021
OPEN Forum and Shop Small by American Express
American Express is considered an early adopter of content marketing, launching OPEN Forum back in 2007. What started as an online community for its card-holders quickly grew into a blog and resource center with a wealth of content for small business owners.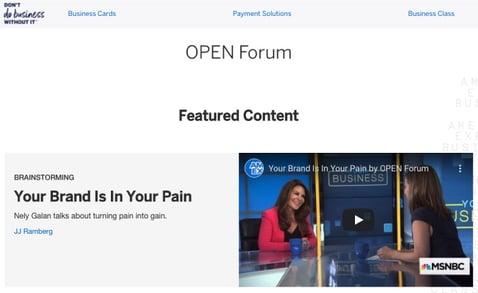 Source
Just a few years later, American Express launched the Shop Small branding and Small Business Saturday, offering toolkits, welcome mats, and resources to help small businesses stand out in the crowded Black Friday week and create loyalty among both consumers and entrepreneurs.
Airbnb
A poster child of the sharing economy in the travel world, Airbnb has grown to 150 million users and 640,000 hosts since its founding in 2007. The company's growth is due in part to its multifaceted content marketing strategy.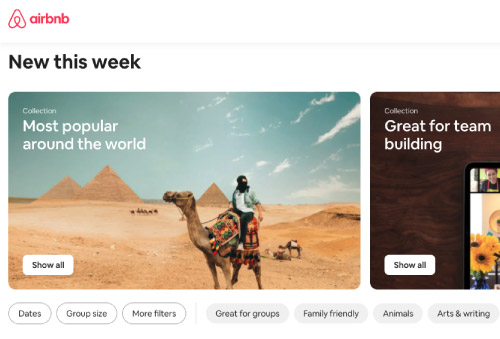 Source
To keep users browsing within its site rather than on other travel sites where they might be poached by competitors, Airbnb launched Neighborhood Guides as well as an active blog including user stories and travel tips to help users plan their next adventure.
Over the years, Airbnb has experimented with a print magazine, curated short films and short stories, and Airbnb Open, its industry host. Though not every tactic has lasted, the company has demonstrated that its tenacity for innovation and risk has paid off.
Social media content marketing examples
During a milestone year in 2020, the video conferencing software Zoom launched a Virtual Background Contest asking users to submit photos and videos of themselves with their Zoom backgrounds (real or virtual).
The result was tons of user-generated content for them to share with engagement opportunities with participating users and giveaways to build brand loyalty and excitement.
What Does it Take to Succeed at Content Marketing?
In the trifecta of earned, paid, and owned media, the majority of content marketing falls under the owned component. The biggest advantage of this strategy is that you have complete control of the content and its analytics.
However, as anyone who's ever run a publication will tell you, it takes leadership support and investment over time to generate new content, engage your audience, and grow your readership.
To launch a successful content marketing campaign, you need to first understand your user's search habits and your company's competitive landscape online with an SEO keyword research tool.
Next, you'll need to start creating content that is useful, educational, and entertaining to your audience. DemandJump helps content marketers know exactly what content to create and save time with one-click outlines - automating keyword research.
Brands can use in-house resources or can use an agency partner like Metonymy Media to help them scale more quickly and engage audiences with creative ideas.
To get started with your research and content outlines in a platform that can also handle your marketing attribution and data analytics, look no further. Try DemandJump for free today.
Get Your Free Pillar Strategy Report