What Is Content Optimization?
December 10, 2021 •DJ Team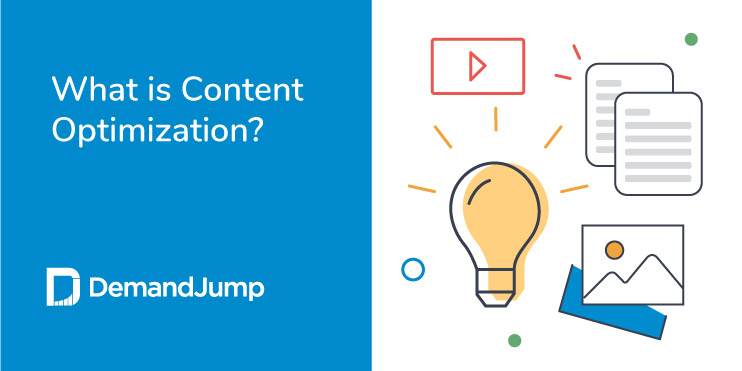 If you're investing in content marketing, you also need to invest in content optimization.
What makes great content? Good storytelling, unique takes, and compelling statistics and interviews are all elements that make content valuable and hard to put down. What makes readers find you in the first place, though, is a thoughtful and consistent content optimization strategy.
What is content optimization? Content optimization is the process of writing web content with the technical elements that will help search engines match your content to your audience. Ideally, content optimization is performed in tandem with the content creation process. If not, don't worry. Content optimization can be performed in the editing process, or even much later for content that is already published.
Why Is Content Optimization Important?
If you don't structure your content in the right way or add technical SEO elements, your content won't rank well in Google and will be difficult for your users to find. You'll be missing out on opportunities for your audience to discover your content and ultimately, your brand.
How Does Content Optimization Work?
Web content optimization signals your most important topics to Google and other search engines so they can correctly match your content with relevant search queries.
By correctly writing, formatting, and tagging each element of your web content, you enable Google to rank your content higher and display it to the most relevant audience.
What Is an Optimization Strategy?
A successful content optimization strategy consists of several elements:
Persona and Intent
For each piece of content, you should be able to describe your target audience as well as the stage of the marketing funnel it will target (awareness, evaluation, or decision) to be able to create the most relevant content possible.
Keyword Research
As part of your larger marketing strategy, you should have a list of top keywords relevant to your business and several targeted keyword lists tailored to individual products, services, or audiences. Your research should include keyword search volume, competitiveness, and competitor content to be able to understand the strengths and weaknesses of high-ranking content.
For example, DemandJump provides access to key insights about content and keywords, delivering one-click outlines to aid in creation.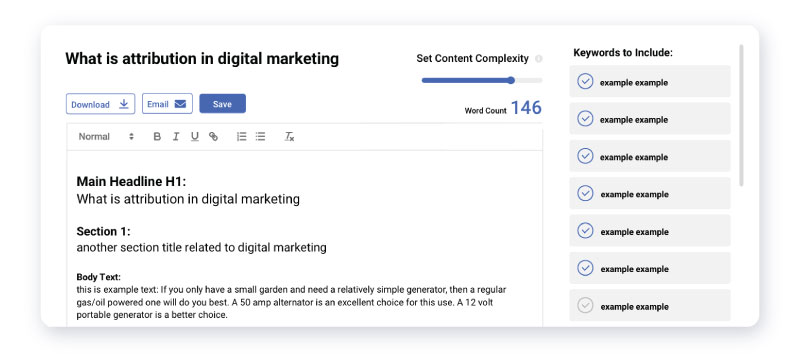 (DemandJump's one-click content briefs make content optimization easier than ever before.)
Keyword research helps you know which search terms have the highest volume and biggest opportunities for you to rank. Related features like Google's "People Also Ask" can help you identify content topics that will be valuable to your audience. This data will also help you have a baseline to evaluate your growth as you progress your SEO content optimization.
Define Content Parameters and Elements
Defining content parameters and elements is the most important part of a content optimization strategy. Once complete, you will have a guiding document that describes the characteristics that will help your content rank well regardless of the topic.
These parameters may include:
Length of headlines and body copy
Structure (including how to use headline tags)
How and where top keywords should be included
Style guide with readability recommendations
Back-end SEO requirements (eg. meta tag and title) with recommendations such as length
Image and alt-text requirements
Inbound and outbound link strategy
CTA requirements
You can't underestimate the importance of back-end SEO elements such as meta tags, header tags, and alt text. Google Images now accounts for 22.6% of all web search traffic, more than Bing, Yahoo, YouTube, and Amazon combined. Creating high-quality images with accompanying alt text can help drive traffic and reach users who may not want to read a 2,000-word article—at least not yet.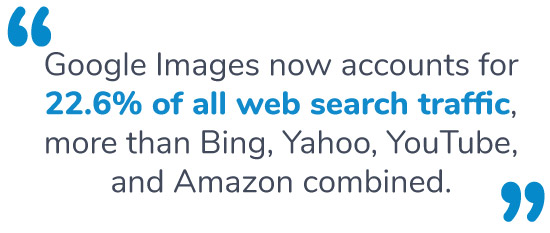 Defining these elements in your content optimization strategy will help external and internal content creators to write content that drives traffic, is readable, and converts.
What Are Content Optimization Tools?
There are many options for content optimization tools, ranging from free and simple to full-service. Don't overlook free Google tools including Google Analytics, Google AdWords Keyword Planner, and Google Search Console to begin researching keywords and finding out how users are already finding and interacting with your site. But don't stop there.
The next level of tools includes subscription-based software like DemandJump that can provide not only keyword research, but robust reports on individual keywords and domains with competitive analyses, content suggestions, and marketing attribution.
DemandJump reveals the search behaviors of consumers in your target audience and creates one-click outlines to give them the content they crave. Build your content strategy to align with trending topics, anticipate consumer questions, and drive action from your landing pages.
Get started optimizing your content today with DemandJump!
Get Your Free Content Marketing Strategy Report