What Is Good Website Content? 5 Simple Steps For Creating Content
August 13, 2021 •DJ Team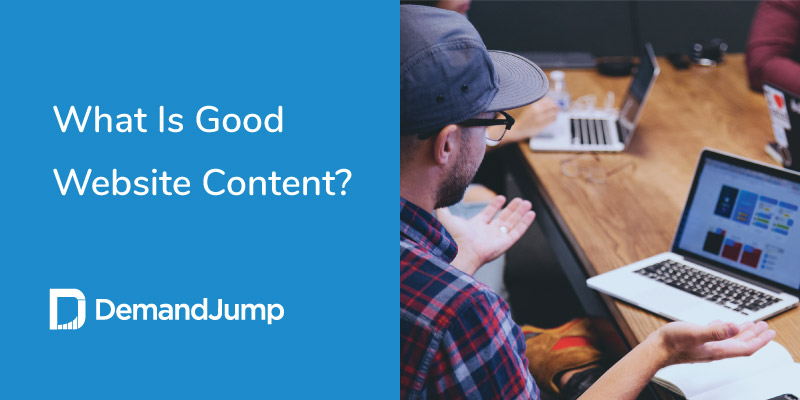 Good content is what sets a website apart from the masses and delivers the right message into the hearts and minds of customers. The success of a website is determined primarily by its content.
But what is good content for a website?
Although some aspects of content can be subjective, many tried-and-true practices that can differentiate good content from bad.
Let's review what website content can consist of and take a look at the best practices for creating website content.
What Is the Content of a Website?
The content of a website includes the text, images, sounds, videos, and animations that users experience on a website. Website content is the utmost important tool you can use to achieve your marketing strategy and communication to your customers about your brand.
Let's cover the three main types of web content:
Written website content should inform all other content of your website. It can encompass a call to action or brief product description on your landing page, case studies, white papers, industry reports, ebooks, testimonials, and blogs.
Graphic content consists of photographs, fact sheets, infographics, branded images, and data visualizations. Graphic content is generally supported by written and video content and has the opportunity to help your audience visualize what your brand is about.
Video and audio are very valuable pieces of content that include explanatory videos, podcasts, and possibly music.
The written content is arguably the most important content on your website. For optimal SEO in 2021, websites should have an average of 650-3,000 words per page. Websites with less than 300 words per page are considered "thin" by Google's standards and, most likely, won't rank as highly in search.
What Is Good Website Content? 5 Easy Steps
Okay, so we understand what website content is now. But how do you write website content that is good?
Adding random text, photos, or graphics to a website and sending it out there on the web won't cut it. Your website's content has to be tailored to your website and brand to make it successful. It also has to be optimized so it can stand up to your competitors. Let's take a look at some writing for the web best practices:
Step 1 - Know Your Audience and Their Goals
When you create a website, you're not creating it for yourself, you're creating it for an audience. Yes, you'll reap the benefits of having a good website—increased visitors that translate into increased revenue—but that's not quite the same.
Your website exists to help your desired audience learn about you, or specifically, how your product or service helps them meet their goals or needs. If you do a good job of convincing them that you have what they need, they're more likely to purchase from you.
If you aren't sure who your audience is, or what they want, how can you ever market yourself and your site to them? You can't. At least not well.
Before writing content that you assume will attract people, do your homework. Take a look at your competitors and see how they're positioning similar products. What's your differentiator? Highlight it in your content marketing and on your website.
Step 2 - Clear, Crisp Copy
Have you ever read a sentence worded so poorly that it physically made your brain hurt? Or one that's left you cross-eyed as you try to figure out what it's trying to convey? Don't be that person and don't create that kind of content for your website.
If your website content causes people to stumble and falter as they read, there's an issue.
So what can you do to make sure that your website content is legible and most importantly, easily understood? Unless your audience is more advanced, write for the average reading level.
The National Adult Literacy Survey results suggest that the average American reads at the 7th to 8th-grade level. By using a readability grading tool, you can score your writing to make sure your writing isn't too difficult, or easy, for your audience.
For example, after Microsoft Word reviews the spelling and grammar in a document, it can provide you with your writing score on the Flesch-Kincaid Grade Level and Flesch Reading Ease tests. You can then use this data to refine your writing.

Step 3 - Mixed Media
Do you enjoy spending time on websites that have nothing to look at but text? No photos, no images, just endless text.
Good website content isn't restricted to blog posts and the written word. Research shows that most of the human brain is visual, and people process visual information many times faster than text.
In addition to the text and writing on your website, consider using videos or other graphics to share your message and value proposition with your audience. For example, an easy-to-read chart or graph can also do a better job of explaining a complex topic than text alone.

Step 4 - Concise, Understandable CTAs
What actions do you want visitors to take on your website? Is it completing a purchase, filling out a form, or visiting your contact page?
Whatever you desire, make it obvious to your website visitors with a clear call to action (CTA). If they don't know what they're supposed to do, then chances are they may not do it.
Your CTAs should focus on one action at a time—don't ask someone to do three different things all at the same time—they'll never remember everything and they'll be driven away by the volume of your requests.
When writing a good CTA keep these three things in mind: make it concise, clear, and actionable. Like this:
Look no further than DemandJump. Create great content - content that ranks - in half the time!
Step 5 - SEO Optimization
Good website content is SEO-optimized. In a nutshell, that means it's written in a way that's attractive to search engines, and of course, humans. SEO-optimized content holds valued keywords that your audience is searching for in the text.
Search engines are in the business of getting people the information they're seeking—quickly, efficiently, and accurately. The key is knowing these keywords and knowing exactly what your audience is searching for.
To write SEO-optimized content, do some research around keywords. If you know what your desired audience is searching for, you know what words and terms to include in your website content. That should give you a little boost in search engine results.
Create Top-notch Content with Demand Jump
Are you wondering "How can I write better website content?" We understand the struggle. It can be difficult to know what your customers are searching for, what your competitors are ranking for, and how they're writing, and then use that data to get in front of your target audience.
Luckily, that is exactly what the DemandJump platform does. Our intuitive content insight reports show you the precise words and phrases your audience is searching for, informs SEO content strategy, aids in content ideas with a blog topic generator, helps you create a website copywriting template to structure your ideas around, and makes content creation easy with one-click SEO content briefs.
If you need to take it a step further, we can even assist you with website copywriting services so you can leave the writing to us and turn your focus to your business. Don't wait, get started creating content that ranks today!
Get Your Free Pillar Strategy Report