What is Included in Content Marketing?
December 18, 2020 •DJ Team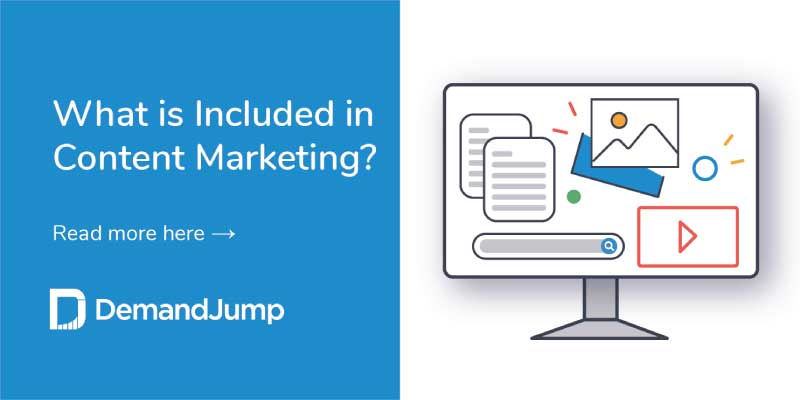 When we consider that some 72% of marketers say content creation is one of their most effective SEO tactics, we gain an understanding of just how important a solid content marketing plan is to the success of any digital content marketing strategy.
Digital marketers across the globe invest heavily in content marketing plans to secure more leads, build online reputation with customers and search engines alike, and secure a place among industry thought leaders.
Marketers who are beginning to lean into digital content marketing may be wondering what is included in content marketing. Of course, before we can explore the types of content marketing, we should ground ourselves by defining content marketing.
What is Content Marketing?
As the Content Marketing Institute lays it out, content marketing is:
"...a strategic marketing approach focused on creating and distributing valuable, relevant, and consistent content to attract and retain a clearly defined audience - and, ultimately, to drive profitable customer action."
To put it more plainly: content sharing strategies that provide relevant value to an audience. This means no cold-calls. No sale ads. Instead, content marketing exists to build a brand's reputation and foot-traffic by providing key answers to their consumers' most challenging problems, educating an audience on industry-specific challenges and jargon, and even giving them a little entertainment along the way.
In today's heavily active digital world, content marketing is becoming a major part of any marketing team's core strategy.
Types of Content Marketing
When we consider the content marketing definition, it's safe to say that there are a ton of ways that any marketer can create strategies and marketing assets to fit the mold. That being said, there are still 5 essential buckets that all content marketing generally fit into:
Written Content
Blogs
Landing Pages
Email
Whitepapers
Case Studies
FAQs
How-to guides
Press Releases
Infographics
Custom designs
CTAs
GIFs




Video
Animations
Customer testimonials
Webinars
Site-based videos
Event videos
Virtual Reality
Vlogs




Social
Social Platform posts and paid ads

Facebook
Twitter
Instagram
LinkedIn
Hashtags
Contests
Use-generated content
Customer reviews/ testimonials
Sponsored content

Audio
Podcast
Radio ads
Interviews
What are the main content marketing channels?
Any avenue in which created content is shared to an audience is considered a channel. When building a content marketing plan, it's important to outline which channels will be utilized to distribute your messages. The top 5 channels often include:
1. Organic Search
Organic traffic is gathered without putting up any money to acquire. All content published on your website is indexed by search engines, who then make a determination on how relevant your business and content is for a user making searches.
2. Paid Search
Putting money behind a search result to showcase your content front and center, or to place your content within ad-spaces throughout other websites.
3. Social Sharing Platforms
Facebook, Twitter, LinkedIn - these are all social platforms that nearly every consumer already digests content.
4. Emails
The original in-bound digital marketing initiative. Distributing content via email can capture an audience that has already shown interest in your content/products by signing up for emails.
5. Link building
Any instance in which another online entity links to your content and drives traffic from their platforms to yours. When you make useful, reliable content, others will take note and start to share with their audiences.
Content Marketing Examples
In our experience, many marketing teams are just getting their feet wet with modern content marketing strategies. They may have a blog, and might even put together a formalized campaign together that includes downloadable whitepapers. When we think about a robust content marketing plan, we think layers deep. This means pulling together a list of written content, videos, social sharing strategies, and any other possible assets that could work to build a full plan. Gone are the days where content marketing plans need to only include written content - consider how to tap into internal talent and local agencies to develop videos, graphics, customer testimonials, and even sponsored user-generated content.

Start by identifying the goals of your marketing campaign, and who is included in the audience. If you are targeting a wide-range of demographics then you may find that a very well-rounded assortment of created content will speak to the masses. Understand how your audiences prefer to digest content, where they do so, and how they generally like to interact with businesses. This information is key to developing critical, effective content marketing plans that will prove your efforts and budget are successful.
Rely On Data Experts
Perhaps the most under-proportioned part of any content marketing plan is the sheer amount of research and planning that should be completed before content creation begins. This is often also the reason many marketers shy away from pulling together a robust content marketing plan. This is also why DemandJump exists - to make marketing more purposeful. We know that marketers are drowning in tools, data sets, convoluted metrics, sharing channels, and competition. Join our free trial today to gain instant consumer insights, find out what works, and eliminate the noise.
Get Your Free Content Marketing Strategy Report