What Is Keyword Research & Why Is It Important?
July 24, 2020 •DJ Team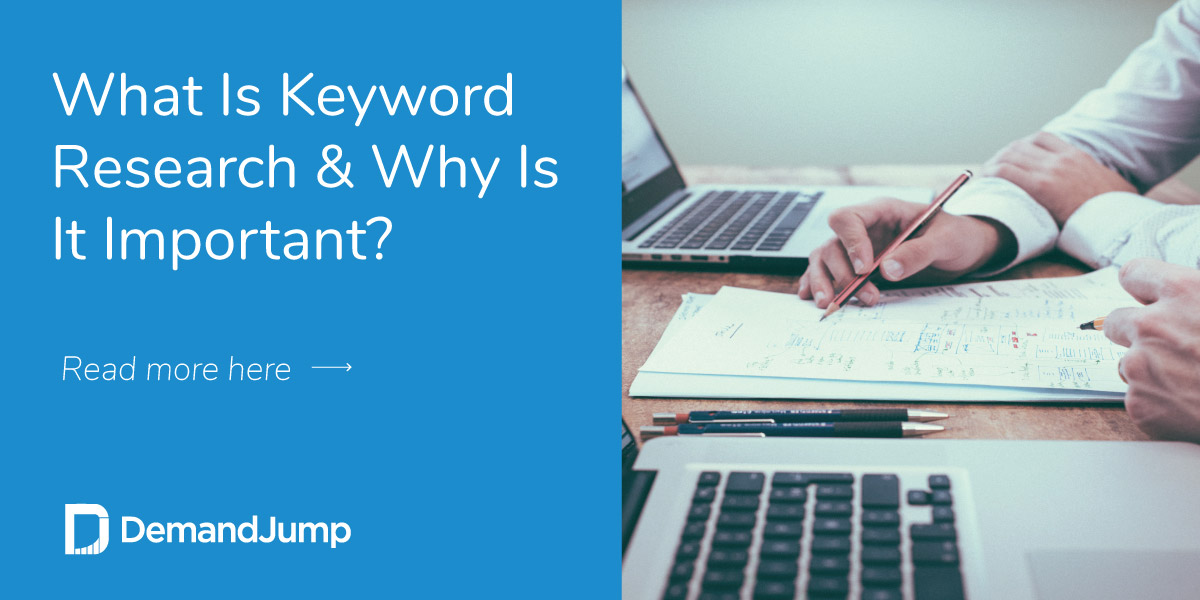 Understanding the Importance of SEO Keyword Research
Keyword research is the first step of successful SEO marketing. When you're plugged in to the online behaviors of consumers, it's much easier to create inspiring and compelling content that pulls in readers. Though it may seem daunting or perhaps complicated, SEO keyword research is based on some pretty easy-to-understand principles. Not only that, but there are a number of online tools that can help you get started. With some baseline information, the question, "How do you do keyword research?," doesn't have to be a big one.
What Does SEO Keyword Research Mean?
SEO keyword research is the practice of identifying the specific words and phrases that everyday people use in search engines. This is a foundational activity in SEO marketing because it gives content creators the understanding of what draws attention to a certain topic. For instance, a marketer working on a blog about sneakers may perform keyword research to find out whether people are searching more for "best sneakers" or something more specific like "best Nikes" or "best Adidas sneakers."

The main goal is to get a sense of what words, phrases, and questions people use when seeking out information related to your brand, and get ideas for which of those words, phrases, and questions you'll need to work into a piece of written content in order to increase your chances of showing up in search engine results when people enter those terms in the future.
How Important Is Keyword Research?
When you perform keyword research on a regular basis, it becomes far easier to create targeted and unique content. This means greater efficiency in nearly every aspect of your marketing strategy. Keyword research is important because it gives marketers clear insights into the language their prospects are using. By speaking that language in written content, it increases the chances of a brand's website showing up in search results when those prospects are in buying mode.


Keyword research can also help to guide the content you produce. The SEO phrases that come up during your searches, as well as relevant and related words can be used to generate ideas for blogs and other written content. For example, a search for "sneakers" in a keyword planning tool also provides recommended related phrases like "Nike Air Max," or "Best Jordan Shoes." Either one of those would make an excellent and fun-to-read blog post, and they can help in increasing views and your overall ranking.

In short, if you're wondering why keyword research is important, it's because it both lets you know how to speak the language of your preferred audience, as well as predict future behavior in the form of searches.
What Is the Purpose of SEO Keyword Research?
Using a keyword research tool will net you many different metrics. This hard data can be used in a variety of ways, whether it's for specific keyword usage in a single written piece of content, or for something more broad like strategizing an editorial calendar. Along with these metrics, unsurprisingly, comes some pretty complex lingo. In general, though, keyword research is used to find information on the following areas:
Average Monthly Searches: As you may have guessed from the name, this metric indicates how many searches were performed for a specific keyword over the course of a month. This stat gives you an idea of how much can be gained from trying to rank high on a Google search page.


Competition: This data point provides insight about how many other brands are paying to serve ads when users search for a given keyword. The higher the competition, the more of your competitors find value in that phrase.


Top of Page Bid Range: Provides a range of how much marketers are paying per click for paid search rankings. If competition gives you an idea of how many brands are interested in a keyword phrase, this metric tells you how much they're spending on it.
It's important to note, though, that many of these metrics are intended primarily for advertisers. SEO marketing can actually be fairly organic and not require PPC campaigns. It does mean, though, that the marketers responsible for the keyword research will be doing some heavy lifting. The metrics provided by keyword research tools can be used for insights into consumer habits, but it's really about choosing the right keywords and crafting written content that makes the most of these phrases.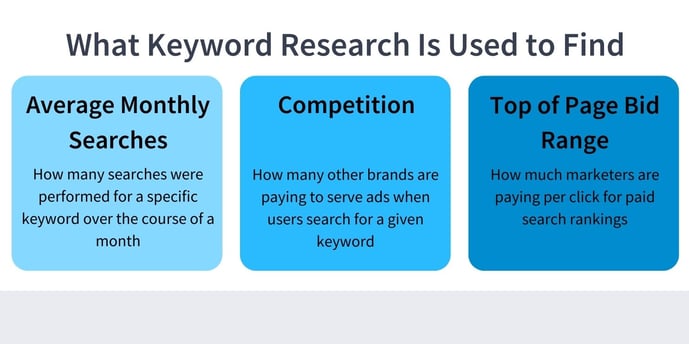 Stop Guessing Your Way Through Keyword Research
Keyword research that gets done right leads to greater lead conversions. A 2018 study found that the links in the first position on Google get a huge 30% click through rate. DemandJump's platform was specifically created to give users an edge over the rest of the pack. Our keyword research tool analyzes competitors as well as consumer behaviors to give unique and personalized insights into what phrases will provide you with the best ROI. If you're interested in getting keyword research step by step, start your free account today.
Get Your Free Pillar Strategy Report