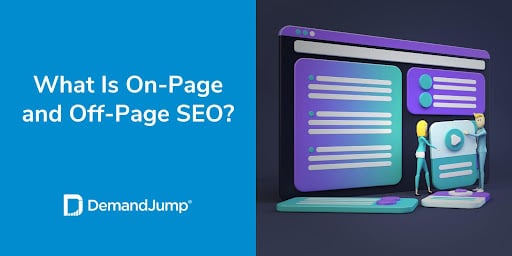 Google most terms and we're willing to bet that it'll return thousands, if not millions, of results. But most people simply aren't scrolling into the hundreds to find the answer they're looking for. In fact, they're usually sticking to the top 10 results—with over one quarter of searchers clicking on result one, according to Search Engine Journal.
So how do you improve your rankings on Google and other search engines? It all starts with developing an SEO strategy that includes both on-page SEO and off-page SEO, among other things. But what is the difference between on-page and off-page SEO? In this article, we're sharing what the two terms mean as well as on-page and off-page SEO examples and techniques to include in your strategy.
What Is On-Page SEO in Simple Words?
On-page SEO, sometimes called on-site SEO, refers to the strategies and techniques used to optimize the elements that exist on your website. These elements include content, images, HTML source code, title tags, URLs, and more.
Google is more likely to view you as authoritative when the components that make up your website are both high quality and relevant to your business. Increasing said authority will allow your site to rank higher on search engine results pages (SERPs). Ultimately, this provides your website more visibility from searchers—and potential customers—which is one of the many reasons why on-page SEO is important.
Looking to improve your SEO? Consider these on-page SEO factors:
Images: Images aren't just fun to look at—they're great for SEO, too. Just like search engines crawl for keywords in content, they do it for image alt text, too. Using keywords—along with complying with Web Content Accessibility Guidelines—can give your SEO a boost like also ensuring accessibility on your site.
Keywords: Keywords, or the literal words that searchers type into search engines, are one of the most critical on-page SEO factors. Using these keywords as the foundation of your content is a surefire way to start increasing your on-page optimization. Platforms like DemandJump take the guesswork out of keyword research. Simply use Insight Reports and one-click Content Briefs to find out exactly what terms your customers are searching for—and how well your competitors are ranking.
Content: Keywords are important, but so is the content you create with those keywords. Gone are the days of keyword stuffing webpages to rank well. Instead, Google's helpful content update sends a clear message that educational content that answers readers' questions will rank better.
Linking: Of course, you hear a lot about back linking—or the process of getting other sites to link back to your site. But internal linking, when done right, can send more authority to certain pages on your site as well. Pillar-Based Marketing, for example, uses an internal linking structure that sends authority from Sub-Pillars and Supporting Blogs (shorter, more specific articles) up to your Pillar Page, or your main article. In the image below, the pillar graphics illustrate how linking works.
What Is Off-Page SEO in Simple Words?
Off-page SEO refers to an assortment of external strategies and tactics that can increase your site's rankings. Just like the name implies, these techniques occur off-page or off-site. While this might initially seem counterintuitive, it actually points to the true importance of off-page SEO. Reputation is, as they say, everything. And more than anything else, off-page SEO is about building your site's reputation and authority. Things like recommendations, reviews, and social media all serve to make your site more trustworthy.
As you optimize your site, consider the following off-page SEO factors in your strategy:
Social Media: Whether it's organic or paid, social media can be a game changer for brands who understand how to harness it. Provide fun, relevant, and engaging content. Create polls prompting audience participation. Post about new, educational blogs. As much as possible, create a community where your audience spends time. For most B2B companies, this typically includes LinkedIn, but Facebook, YouTube, and Instagram may also apply.
Guest Blogging: Thought leadership is a powerful tool, especially when it's paired with guest blogging. As a way to generate more buzz and brand awareness, it's not uncommon for businesses to reach out to industry publications or websites in their space to enquire about guest blogging opportunities. This not only allows you to share your knowledge with new audiences, but it's a great way to send traffic back to your site, too.
Reviews: Independent reviews can go a long way in boosting your authority. Consider, for example, just how often you read reviews of a restaurant or any new piece of technology you're planning to purchase. To generate reviews, ask your customers to share them on your Google My Business profile. And, don't forget to connect with third-party and peer-to-peer review sites like G2 and Capterra to get reviews there, too.
DemandJump: Super Power Your On-Page SEO Strategy
If all of the above sounds like a lot to manage, don't worry—you're not alone in creating a good SEO strategy. We built DemandJump because we understand all too well just how difficult marketing is. Between building out eye-catching campaigns, generating great content, and keeping up with current trends and updates, it's enough to overwhelm anyone.
DemandJump's platform makes the content side of marketing easier. With DemandJump you can:
Understand what keywords your audience is searching for
Know how your competitors are ranking for those keywords
Build Pillar strategies to help you rank higher for your key topics
Generate one-click outlines to start writing faster
Ready to get started? Just click the button below!