Pillar-Based Marketing (PBM) certification is training in the latest strategy marketers are using to win search engine page results. And by "win" we don't just mean "climb the ranks." PBM certification unlocks the ability to win page one. Your content will be able to show up as the featured snippet, even against more mighty and established brands. How do you do it? Well, PBM certification courses are the best way to really find out, but we'll also give you a quick rundown as you continue reading this blog.
What Is a PBM Strategy?
A PBM strategy is a fusion of search engine optimization (SEO) and pillar content strategy.
SEO means a content creator has paid some mind to the search terms their target audiences are using to find information online. They then take steps to include these terms in their own marketing materials, so people are more likely to find the content when they search for the keyword. PBM does require a specific approach to SEO in written content, which we'll discuss in a moment.
Pillars, also known as content clusters, are an emerging content marketing strategy. Companies choose the term or concept they want to be known for and create a 3,000-word or more piece of content about the topic. The idea is that this pillar will show their authority and win ranks.
PBM strategy reckons with the harsh reality that one single piece of content will not skyrocket to the top of search all on its own. Using the powerful DemandJump insights algorithm, marketers can create not just a winning pillar page, but the content to support it and prove its value for readers.
Here's the basic structure of a PBM strategy: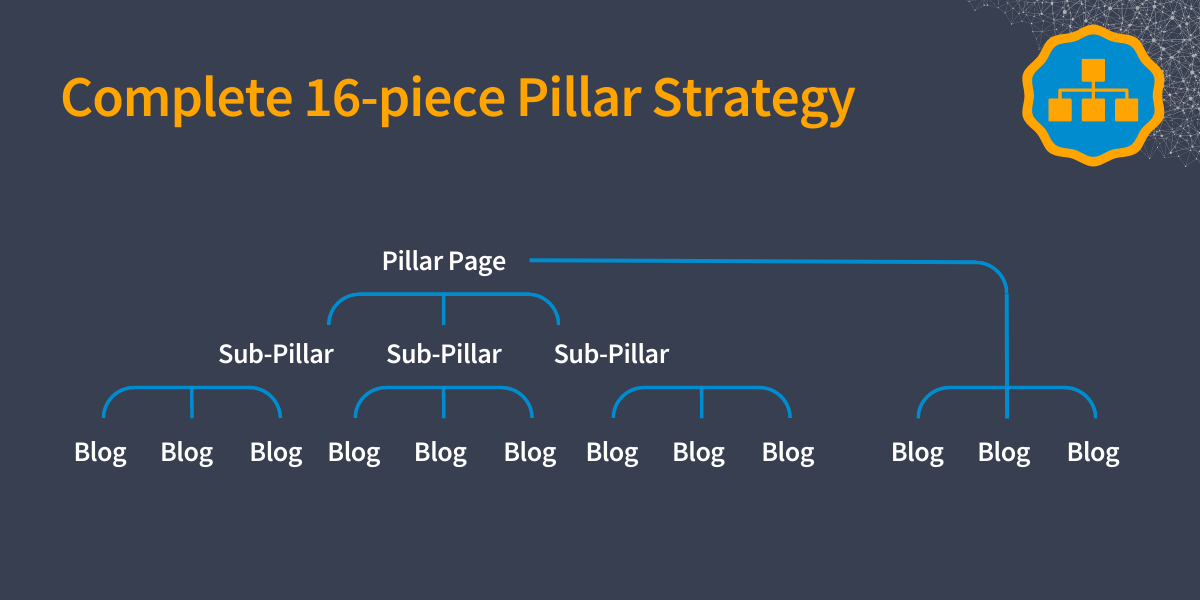 In PBM, a pillar page of 3,000+ words is supported by at least three sub-pillars of 1,500-2,000 words. These sub-pillars take deeper dives into specific insights related to the pillar topic. Each sub-pillar contains a backlink to the pillar page.
Each pillar and sub-pillar are in turn associated with three or more 750-word supporting blogs. The titles of these are usually high-value questions or long keywords. Within each supporting blog is a link to the pillar and the relevant sub-pillar.
How does SEO enter the arena? Keyword insights and data should inform the selection of your pillar page topic, as well as the title of the pillar page and all the supporting content. Within each pillar, sub-pillar, or supporting blog, other keywords should be your section headlines and included in the copy.
A lot more about PBM is covered in our PBM certification modules. The introduction includes more about how PBM works and how it's different from other strategies. You'll also be certified in how to choose a pillar topic and build a strategy that meets your goals. Specialists can also learn how to write pillar content or how to report on the results and prove ROI to stakeholders.

Is PBM Good for Business?
Yes, PBM is good for business. PBM is a strategic investment in content that directly relates to why your company is relevant. It helps you stand out against the competition for all the right reasons –because you are delivering a better user experience with your marketing content. People looking for general insights will find their way to the pillar page, while those searching for specific questions or long-tail keywords find the shorter supporting blogs. Within, there are links to learn more about the topic at hand.
With PBM, you are meeting each user where they are in their customer journey. This means reaching them at the right time, with the right information to attract their attention and close more deals. Don't just take our word for it–hear directly from our satisfied customers who have succeeded with PBM and continue to win as a result.
Is PBM Certification Free?
Yes, PBM certification is free within the DemandJump platform, as long as you have an account. There are PBM certifications for marketing strategists, technical SEO experts, and of course, content creators and content writers. For marketing agencies, becoming fully PBM certified is a great way to grow your business and generate more client satisfaction. You're already doing a great job, and this is one approach you can use to do even better.
DemandJump: First and Best PBM Certification Resource
DemandJump innovated PBM strategy as an expression of the best practices we've learned and applied for ourselves. We then created DemandJump University to allow our users to self-educate about PBM and leverage this strategy on their terms. Within DemandJump, you can not only get certified in PBM, but gain the keyword insights you need to successfully execute a PBM strategy. Start exploring DemandJump with a free account and unlock your access to full PBM certification.