What is Pillar Page Strategy?
March 25, 2022 •Erica Kempf
In content marketing, a pillar page strategy is a way of developing and organizing your content, so it reflects what your customers are looking for and will show up at the top of their search. This SEO pillar structure creates broad topics explained in detail as the main "pillars" of your content.
These general pieces are then supported by many individual blogs or shorter support pillars that look in-depth at more specific parts of the pillar.
Pillar page design, done in this way, helps your content reach the widest audience who might be looking for your product or service. Now that we've got the overview, let's dive into some specifics.
What Should My Content Pillars Be?
The first step of your pillar content strategy is going to be to figure out what pillars make the most sense for your business. A good place to start is to think about what questions might your potential customers be asking when they would benefit from finding your company.
These "pain points" for your customers are probably what will have them asking the internet for help, so your pillar page SEO strategy starts by thinking about what this is.
A content pillar should be something that holds a lot of weight. It needs to be broad enough that there can be 3,000 words of useful and interesting content about it in one single article (this will be your pillar page). But it should also have enough nuance that it can be broken down into many discrete chunks (sub-pillars and blogs).
From a potential customer's perspective, it needs to look like it will answer many different questions they might have around what your business can provide them, so they want to click on it. It also needs to actually answer their questions and be easy enough to skim and understand that they can find the information they want quickly.
These are the theoretical aspects of coming up with your content pillars, but let's dive into an example. Let's say we are a rain hat retail company, trying to sell our rain hats to consumers.
The first thought for a content pillar might be "rain hats". However, if we think about the pain point of our potential clients, a content pillar of "staying dry" would give us a much broader topic. Providing useful content for anyone searching for things related to "staying dry" means we can deliver more value, and reach people who may need to stay dry from many different water sources and who might be searching for many different potential solutions.
Our pillar strategy with this topic might look something like this:
Pillar: Staying Dry

Sub Pillar: Causes of Getting Wet

Blog: When will you get wet from the weather?
Blog: When will you get wet from pressure washing?
Blog: Can you get wet while visiting a waterfall?

Sub Pillar: Tools to Stay Dry

Blog: When do umbrellas work best to keep you dry?
Blog: Best Times to wear a rain hat
Blog: When do I need rain pants
Although this example may seem silly, providing good resources for potential customers in a wide range of circumstances lets you reach more of these people. DemandJump can help you uncover examples just like these, that represent exactly what potential customers are searching for, and in the exact language, they're using. In addition, sharing useful and accurate content around your topic starts to establish you as a trusted source of information in your area.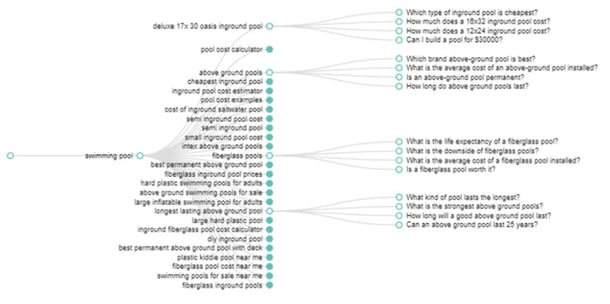 (DemandJump's automated pillar page outline tool.)
Links Within a Pillar Strategy
Having the right topics for your pillar, sub-pillars, and blog posts is a great start! But another element of a successful pillar page strategy is linking all of the pages together to create a larger content cluster of interconnected content. This strategy is what can get you to page one of search results and establish you as an authority in your area. The one central 3,000-word pillar will be the most informational, keyword-rich, and longest article. Every other piece of content related to this pillar will link back to it. Each of your sub-pillars will be a shorter article focusing on a subtopic within the main pillar page and will link back to it early on in their text. Each blog post will be an easy-to-consume, short piece about just one small facet of the whole, and will link back to both the main pillar and the support pillar it relates to within the first paragraph.
Here's a visual of how this all works together: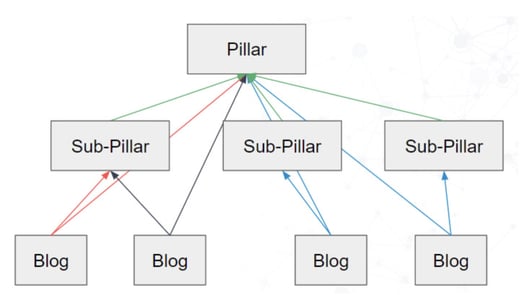 If you're having trouble knowing exactly how to build this plan for your own pillar page strategy, DemandJump has a content pillar template tool that can help get you started.
What is a Pillar Page?
Hopefully, now you have a better understanding of what the topic of your pillars might be and how it will link together with the rest of the content around this topic. Now we can dive into the specifics of what the pillar page itself really is. The pillar page is the web page that holds the main article about the topic. The benefits of pillar pages within this strategy mean this page does a lot of heavy lifting. So what makes a good pillar page? When you sit down to actually write this pillar page, here are some great pointers to get started:
Title: Make sure it has a title that really sums up the whole topic and reflects the language searchers are using.
Layout: Make the article easy to skim and find the information you need quickly. The article itself will be fairly long, you want to make it fast for your audience to find what they need easily. Use headings, subheadings, bullet points, lists, and graphics to make it easy to skim while scrolling.
Length: Make it around 3,000 words. This is short enough to keep people's interest but long enough to provide a lot of useful information.
Keywords: Make a list of keyword phrases and questions that are searched for often by your potential customers with DemandJump. Include 12-15 of them into this pillar page text to increase your customer's chances of finding your information when they search.
DemandJump's podcast, Page One or Bust!, often discusses Pillar-Based Marketing best practices. In the clip below, some of DemandJump's writers discuss how to construct their Pillars. For the full episode, visit this link.
Ready to Start Building Your Pillar Page Strategy?
Pillar page strategy is the best way to make sure that the great content you create to reach your customers actually gets seen. Using DemandJump's platform to create the best data-driven content plan for you means more eyeballs on your content. Get started today!
Get Your Free Pillar Strategy Preview!