What is the Value of Content Marketing?
December 10, 2020 •DJ Team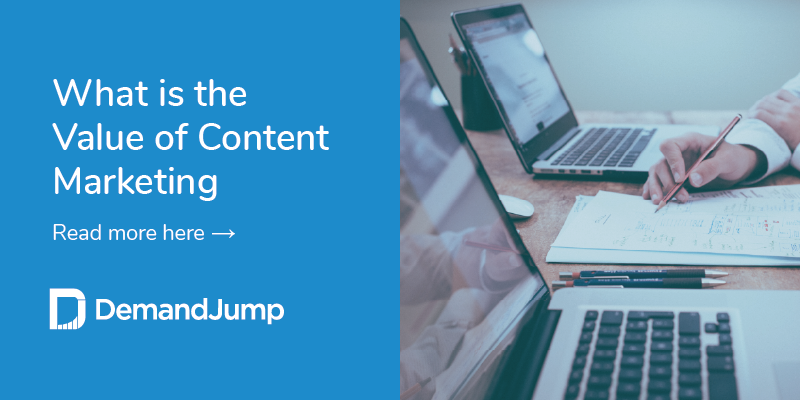 Compared to traditional marketing, content marketing can often feel like a lot of effort and it can be difficult to see the results immediately. In fact, 60% of content marketers say that they are creating at least one (or more!) pieces of content every day - there's no "set it and forget" when it comes to content marketing. So, is content marketing worth it? Yes! If you're struggling to convince higher-ups (or yourself) about the benefits of content marketing, we can help.
What are the benefits of content marketing?
Meet customers' needs
Simply put, times have changed and your marketing technique has to change too. Did you know that 70 percent of people prefer to get info about a company or learn about a product from an article or blog post rather than from a traditional advertisement? Content marketing meets your customers' wants and needs and is about them, not you.
Increase brand awareness
Every respondent to a recent survey stated that content helps change the brand perception of the brand producing it. Your content is powerful and building a strong and dynamic online reputation will carry over into the real world when people think about and trust your brand.
Brand loyalty and ambassadors
Along with increasing brand awareness, your content marketing has great potential to build incredible brand loyalty and create ambassadors for your brand. Ambassadors are people who you don't pay, but are so enthusiastic about your brand that they create user-generated content on their own that spreads the word about your brand and products/services.
Two-way conversation
Traditional marketing methods are like shouting at your customer. You're demanding that they purchase with in-your-face marketing techniques. Content marketing is a way that you can talk to your customers and have a back-and-forth dialogue. Because this marketing is happening online, you can easily adapt and change your content when you receive feedback from your customers. You'll be able to respond to customer prompts and provide relevant content instead of using a one-size-fits-all traditional approach.
Less risk
With content marketing, you have a huge variety of channels and ways to push out content. You're not locked into one pathway and there are so many ways to publish content that cost very little money or are completely free. It's easy to experiment, and very quick to be able to change and adapt if a particular piece of content marketing isn't working. There is less risk overall because you don't have to invest as much money and you're not locked into contracts if something isn't working.
These are just a few of the benefits of content marketing and there are many other benefits that you will discover. While the benefits are clear, let's take a look at the value of content marketing to figure out if it is worth it.

What is the value of content marketing?
Content marketing costs less
Right off the bat, did you know that content marketing costs 62% less than traditional marketing and generates about 3 times as many leads? That is a staggering statistic and should pretty much make the case right there for why content marketing is valuable and necessary for your brand. Running a business is expensive, and traditional marketing channels can cost a huge amount of money and can lock you into big commitments. Content marketing is a lot less expensive and better for your budget.
Content marketing boosts sales
Did you know that consumers are 131% more likely to buy after reading educational content from a brand? This fits right in with the fact that that conversion rates are nearly 6x higher for content marketing adopters than non-adopters (2.9% vs 0.5%) and this makes a big difference in your wallet. The simple fact is that content marketing leads to sales and money in your pocket.

Content marketing works well
Something that costs significantly less and works remarkably well should be a home-run strategy. If you're still not convinced, consider the fact that 72% of companies agreed that their lead quality increased after implementing a content marketing strategy. Simply put, content marketing works well and can transform your business marketing.
How can DemandJump help with your content marketing strategy?
Now that you've looked at the benefits and value of content marketing, what's next? DemandJump can help you figure out what the most important topics, questions, and keywords to focus on with comprehensive consumer behavior insights. You'll receive a prioritized list of content to create, and be able to see competitive gaps where you can provide content to gain traffic share immediately. Not only can DemandJump help you with writing content, we can also help get that content in the right place by making sure you're structuring your content so that it ranks—fast! You'll be able to see with one-click an outline on any topic or question with the exact keywords to include. See how we make content marketing simple by trying a free trial of DemandJump today!

Get Your Free Content Marketing Strategy Report