What Makes a Good Content Strategist?
March 10, 2021 •DJ Team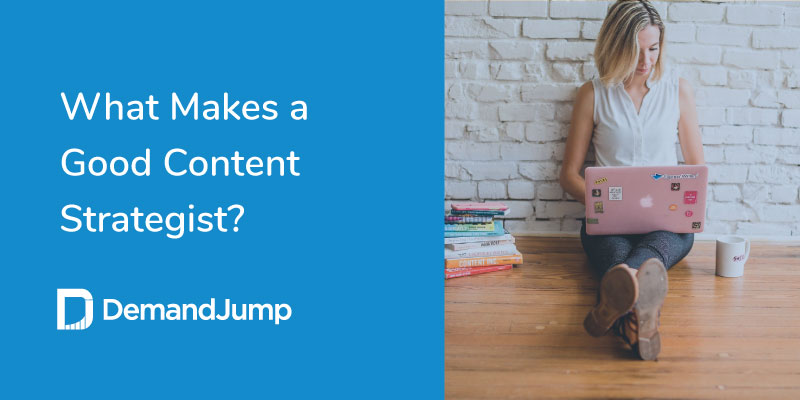 Are you interested in a rapidly growing field with huge opportunities for growth? Consider the content strategist career path. Content marketing is a job market that has been growing at a 16% compound annual growth rate since 2016. With a global pandemic causing so many jobs to transition to remote, internet-based work, today's consumer works and shops online.

Content marketing continues to expand and grow due to the demand for reaching online customers in an authentic and engaging way. If you are seeking a fast-paced and exciting career, consider becoming a content strategist—here's how to be a good one.
What does a content strategist do?
So, what is in a content strategist job description? A content strategist is someone who is in charge of the entire content marketing campaign for a particular business. Content strategists create the brand standards and make sure that all the content marketing pieces adhere to them in addition to making sure that the tone, style, and voice is consistent across the board.
In addition to crafting the plan for the entire content marketing plan, content strategists also measure and analyze every piece of content in order to refine and improve the brand's content. In short, content strategists are the driving force behind a brand's marketing and are responsible for making sure that the marketing efforts are successful.
What makes a good content strategist?
Being a content strategist is an exciting and fast paced job. In order to be successful, content strategists must have a wide range of skills. Obviously being a "big picture" type of person is important—in order to be in charge of the entire content marketing department requires the ability to zoom out and look at the situation from that perspective.
However, a good content strategist also has to be very detail oriented. There are many moving pieces to a content marketing campaign and one stray piece of content can cause a big issue. Being detail oriented as well as data driven is extremely important.
In addition, a good content strategist is someone who is a visionary and is able to dream big, always pushing the envelope for that next big idea.

Content strategist skills
These sorts of personality traits are important for a content strategist, but in addition to these personality traits, a good content strategist needs some very specific skills. The most important skills to develop are:
Storytelling: Content marketing is all about being authentic and genuine. Customers can smell it a mile away if you're trying too hard or are being fake. A good content strategist is someone who has a highly developed storytelling ability and can draw people into their content.
Communication: This is an obvious one, but a good content strategist is someone who understands the importance of communication and has worked hard to develop that skill. Communication isn't just about outward content marketing communication though— there are many moving pieces with content that require someone who can interface with the public and with the employees of the company.
Vision: The ability to trust one's instincts and blaze a new path forward is important for a content strategist. Content marketing is a fairly new field and is ever evolving. Looking forward to the next big thing and getting buy-in from others is an important skill for content strategists to possess.
Digital savvy: Another skill that seems obvious but needs to be said! A good content strategist is someone who is extremely digitally savvy and is able to stay on top of latest trends. Not only that, but in order to make a content marketing successful, a good content strategist has to be able to measure and analyze all the data points that they can.
DemandJump can help!
If you are embarking on a content strategist career path, keep in mind that there are tools out there to help you become as successful as you can be. DemandJump is one of the best!
With our comprehensive suite of solutions, DemandJump can provide you the content marketing tools that you need in order to stand out in your field. You can measure the effects of your campaigns, see exactly the impact you've had, understand your ROI, and have the data that you need to make intelligent and impactful decisions regarding your content strategy.
Experience the difference and start saving time while automating your content strategy!
Get Your Free Pillar Strategy Report