What Should A Content Strategy Include?
December 22, 2020 •DJ Team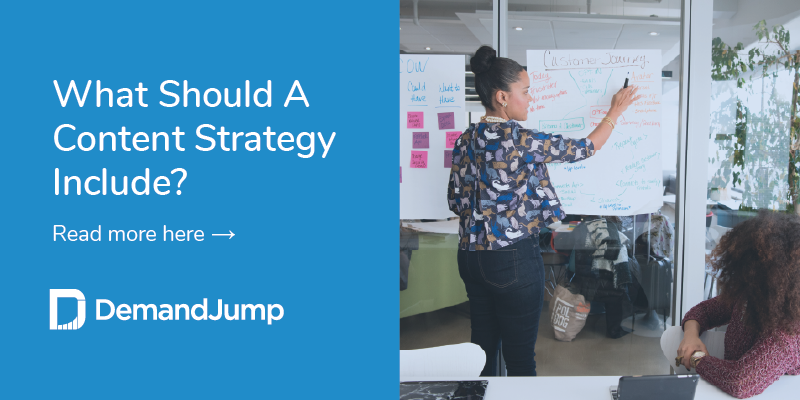 Every great coach has a tried and tested playbook. It's what puts their unique strengths together to put their best opportunity forward at victory. In more than one regard, a content marketer is really no different from a sports coach. A content marketer's strategies compile fundamental strengths and resources to make impactful decisions about their content that drive effective results. Their mission is virtually the same: execute effective strategies that produce winning results, and often manage diverse teams in the process. They both dedicate resources to studying past successes and failures in order to make better decisions for the future.
Not many marketers would compare themselves to Vince Lombardi, but if you're going to be a professional, you might as well be an all-time great. Here's everything you need to include in your content strategy to make sure your team has the advantage every time.
What is content strategy and why do you need it?
Content strategy refers to a plan for creating, distributing, and managing curated content. A strategy lays out all of the details— what, when, how— needed to ensure that a marketing campaign is purposefully created to maximize its performance. It's a blueprint.
Why is it important? Well, without proper research and data driving the creation of each piece of content, you're doing little more than shouting into a crowded room. A well researched content strategy can guide your content creation efforts and ensure that you're sharing the content your audiences are most likely to pay attention to.
What is included in a content strategy?
While every individual marketer's content strategy might be a little different, they all contain similar elements that play an integral role in providing a roadmap to effective content marketing campaigns. As you think of what to include in your content strategy, consider these four key elements:
Identified audience and user persons
Not every brands' audience looks the same. This is why marketers develop key personas for their targeted audience. For each of your personas, you'll want to know:
Demographics
Preferred content
Unique challenges
Language they use to describe their challenges
Emotional state in relation to those challenges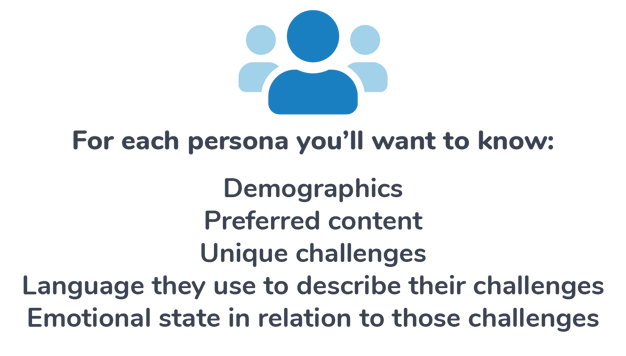 Measurable Goals and KPIs
Every single marketing initiative must have a purpose, whether it's to drive brand awareness, increase traffic, capture more leads, or something else entirely. Every action should have a measurable goal, with key performance indicators that determine its success.
Content
The quintessential list of all decided content, complete with topics, format, keywords, and KPIs. Showcase how your content is bucketed within your target persona's buyer journey, mapping every piece to purposefully push qualified leads through to a form or direct purpose.
Editorial Calendar
Content marketers are often juggling several content commissions at once. Calendars that mark when content should be finalized and published throughout a campaign gives a marketing team a tangible timeline to get started and understand how their content folds into it.
How do you become a content strategist?

Compile data. Analyze it. Make impactful decisions on your content.
That's it. Seriously. The term 'strategist' is a little more intimidating than it really is, but you truly become a content strategist when you can execute content strategies that are purposefully impacted by your research and data analysis.
Start by compiling data on your audiences. What are they looking for? Where do they spend their time online? What kinds of content do they prefer? What are their problems? Look towards your industry competitors for a glimpse at what they're talking about, and how audiences engage with their content. Keep a pulse on trending topics and news. Research keyword opportunities, looking for hotly contested terms to understand where the battles are held, and find opportunities to maximize potential returns in less hostile keywords.
Capture metrics on your marketing campaigns, your web traffic, social engagements, and the leads you've captured with them. Track every single move and analyze each step. Every piece of content contributes to the overall performance, and each one carries an opportunity to maximize that contribution.
How to become a content strategist - fast!
DemandJump's Instant Consumer Insights show you where you are winning and where you are losing to your competitors around any topic. The platform will point out gaps and opportunities to take traffic share, and with one-click SEO-optimized content outlines, you'll save time in the process.
Save over 50% of your time while creating better content - that ranks!
Get Your Free Pillar Strategy Report