What Should My Content Pillars Be?
March 23, 2022 •Jeremy Flick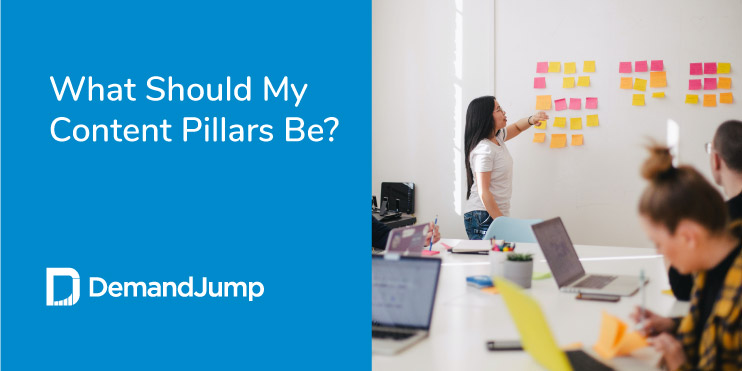 Search engine optimization (SEO) is the name of the game when it comes to creating and publishing content online. Without building your content to optimize SEO—especially using high-value keywords and phrases, topics, and questions—it will most likely not reach the first page and, therefore, your audience. Over 90% of content gets zero traffic from Google! An SEO pillar strategy aggregates your content as a cohesive group to reach its maximum potential.
DemandJump specializes in providing you with all the information you need to create your own content pillar strategy. We provide our services for companies of all sizes, including content pillars for small business pioneers looking to increase organic search traffic!
What Is a Content Pillar?
A content pillar can be referred to as a piece of content as well as a strategy. The strategy itself is built from several key components to create a cohesive information framework. It all stems from a comprehensive, high-level piece of content called a pillar. Typically written in 3,000 words, a pillar is an end-all-be-all article about a given topic. Connected to that is a sub-pillar, written in 1,500 to 2,000 words. Sub-pillars zoom in on a piece of the pillar and explain it further while maintaining subtopics of their own. And finally, a blog is a 750-word piece of content that focuses in great detail on a specific topic under the umbrella of a sub-pillar. Getting your pillar in place ensures all of your other key content connects to the main page. Below you will see the pillar strategy structure.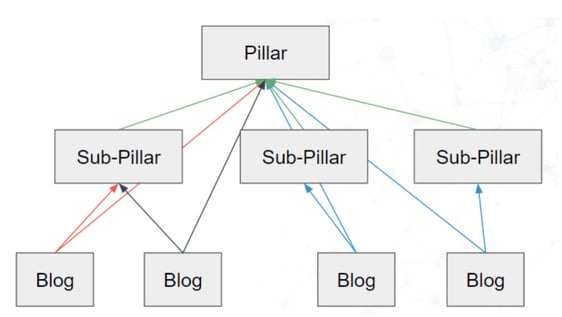 All of that is to say that building your strategy in content pillar marketing especially helps with SEO structurally. Search engines like Google connect the dots and see that your pillar is the authority on any given topic. Adding things like keywords and phrases elevates your content even further. We have a content pillar template for you to check out for more detail.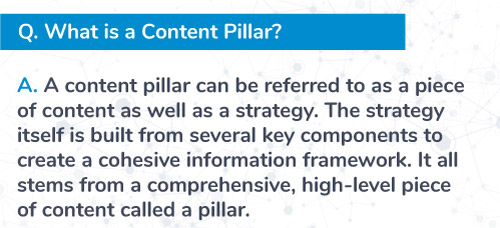 How Do You Come Up With Content Pillars?
So how do you come up with content pillar ideas? First, you need a topic for a pillar. Remember, a pillar is an extensive, primary page that connects every other piece of content. An excellent way to identify a subject is to consider what you want to be ranked number one for on search engines.
Content Pillar Example:
Let's say you are a headphone manufacturer and would like to rank for the keyword phrase "audio quality." To do this, you'll need to assert your authority on the topic and illustrate how your product/company knows the ins and outs of it. In this case, you could create a pillar focusing on that exact topic.
Pillar: Audio Quality (≅18 keywords)
Sub-Pillars:

Sound Quality, Headphone Types, Use Cases for Headphones (≅15 keywords in each)

Blogs:

Three blogs about sound quality, three blogs about the different types of headphones, and three blogs about how headphones are used (≅8 keywords in each)
Blogs that answer relevant questions like "Can You Hear a Difference in Sound Quality?" will tie into your pillar and sub-pillar, creating a network of topics. This type of blog would not only be a great space to talk about how humans hear a sound, but you can also discuss how your headphones meet the challenge of providing the best sound quality.
Building content pillars is about focusing on a topic and explaining it down to the most granular details. In what content areas do you want to be an authority, take your spot on the first page, and conquer the SEO? You can do this manually by determining what you want to write about, researching what people search for, and building your plan. With DemandJump it's as simple as running an insight report and using the dashboard to create a pillar strategy. We take out all of the guesswork and provide you with manageable and detailed reports to help you build your content pillars.
Still unsure about where to begin? We can help build content pillars for small businesses and enterprise alike. And we've provided some more content pillar examples for you!
What Are the 5 Key Pillars for Epic Content?
Content Pillar Marketing
Structuring your content as a system of interconnected pillars, sub-pillars, and blogs drive traffic to your site while producing fantastic, helpful information! The content pillar is designed to provide a more effective site structure.
SEO Optimization
Mastering SEO comes by high-volume keywords, implementing topics and phrases, and asking questions. Crafting your content around these pieces will ensure search engines like Google pick out your content above others.
Authority
You want to create the most comprehensive, reliable information available in your field. Establishing credibility by providing robust and in-depth content strengthens your ability to be seen by people. If Google recognizes you're the authority on a subject, you'll be higher in the results.
Easy to Read
The goal is to make your content easy to understand for all readers. If a reader is trying to learn more about a subject, it can be off-putting if they don't comprehend it. Explaining your topics in a clear, digestible way will help inform people while ensuring they see you as an authority.
Pique Interest
Not only should your content be easy to read, but it should be interesting! Informative content is compelling, even if you want a formal tone. Exciting content will retain readers and guide them to do further research on your site through the pillar strategy.
Need Help Producing Quality Content?
You don't have to do it alone! Content pillar strategies can help you become an authority in your field. DemandJump gives you all of the tools you need to bolster your content and drive traffic to your website. Our SEO Keyword Research product helps you take the guesswork and time-consuming research out of the equation. It's as simple as a few clicks.
Get started for free today!