What's the Fastest Way to Rank New Content?
January 3, 2022 •DJ Team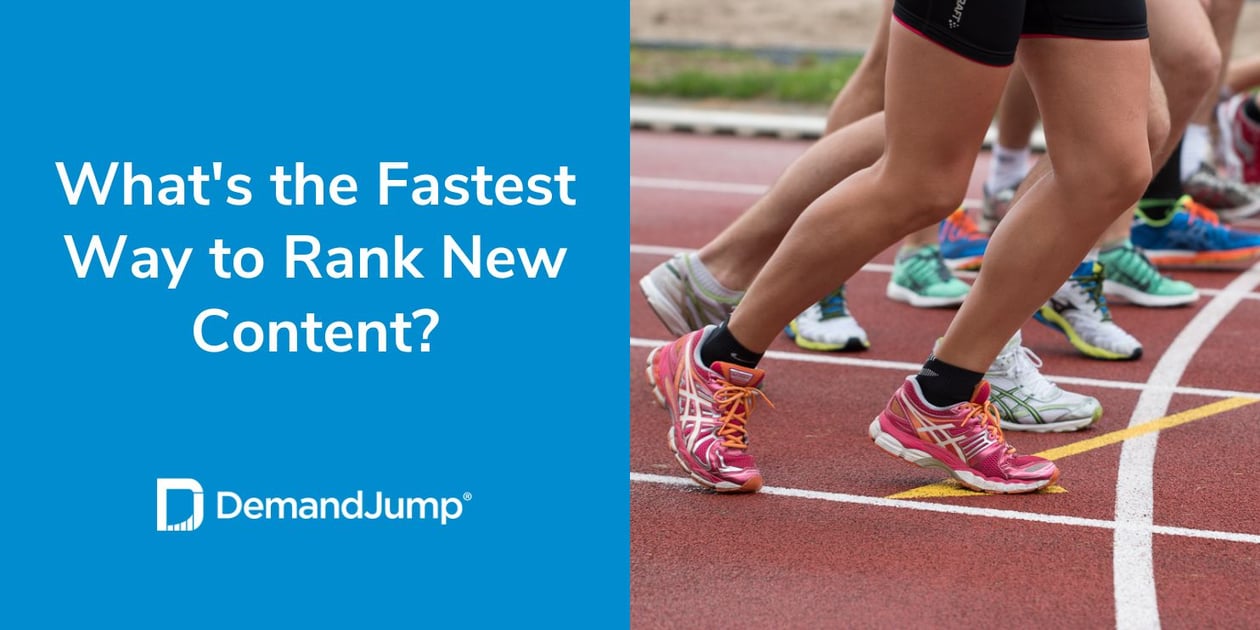 SEO is something many marketers and business owners have misconceptions about. There are a lot of blogs out there that make SEO sound easy, which suggests a quick solution to improve your search rankings.
And a quick solution certainly doesn't exist.
The fastest way to rank new content on your site is to have a thorough optimization strategy from the get-go. Before you click publish, you should have checked all your SEO boxes and done your due diligence.
What does that mean?
In this post, we break down exactly what that means and what kinds of things you need to do to rank your content.
The Basics of Optimizing New Content
The best way to make sure that your content ranks well is to optimize it from the start by having an SEO keyword strategy. Conduct thorough keyword research and plug the relevant keywords into your piece of content. Optimize all the various elements, like the title tag, meta description, and image alt tags, and be sure to include the right rich snippet code in your article.
Remember to include relevant images, break up your paragraphs to make them more readable, and include a Q&A section at the end of each post.
Readability is of huge importance here. You want your content to be an enjoyable read and be engaging enough so the reader would want to convert into a lead or a paying customer.
So it's important to add images at every scroll depth, use H2 and H3 tags, and have enough white space on both sides of your text. Also, don't overwhelm your visitors with a bunch of pop-ups. They could increase your bounce rate and decrease your search rankings.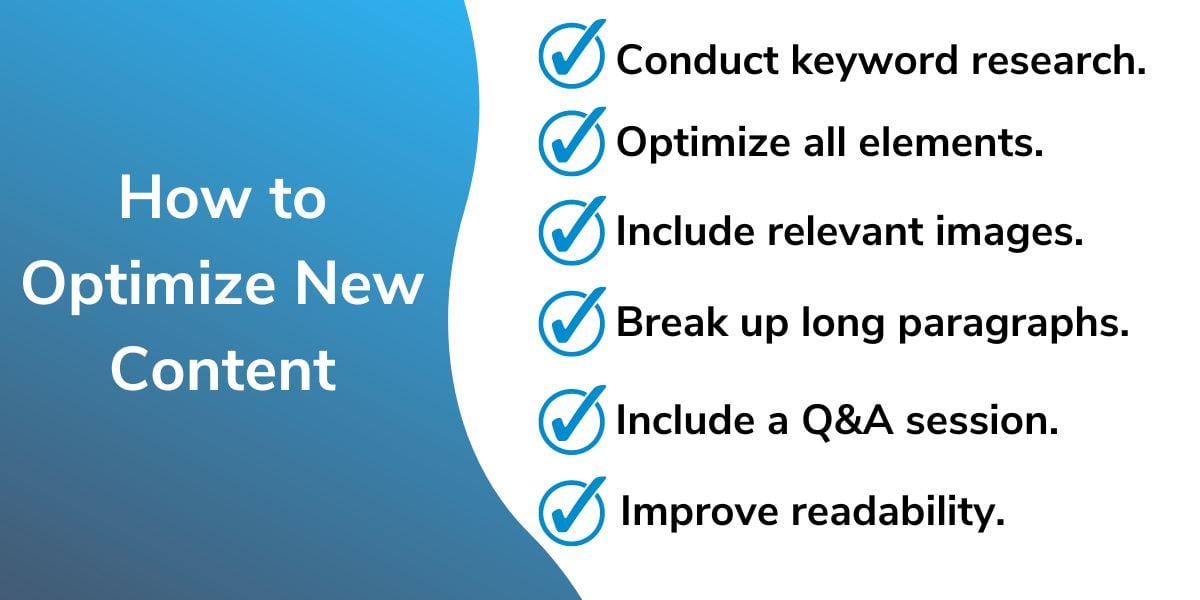 How to Improve Your Google Rankings
One of the most important ways to rank new content is to measure your existing search rankings. Look at the content that already ranks well and determine the elements that make that piece of content successful. Take some time to see if you have any gaps in your content, and where you could write a new piece that will fill those gaps.
Other ways to improve your Google rankings include:
Publish blog posts that are comprehensive and offer the reader practical solutions to their problem.
Post length should be 1,500-2,000 words each.
Optimize all of your meta tags and image alt tags.
Use keyword research tools to include the right keywords in each article.
Once you publish a new post, continue to measure its rankings to see how you're doing. Without that visibility, you won't have the data to optimize your SEO efforts.
Use a Google Website Rank Checker
One of the best ways to improve your Google rankings is to have consistency. Pick an SEO keyword research tool you like and use it consistently to track your search rankings. Plug in those keywords that you've picked from your keyword research and track them every week or month. Each short-tail keyword has a cluster of long-tail keywords that are related to it, so make sure to track those as well.
Over time, if you do the right optimization, then you'll see your rankings improve and you'll get more organic search traffic coming to your site.
Use Link Building to Improve Your Google Search Ranking
One of the main factors that Google takes into consideration is the number of links your site and individual pages have. All SEOs agree that it's the most powerful factor and the best way to improve search engine rankings.
Why is it so powerful?
The overall number of links your site gets strengthens every page on the site.
And you don't have to pay for links (which is not officially allowed according to Google's rules). There are many ways you could get links back to your site. Here are a few of our favorite ways to do that:
Publish guest posts on industry blogs and related sites.
Publish your company on directories across all the regions that you service.
Post on social media often (it's a less powerful way to build links, but still helps).
Launch a scholarship and post it on .edu websites.
Participate in expert roundups.
Give interviews on podcasts.
As you get more links from reputable websites in your industry, your site authority will increase, and you will be able to rank for more competitive keywords.

Good Rankings Don't Change Overnight
SEO is definitely a long game. If you're in it to win it and have patience and the right strategy, then you can succeed. It also takes a lot of dedication to your audience and creating content that they enjoy and find helpful.
Brands take 6-12 months to rank a piece of content. But if you follow our guidelines, optimize your content properly, and build the right backlinks to your site, then chances are you'll be successful.
Get started today creating content that ranks!
Get Your Free Content Marketing Strategy Report