Which content is best for a blog?
November 24, 2020 •DJ Team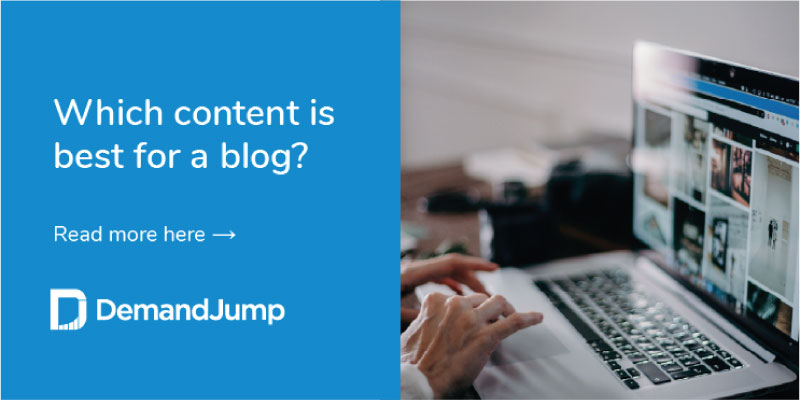 Content marketing blogs have the capability to bring in new and repeat customers alike to any business' website. That makes them a pivotal component to any content marketing strategy. It's even estimated that WordPress alone sees an average of 2.75 million new blog posts published each day. With these sky-high numbers, the growing digital marketplace becomes more competitive with each new day. For digital content marketers, it can be a challenge to build a working blog strategy and understand what kinds of content are best for a blog topic list.
How to find content for your blog
In order to make sound judgements on what content should be included in a new blog, it's best to first determine understand a few major things:
1. What topics your audience is interested in
As an expert (or a marketer working with subject matter experts at your company), you surely have enough to talk about without looking too deeply into this. The key, however, is to compare the kinds of content you think will interest your audience against what other competitors are doing.
2. What common problems your audience frequently faces
Every content marketing blog should adhere to one simple rule: provide practical value. The best way to ensure that you're doing just that is by addressing common problems that your customers and prospects face. What are their uncertainties? What are their knowledge gaps? What do they wish they knew? Start by trusting that if you've been asked something before by a customer, chances are strong that other folks are also asking that question online.
3. What competition you have in your industry and how you stack against them
Do you know who you're up against? With millions of new blogs published each day, it's critical that you do your homework on who is already ranking high in search results. Take it a step further and analyze their content. Is it strong, sound advice? Does it provide good value? Is your opinion of advice better? Could you provide more information in a longer article?
4. How search engines decide what to show first in search result
Search engines want quality content that answers questions. Gone are the days where keyword-stuffed content takes the crown. Now, search engines are looking at your content and determining how relevant it is to their users' questions based on a variety of factors, including the length of your content, the consistency with which you publish new content, and the way readers interact with your content once they find it. Building credibility takes time and a lot of content. The more content you have that successfully answers real-world questions, the more you'll be in the good graces of popular search engines.
How do you structure a good blog post

First thing's first: content should drive structure. As you set out to write a new blog post, you'd be wise to consider what you're saying before you make a determination on how you're going to say it. That being said, blog posts often fall under a number of tried and true structure categories:
Lists
How-to Guides
Thought Leadership
Curated Content
FAQs
Industry News/Commentary
Infographics
A content marketing blog can take many shapes and sizes. Before deciding how to structure a blog post, you should first determine what you set to answer or provide with the content. Sometimes, a step-by-step blog can be the right move forward if your goal is to show your audience how to accomplish a very specific task. If your mission is to provide a number of similar arguments, like the Top 5 Ways DemandJump Can Help You Accelerate Your Digital Marketing, then a list can provide the best structure for your audience.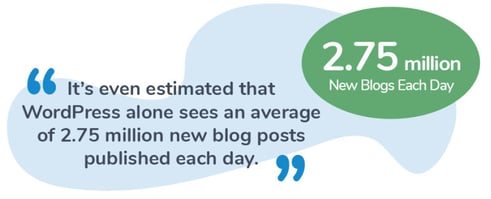 There are of course many many more possible structures a blog can take, and sometimes the best structure is guided completely by the intention of the blog's message itself. Maybe none of these popular structures will suit zip your thoughts together nicely—that's okay! Play with your style and watch how your audience interacts with your content.
Ready to create content but not sure where to start? We can help. DemandJump's content outlines are certain to get your content to rank. Get 4 FREE outlines on any topic or question important to you.
How to choose the best blog posts
Data can surely be a driving factor when determining which of your content marketing blogs will work the best.
For new blogs, take some tips from your competitors and industry thought leaders. Chances are they have already found success with certain blog structures and topics. Start by reviewing the blog content that other respected businesses are publishing and look for trends. As you begin to compete in the same digital marketing arena, these trending topics will prove valuable to your credibility.
If you already have a library of blog content published, you're in a great place to begin benchmarking yourself and analyzing what content has been successful previously, and even what hasn't. Review the data behind your blog posts, paying special attention to traffic that's been organically acquired. How much traffic did those blogs receive? More importantly, what was the average time users spent on page, and what was the exit percentage? The higher your time on page numbers and the lower your exit percentage, the more your content resonated with your audiences.
Look at how some of your top performers performed within the first few days of publishing, and then compare that to the blog's entire lifespan. At this point, you'll already be able to pinpoint trends in your own content, for better or for worse. This data will become an invaluable asset when choosing the best blog post topics for the future.
Let DemandJump do your content heavy-lifting
Effective content marketing blogs require adequate research and preparation. As you look towards a future, streamlined blog content creation process, consider how analytics and content topic creation fits into it. Better yet, consider how you can make it easier with DemandJump's instant Consumer Insights. Sign up for a free trial to see how you can keep a pulse on content trends in your industry, gauge competitor content marketing blog success, and access a growing list of opportunities in your pocket.
Get Your Free Pillar Strategy Report