Why Do Keyword Research At All? The Purpose and the Solution
October 6, 2021 •DJ Team
Online audiences have become experts at using search engines and web navigation platforms to access the information they want. And now businesses, especially marketers, are forever students of online consumer behavior.
By understanding the trends of consumer online behavior, you can integrate your business into that flow. Keywords are the building blocks, and keyword research is the manual.
The goal of keyword research is twofold: you need to understand how keywords perform on search engines, primarily Google. And you need to understand the user's intent when they perform a keyword search.
Ask yourself, what are users truly looking for when using specific search terms? The better you understand these two components, the more effective you can be with your keyword choices and campaign spend.
What Is Keyword Research and Why Is It Important?
Keywords allow customers and businesses to become more precise in their approach, whether it's a customer looking for a specific product or a company trying to stay in front of their target audience.
It requires research to understand how keywords perform on search engines—and how consumers are searching—to use them to your advantage.
Keyword Lists
To get your content in front of prospects, you need to begin a keyword list of every term that applies to your business.
The good news is, you shouldn't expect to create this list off the top of your head. Instead, you can begin with key terms or topics and then use a keyword generator that helps develop and expand your list to include variations of subtopics, long-tail keywords, and relevant keyword phrases.
Keyword Template
However, a keyword list is not the end game. You need to understand how these keywords perform.
A keyword research template helps you organize and assign attributes to individual keywords and phrases.
This enables you to identify the most valuable keywords for your purposes—those you can use to increase your SERP rankings to drive relevant traffic.
Most keyword templates organize keywords into categories like those listed below, but more developed templates will include even more information than these:
Monthly search volume
Keyword difficulty
Competition ranking
Current rank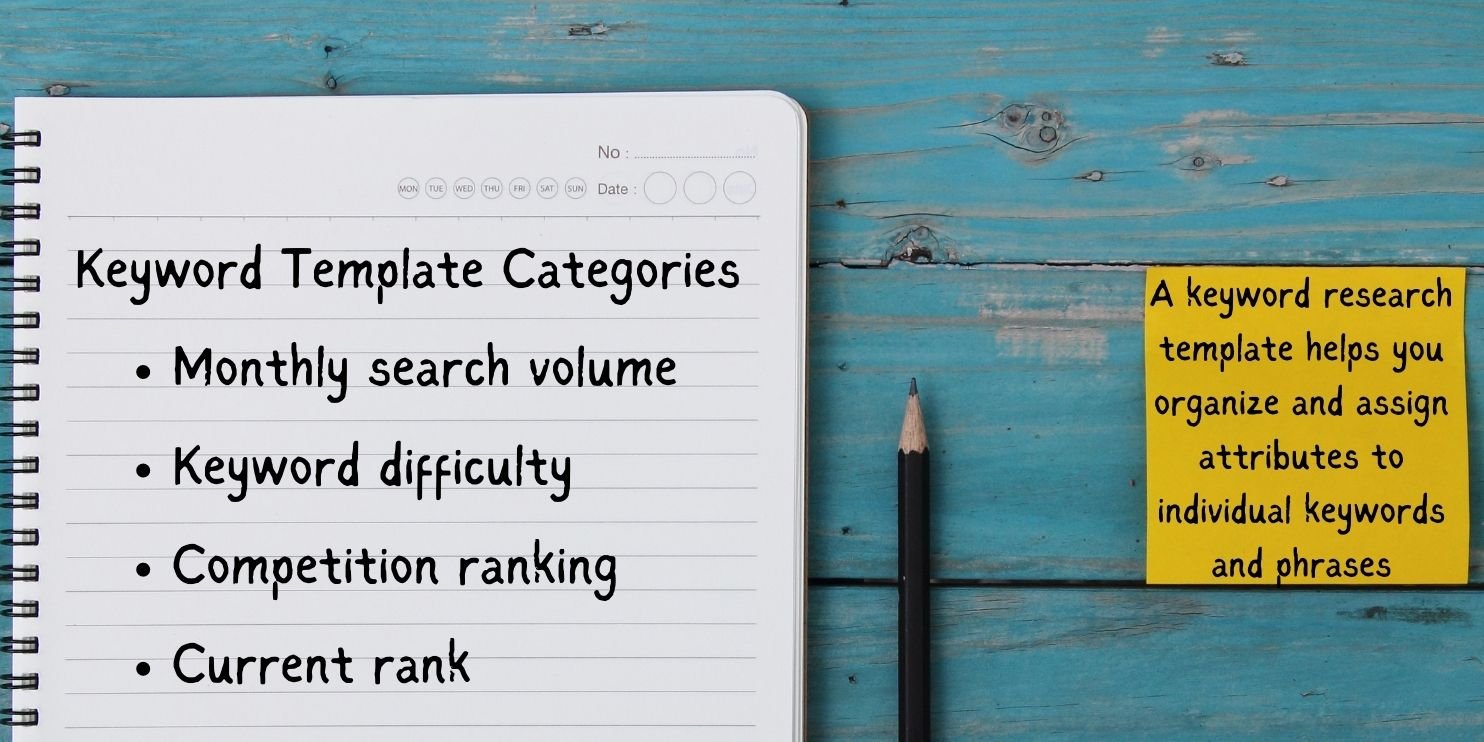 Search Volume
Measuring estimated search volume shows you the number of searches that have been conducted for a given keyword. This helps you determine if a keyword is worth including, regardless if its keyword difficulty is high. If people aren't even searching for a keyword on your list, it might not be worth pursuing.
What Is Keyword Research in SEO?
Keyword research for SEO, or search engine optimization, is the process of learning how and why specific keywords or phrases are driving traffic to a given location online.
For your business, this is how you understand the complexities of reaching your target audience and mold your keyword usage to achieve the best results.
Organic Traffic Keywords
As you research what keywords drive traffic, you can use your current web pages as a primary source. You are already driving traffic to your web pages with organic keywords in your existing content and rank in search queries. Identify these to see what organic traffic currently exists and use this information to generate similar, low-competition, high-volume keywords.
Competitor Research
So what is the purpose of keyword research if your competitors already own that space? Your keyword list can have high volume and rank well, but if its competition ranking and difficulty are high, you'll have a very tough time ranking high for those keywords. But that knowledge is still beneficial.
Study the keywords with high competitor rankings and target competitor websites to search keywords that drive their traffic. Next, plug those exact keywords into a keyword generator tool to discover similar, untapped keywords to use for your web pages. The more you understand the lay of the land with your competitors, the more you can see where opportunities exist to stake your claim.
Keyword Research Tools
Like keyword generator tools, there are multiple platforms that provide efficient, intuitive keyword research tools that can assist in developing your keywords strategy. Google Ads Keyword Planner, for example, acts as a guide to help build keyword strategy, including the different types of keyword queries and types of keyword matches.
These tools exist because driving SEO for your business is a complex blend of research and implementation. And because understanding the importance of keyword research in SEO adds value to businesses.
While Google Ads is a great resource to get an inside look at how Google organizes keyword SEO, other platforms like DemandJump give a holistic outlook on keyword research and strategy, providing you the tools to get the best results from your content.
What Is the Primary Purpose of Using Keywords in SEO?
Ultimately, you want to improve your SERP rankings for keywords your target audience will use to find your company and products or services.
That's why keywords are important. With all the terms, strategies, and tools involved with keyword research, never lose sight of your primary goal: to connect with and expand your target audience.
Automate Your Keyword Research Strategies With DemandJump
When doing SEO keyword research, you need a tool that can take you from research to results. DemandJump automates the keyword research process.
With one-click SEO content briefs for new content, recommendations for updating current content, and linking content to revenue generated with marketing attribution you are sure to see results.
Work smarter with automation tools designed to make content marketers look like rockstars.
Write content that ranks fast, and save time doing it - get started today!
Get Your Free Pillar Strategy Report