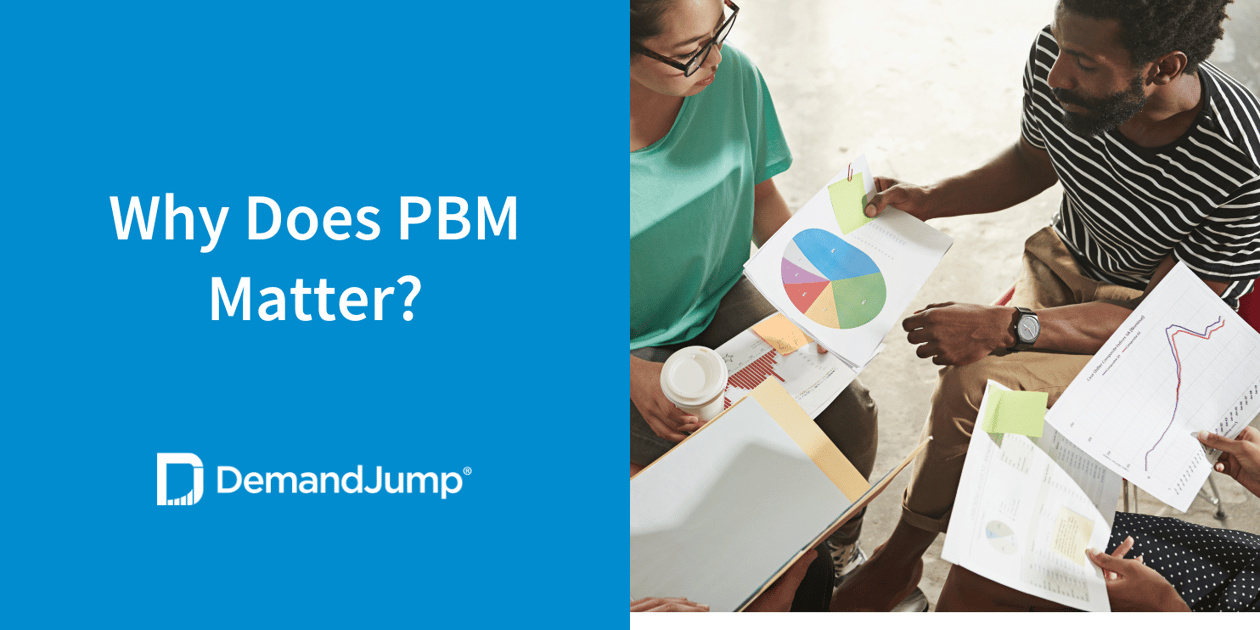 Pillar-Based Marketing (PBM) is a new method that DemandJump has pioneered for planning, writing, and structuring the content on a business's website. It greatly increases how often search engines show that content to people searching for it.
PBM matters because companies using this marketing strategy have seen astounding growth in how often they show up on page one results of search engines. And since 92% of the search traffic on Google clicks on the first page results, getting your company's content on page one is the best way to drive organic traffic.
Why Is Pillar Based Marketing Important?
We've already discussed that PBM gets your content on page one of search results better than any other strategy - and this means many more potential customers will be reading your content. But why is that important?
The reality is that the internet, and the world in general, is a very noisy place full of advertisements, sales pitches, and businesses trying to get your attention and loyalty. Simply paying for a few ads and publishing a couple blogs are no longer enough for a company to get the attention of its target audience. In fact, 25.8% of users have blocked ads on their devices, and 41% strongly agreed with the statement "I am often annoyed by advertising on the internet." Since customers don't respond well to ads, they find out about products and services they need or want through search engines.
You may be reading this so far and thinking, "So is it now a question of pillar based marketing vs lead generation?" The answer is, PBM is one of the most successful, targeted forms of lead generation out there! Using PBM to plan, write, and strategically publish your content in a way that makes you show up on page one of people's search results will increase the number of customers on your website and who consider your product as a solution to something they searched for. This result also makes your business's other forms of lead generation work better. Paid ads are likely to be more effective for less money, more web traffic means more email signups, and more brand awareness means more revenue.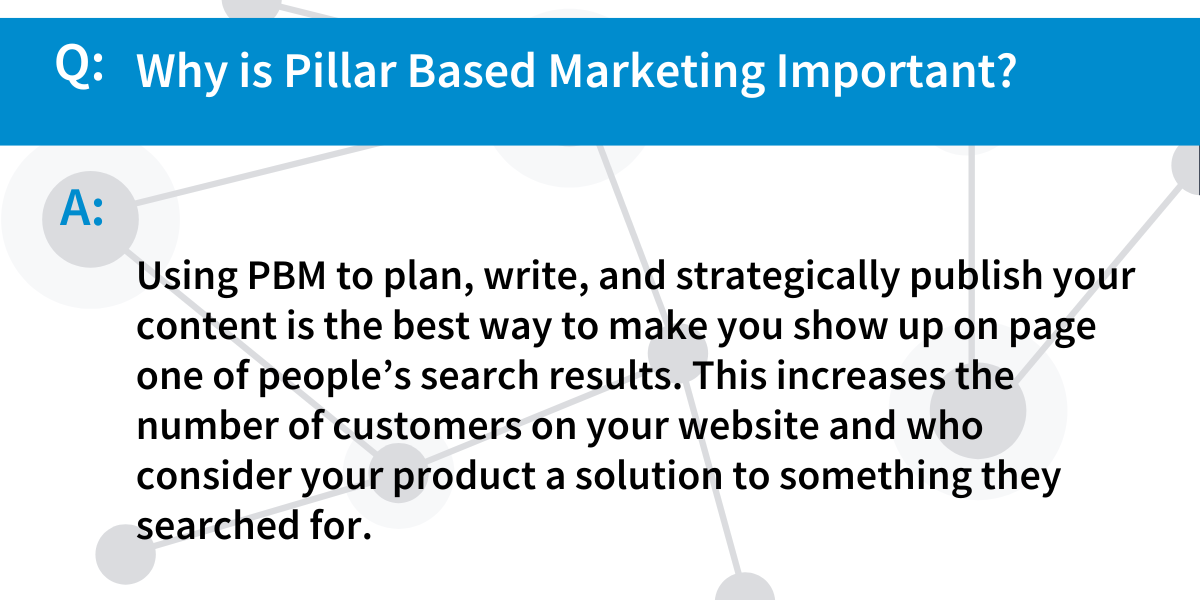 Is PBM a Strategy or a Tactic?
Pillar-Based Marketing is a strategy that helps you develop the plan to take your content where you want it to go - page one of search engine results for your topic. Tactics are the individual steps within the plan that get you there. So, since PBM gives you the tools to create the plan AND set up the steps to make it happen, it is a strategy and a group of tactics.

What Are Some PBM Tactics?
PBM is based on creating a specific structure for 16 related pieces of content around your company's main topic, or pillar. Some specific tactics include:
Setting a specific, 1-3 word phrase that you want to rank for the most as your pillar.
Selecting three sub-pillars that support this pillar with more details about specific elements.
Linking back to the pillar page within the first paragraph of each sub-pillar.
Selecting three long-form questions under each sub-pillar as blog titles.
Linking these blogs to the pillar page within the first paragraph and to their relevant sub-pillar within the first few paragraphs.
Selecting three long-form questions for blogs that are more generally about the pillar, and link to it, without a sub-pillar.
What Is a Pillar Based Marketing Approach?
Hopefully, we've sold you on the effectiveness of PBM; now let's quickly review what it is with some pillar based marketing examples. The basic idea of PBM is to choose the main topic you would like your business to rank highly for in search results, which becomes your pillar. For example, a houseplant subscription service (Plants Are Us) might want to rank most for topics surrounding "Houseplants." What is the PBM content you would write with this as your pillar? It is around a 3,000-word article that covers the topic broadly, using at least 20 high-value keywords and questions.
Once you have your main topic set, there will be hundreds of keywords, phrases, and questions around that topic that people put into search engines. Learning what those are and which ones are used the most by your potential customers is the next step. DemandJump's platform makes this research quick and easy.
Select the three most important and commonly searched topics around the main pillar to become your sub-pillars. Sub-pillars should be about 2,000 words, use at least 15 high-value keywords, and cover these more specific areas in greater depth. For our Plants Are Us example, these three sub-pillars might be:
Houseplant Care
Choosing a Houseplant
Easiest Houseplants
Within each of these sub-pillars, there will be three blogs that focus on specific questions related to the sub-pillar topic. They will have long-form question titles, be about 750 words, and use at least 8 high-value keywords. For our Plants Are Us 'Easiest Houseplants' sub-pillar, these three blogs might be:
What are the easiest houseplants for dark rooms?
Why are some houseplants easier?
Which houseplants are best for beginners?
DemandJump: The First Pillar-Based Marketing Masters
DemandJump invented Pillar-Based Marketing as we followed the data on the best way to get content to rank on page one. We've fine-tuned this process through working with hundreds of clients and seeing the astounding results firsthand. If you are ready to watch your content rise to the top of search engine results and drive high-quality traffic to your website, you want to work with the best tools to get you there. This means DemandJump. Get started for free today, and see where we can take you!