Why Is Content Optimization Important?
December 2, 2021 •DJ Team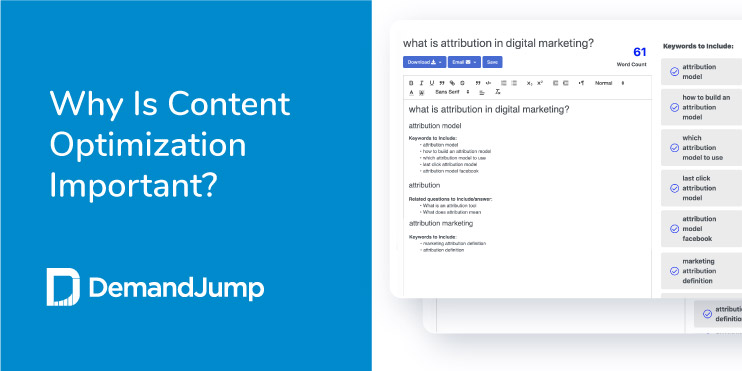 Imagine you wrote the best piece of content.
You're so excited about it.
You designed all the images, you published the post on your site, and you shared it on social media. You expect hundreds of visitors overnight but alas, you wake up the next morning and you see that there's no traction on it.
One month, three months, six months go by and your favorite post is still not getting the success it deserves.
What happened?
You never optimized your content for search engines. So users who are looking for it online were never able to find it.
You'd be surprised, but this happens to many business owners and marketers. Traffic from search engines is still hugely undervalued yet it provides one of the biggest opportunities for many brands across a variety of industries.
After all, 68% of all online experiences begin with a simple search.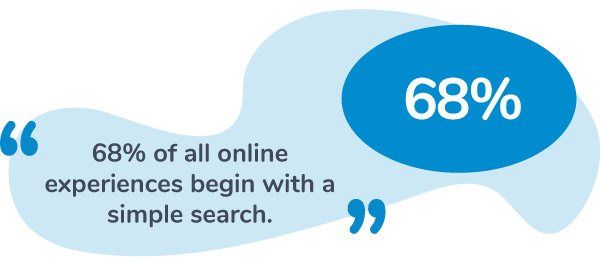 In this post, we'll break down exactly how to optimize your content for search engines, step by step.
Let's dive in.
Why Is SEO Content Optimization So Important?
Optimizing your content for SEO is one of the best ways to get your pages to rank well on search engines. Google has an algorithm that looks for hundreds of factors in a piece of content.
The more you optimize your blog post or product page to match the top-ranking pages for the same keyword, the more impressions, and clicks you could get.
There are many types of SEO content, such as blog posts, case studies, whitepapers, and product descriptions on product and category pages. There is also rich content that Google uses for rich snippets, such as Q&As and definitions.
If you use the correct schema code and include the right keywords, your content will be more discoverable online.
But how do you go about creating good content for SEO?
How to Write the Best SEO Content
If you already have a piece of content that you want to optimize, then you can use an SEO content optimization tool like DemandJump.
If you're creating a piece of content from scratch, then you should first do thorough keyword research to find the main keyword you want to write about and the main topics you need to discuss.
Another great way to come up with the topics is by looking at questions users ask when they search for your product (or similar products). You can use a search listening tool like DemandJump to find all kinds of interesting user questions to write about.
The Best Content Optimization Tools
Here is a list of some of the best types of SEO content optimization tools you need to optimize your content.
Keyword Research Tools
Use these tools for keyword research to help you select the right keywords for your business (based on search volume and difficulty).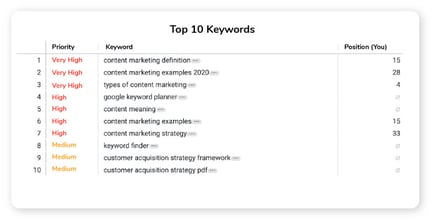 (DemandJump's keyword prioritization shows you where to focus.)
Content Optimization Tools
Content optimization tools, such as what DemandJump offers, help you pick the right topics and hit the correct keywords for your content.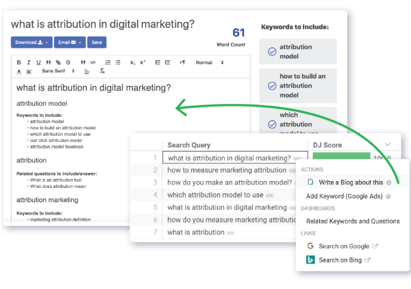 (DemandJump's one-click SEO outlines take it a step further and show you exactly how to create the content.)
Analytics Tools
Use tools like Google Analytics and the Google Search Console to see which articles are getting the most traffic, what your bounce rate is, average visit duration, and other key metrics to determine what to write about next or what to optimize.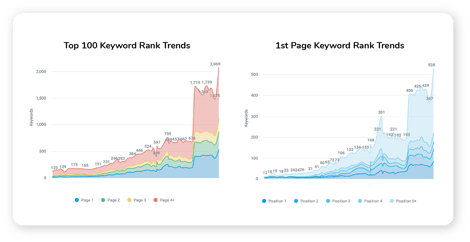 (DemandJump's Keyword Trends reports help you track how your content is performing.)
Speed Optimization Tools
With these tools, you can see how fast your site loads, which is super important for the user experience and is measured by Google in what's called Core Web Vitals.
Grammar Checking Tools
These tools are another great way to write better content. Use something like Grammarly that corrects your grammar for you and helps you fix spelling mistakes.
Organic Traffic is Just One Piece of the Puzzle
Remember, organic traffic is just one traffic channel. There are numerous other channels you should develop, like social media ads, pay-per-click ads, organic social media, influencer marketing, and PR. Develop an omnichannel marketing strategy that combines all your various channels into one seamless user journey.
Content optimization is vital for all forms of content. Using a tool like DemandJump ensures that you are creating the right content and including the right keywords.
Get started creating better content today. Content that ranks!
Get Your Free Content Marketing Strategy Report